Work Remotely in the Caribbean This Winter
White sands make excellent home-office decor.
Presented By

A typical post-work cool-down in Negril.

| Daniel Grill/Getty Images
A typical post-work cool-down in Negril.

| Daniel Grill/Getty Images
After nearly a year, those fortunate enough to work from home have likely realized they can operate pretty much anywhere there's Wi-Fi, phone service, and a modicum of privacy. For most, that just means moving to a different room. But maybe it's time to think bigger. Maybe—just maybe—you should be responding to your boss's annoying Slack messages from the Caribbean.
It sounds wild, but it's a lot easier to make a reality than you think. In the Caribbean, winter is the money maker. And destinations like Barbados, Aruba, and beyond are eager to get their economy-driving tourism industry humming again. To lure you in, they're offering extended visas and ridiculous deals at resorts for long-haulers. In some places, you can even score a month's stay at a luxury resort for less than your rent. Here are the countries putting out the siren song of great Wi-Fi and offices spaces where white sand and mai tais are bountiful.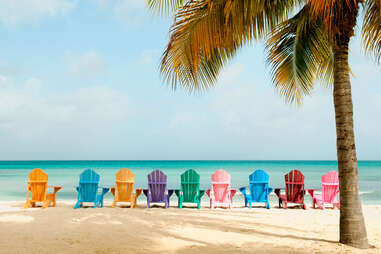 Aruba
Why you're here: For a 20-mile-long island, Aruba really packs it in: Your "office" breaks could include naps on sugary beaches, kitesurfing in blue, or snorkeling below mouthwash-hued seas. Make sure you visit Arikok National Park to see eerie abandoned gold mines and swim in a natural pool hidden under the lip of a limestone cliff within the island's most remote wilderness area.
The deals: Hotel deals that encourage you to settle in and really get to know those beaches are all over the place right now. For the budget minded, the Digital Nomad package at Aurum, for example, starts from just $98 per night for a minimum 14-night stay. For a spendier trip, the Aruba Marriott Resort & Stellaris Casino is running a "One Happy Workcation" package with rates starting around $373 a night that include ocean-view rooms, massages, and cooking classes. And the Renaissance Aruba Resort & Casino's "We Got You Covered" package ($332 per night) includes two free antigen tests before you return home.
COVID protocol: Prior to traveling to Aruba, you'll need to upload a negative COVID-19 test, submit a personal health assessment, and purchase Aruba's mandatory visitors insurance at a flat rate of $30 per adult (good for stays of up to 180 days). Keep up to date with other requirements here.
Mexico
Why you're here: Mexico's Caribbean coast is excessively easy to access for West Coasters, and its biggest hits—Cancun, Riviera Maya, Puerto Morelos, Tulum—are all but synonymous with Mexican hospitality and white sands. These places run on tourism, and are beyond eager to welcome people back (with some changes, of course).
The deals: Wanna just set up shop in Cancun? The JW Marriott Cancun Resort & Spa is hawking 10-night workation packages that include access to a private conference room, unlimited phone calls, and other perks. And just south in Playa del Carmen, the all-inclusive Paridisus Playa del Carmen is answering back with a Your Office on the Beach package touting 20% off stays of 21 nights and longer.
Vacation rentals with Wi-Fi abound in Mexico's popular resort towns, too, so there's always a way to stay for longer on the cheap.
COVID protocol: Mexico is one of the few places welcoming US travelers with no proof of COVID-19 testing or quarantine on arrival. While the land border remains highly restricted, you can arrive by air and be on a beach enjoying shortly thereafter. The country is offering a visitors permit that allows travelers to stay for up to six months, too.
We let go of a lot of norms in 2020: like shaking hands, wearing pants, and (most importantly) working in an office. You're no longer tied to a commute — so why should you be tied to one place? Enter: Landing, the startup that's reinventing apartment living. Thanks to its network of fully furnished (and unfurnished) apartments across the country, you can have the freedom to live (and work) practically anywhere. With perks like a 24/7 online member support, fast and easy lease transfers, and waived security deposits, you'll have more flexibility than ever before, too.
Barbados
Why you're here: Surfers know the waves in Barbados are at their best in winter, making it all the more appealing to ditch your 7mm wetsuit and snowy beaches to break for this Caribbean idyll. The island also happens to be a wintertime paradise for golfers. And kind of an everything-else-you-can-think-of paradise, too.
The deals:The Hilton Barbados Resort offers monthly rates starting from $2,500 that include discounts on food and beverage and spa services. The resort also has office space with views. And something cool if you just want to kick things off at a hotel before settling in elsewhere for a longer stay: The Hilton's Before You Choose program hooks guests up with introductory rates as well as a local real estate agent for sourcing longer-term on-island digs.
Speaking of which, If you are planning to set down roots and do the remote-worker thing, the Barbados Welcome Stamp program is a special visa that basically allows you to relocate to the island. It'll cost you $2,000 per person ($3,000 for families).
For long-haulers, Bathsheba is the epicenter of surf culture on the island's east coast, and you can find much-cheaper extended-stay Airbnbs to put that visa to good use. WorkMango, meanwhile, is a concierge company specializing in matching people with their paradise on several Caribbean islands, including Barbados: use it to find the perfect island address for reaching that elusive work-life balance.
COVID protocol: Anyone entering from a medium- or high-risk country (there's a list here—you're almost certainly on it) must provide a negative COVID test taken no more than three days before arrival. You're then required to quarantine at pre-approved accommodations while awaiting the result of a second test taken five days after the first test. It's complicated. Details are here.
Dominica
Why you're here: Tiny but mighty Dominica offers up a wilder take on a Caribbean paradise. There's more than just pristine beaches and fruity cocktails—here you can immerse yourself in lush jungle, soak under waterfalls, explore underwater reefs, float roaring rivers… and then laze on pristine beaches with fruity cocktails.
The deal: If you jump through the island's pretty-basic arrival hoops and love scuba diving, prepare to be rewarded at Fort Young Hotel & Dive Resort. Oceanfront in the capital, Roseau, the property is offering a WorkCation Dive Package that includes 30 nights of lodging, daily breakfast, and 11 days of two-tank diving (22 dives!) at some of the most pristine coral reefs in the Caribbean from $3,637 per person (based on single occupancy).
COVID protocol: Visitors to the Caribbean's "Nature Isle" are required to complete an online health questionnaire 24 hours prior to arrival, provide a negative PCR test taken within the past 72 hours, and then do a rapid COVID test upon arrival. There are different requirements for different nationalities regarding hotel stays related to their level of risk, all of which is detailed here.
The Dominican Republic
Why you're here: Waterfalls, some of the Caribbean's best kitesurfing beaches, golf courses galore and desolate stretches of sand lined with gently swaying palms all make the DR pretty damn appealing. Vacation rentals abound everywhere from La Romana on the southeast coast to the resort-lined beaches of Punta Cana.
The deals: The DR's eXtreme Hotel invites a maximum of 15 people per month to "join our bubble" with a minimum stay of two months. But with rates from $1,100 per person, per month (based on double occupancy) or $1,500 for singles, those who score a spot can do so for much cheaper than monthly rent in a tiny NY apartment. That stay includes fresh and healthy food supplied by the hotel's organic farm and yoga in the oceanfront yoga shala. Located in the windsurfing and kitesurfing capital of Cabarete on the Dominican Republic's North Coast, you can surf, kitesurf, and snorkel right out the door—and there's an onsite pool and gym, too.
Prefer the pampering of a traditional hotel and upscale resort town instead? Head to Punta Cana and The Grand Reserve at Paradisus Palma Real or Melia Punta Cana Beach Resort and log onto your work calls sessions from your poolside daybed—both properties are offering 20% off stays of 21 days or longer.
On the north coast's spectacular Samana peninsula, the all-inclusive adults-only Viva Wyndham V Samana is tempting kid-free travelers with packages that include 15% off stays of 30 days or longer as well as discounts on excursions, spa services, and even upgraded lobster dinners.
COVID protocol: Travelers from the US are not required to show a negative COVID-19 test or quarantine on arriving in the Dominican Republic, although all passengers will be given a temperature check. For the latest updates on entry requirements, read here.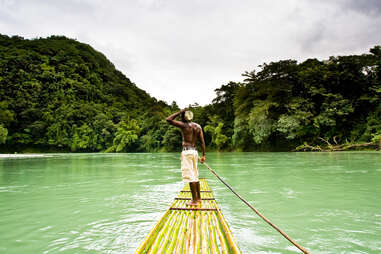 Jamaica
Why you're here: Yes, visitors must stay within the country's "resilient corridors." But those include most of the popular vacation areas in Negril, Montego Bay, Ocho Rios, and Port Antonio, among others. When your quarantine zone features mountains, Seven Mile Beach, waterfalls, and even a bioluminescent lagoon, you're doing something right.
The deal: Hotels on the government's protocol-approved list include Sunset at the Palms and Tensing Pen in Negril, not to mention Hedonism II if isolation has left a big orgy-shaped hole in your heart. The all-inclusive Royalton Negril lets you "Upgrade Your Office" to one with an ocean view from $1,330 per person for 14 nights. And families looking for a relative bargain at one of Jamaica's most luxe properties should look into Round Hill Hotel and Villas' new Home Away From Home package—from $399 per night for oceanfront rooms, it includes such perks as three hours of daily babysitting, tennis, and complimentary breakfast when you book a stay of at least three weeks.
COVID protocol: Residents of the US and a handful of other countries are required to present a negative COVID-19 PCR test prior to boarding their flights to Jamaica. The country's full arrival rules can be read here, and that's where you'll also find the listings for all the protocol-compliant hotels, villas, apartments, and guesthouses to browse for your stay.

Bermuda
Why you're here: We know, we know: Bermuda is not in the Caribbean. But it's getting an honorary mention. Wondering what's to like on the island that's just a two-hour hop from New York? Settle in with a rum swizzle and let us count the ways, starting with some of the best wreck diving in the world, pink sand beaches lapped by turquoise waters, and a cross-island biking trail for exploring on two wheels.
The deals: For those with deep pockets, the Hamilton Princess & Beach Club is running a Feel Local, Stay a While package with discounted rates on stays over a month that start at $219 per night for harbor-view rooms. The official tourism website points visitors to other islands hotels offer discounts for longer stays, too, including Greenbank Guest House & Cottages and Rosewood Bermuda.
Airbnb can get you sorted for less (we found apartments starting around $75 per night), and there are plenty of other homes and villas to rent around Bermuda, too, if you prefer to avoid hotels… and you very likely will if you take advantage of the year-long Work from Bermuda program.
COVID protocol: You'll have to go through a $75 travel-authorization process, get tested no earlier than five days before departure, then get tested again upon arrival and rock a special wristband for 14 days. Here's a thorough guide for those looking to visit.
Sign up here for our daily Thrillist email and subscribe here for our YouTube channel to get your fix of the best in food/drink/fun.