Presented By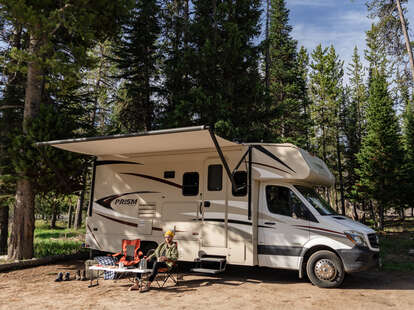 Tell 'em you're hell on wheels

| Photo courtesy of RVShare
Tell 'em you're hell on wheels

| Photo courtesy of RVShare
A work-from-home mandate can feel like the death knell of work-life balance. But tilt your head and squint and it can appear as something new, even positive: work-life opportunity. Because working from home can actually mean working from anywhere.
When planning a workcation, consider what you'll need to keep your boss at bay: How's the internet connection? Will you be working in a home office, coworking space, in coffee shops, or sprawled out at the beach? Regardless, there are ways to make it happen, often for surprisingly cheap. Here's how to find short- and long-term stays on any budget.
Swap homes with a stranger
Tired of staring at the same four walls every day? Services like HomeExchange, HomeLink, Intervac Home Exchange, Love Home Swap, and Green Theme International let you trade your home for a new, fully-equipped abode for the mere cost of a membership fee ranging from $40 (Green Theme) to $150 a year (Home Exchange). Provided it's cool with your landlord, if you have one, and all necessary people involved, lest your oblivious roommate wake up one day to a stranger eating their cheese.

Just like in The Holiday, most home swaps depend on both parties switching simultaneously—unless vacation homes are in play. Unlike in The Holiday, arrangements need to be set in advance, so last-minute swaps aren't usually an option. Before signing up, bolster your online profile: Prospective swappers will peruse your social media. Don't let your college-era Facebook photos come back to haunt you.
Get discounts for long-term Airbnb stays
Airbnb is enticing nomads with discounts on longer stays, and their new monthly rental site makes it even easier to filter for long-term options. If a discount is already in play, the marked-down price will appear in the search results and apply automatically when you book.
There's nothing to stop you from finagling an even better deal with the owner via the "contact this host" forum—after all, you'll be providing them with steady business. Be courteous and sell yourself (you are clean, you are quiet). Just be wary of potential scammers who try to take negotiations off the Airbnb app.
Need help looking? We found the coolest, coziest, lift-your-spirits-up Airbnb options within driving distance of major cities like NYC, Chicago, LA, San Francisco, Boston, DC, Denver, Atlanta, Nashville, Houston, Austin, and Seattle.
We let go of a lot of norms in 2020: like shaking hands, wearing pants, and (most importantly) working in an office. You're no longer tied to a commute — so why should you be tied to one place? Enter: Landing, the startup that's reinventing apartment living. Thanks to its network of fully furnished (and unfurnished) apartments across the country, you can have the freedom to live (and work) practically anywhere. With perks like a 24/7 online member support, fast and easy lease transfers, and waived security deposits, you'll have more flexibility than ever before, too.
Book a home on wheels
Maybe you're ready to become truly nomadic and take to the open road, but don't necessarily want a land yacht parked in front of your house. RVShare and Outdoorsy connect adventurers with the owners of camper vans, Class As, and everything in between to get you from the Badlands to Big Sur in style.
Some rates are affordable at around $80 a night, but if you're drawn to a shiny new 2021 motor coach, $1,200 a night multiplied by a long haul means you may just want to go ahead and spring for your own house on wheels. Either way, definitely invest in a wireless hotspot if you plan to get any work done.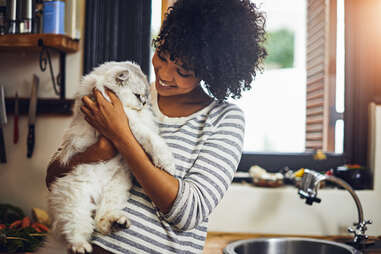 Hang out with some cats
When homeowners go on vacation, that's when intrepid you swoops in, performing light upkeep— watering plants, bringing in the mail, walking the dog—in exchange for free access to their pad. A $129 annual membership with TrustedHousesitters hooks you up with cat and dog owners in need (but if you only stan birds, reptiles, or even horses, there's a filter for that).
One Cat at a Time blogger Madolline Gourley has used TrustedHousesitters for stints all over the US, from a sunny apartment in Brooklyn to an art-filled wonder near Birmingham, Alabama. Typical stays clock in just under a month, but she's noticed opportunities for up to six months listed, usually by homeowners who split their time between several properties.
Before committing to litterbox duty, just make sure the homeowners have enough internet bandwidth… otherwise, have a backup plan. "Thank god for a big phone data plan and hotspotting," says Gourley.
Chill out in a hotel
With amped up Wi-Fi, outlet-strewn lobbies, and feel-good amenities for days, hotels have the business travel concept down pat. Right now, extended-stay promotions geared towards remote workers abound.
For example, Marriott offers three work-from-home options including the Play Pass for resort workcations, where guests have access to enhanced Wi-Fi connectivity, dedicated office spaces, and supervised activities for the kids. Hyatt has Work from Hyatt, with a minimum stay of five nights and extended stay perks like waived resort fees and complimentary laundry.
For something even sunnier, set your sights on the Caribbean. In Jamaica, the all-inclusive Royalton Negril invites you to "Upgrade Your Office" starting at $900 for 14 nights (ocean views and nightly yoga included). And Dominica's seaside Fort Young Hotel & Dive Resort offers a monthlong WorkCation Dive Package that includes 11 days of two-tank diving. Never been a better time to go big and go deep.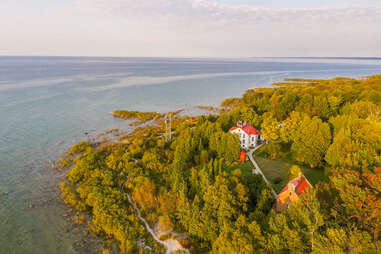 Play lighthouse keeper
You've got the chunky cable knit sweater and a hankering for solitude. On occasion you've been caught staring forlornly at the sea. You, friend, need a lighthouse. And the towering accommodations are surprisingly easy and affordable to rent, work, or volunteer in, with accommodations spanning 15 states.
The west coast of Michigan is especially illuminated. Pay $200 and commit to some light labor (sweeping, working the gift shop, spinning historical yarns) and you and a partner can be the keeper at Mission Lighthouse on the Leelanau Peninsula. The program is now accepting applications for the 2021 season, beginning in May.
Unsurprisingly, Maine also has a range of options. You can stay at places like the lighthouse keeper's apartment on Swan's Island beginning at $1,000 a week, or at the John Quincy Adams-commissioned second-floor apartment at the Pemaquid Point Lighthouse for $250. Or go full Willem Dafoe (except more sane) as a keeper on Seguin Island from Memorial Day to Labor Day; tasks including maintaining lawns and all facilities on the island, raising and lowering the flag daily, giving tours, and maintaining a written log. Calling all freelance writers: It's (kind of) a paid writing gig!
Try an Airbnb alternative
Airbnb, VRBO, and Booking.com aren't your only options. If you're into the idea of Airbnb but love you some cushy hotel perks, Sonder offers the best of both worlds, leasing apartments while providing hotel-style amenities so you can request all the extra towels you want.
Maybe you're a traveller of color looking for authentic experiences inspired by the African diaspora, in which case you'd go with NoirBnb. Meanwhile, SabbaticalHomes.com sets academics up with properties to rent, exchange, or house sit while on sabbatical. And if you're traveling with kids, KidandCoe curates housing for large groups with kid-friendly amenities: cribs, toys, and spaces to easily homeschool, with some properties giving discounts for long-term rentals (babysitter not included).
Become a farmer for a while
WWOOF—Worldwide Opportunities on Organic Farms—is an adorable acronym for a pretty cool concept: Since 1971, farmers have opened their properties up for volunteers to receive meals and lodging in exchange for manual labor. Work five to six hours per day, then go about your remote day job from the comfort of a farmstead.
At former Thrillist editor Nicole Caldwell's Better Farm—a 65-acre organic farm, artist colony, and animal sanctuary in the Thousand Islands region of New York—typical days include feeding animals (pigs! alpacas! chickens!), gardening, and one-off projects like building a barn.
While in cottagecore daydreams the setup sounds ideal, she recommends communicating extensively with your host about duties and expectations. "We've run the gamut of people who are really, really motivated and love it," she says, "and people who clearly didn't realize that they have to shovel horse poop."
Adopt a new family
Once it's safe to hang out in close proximity with strangers again, bunking with a host family can be a super affordable option for long-term stays. Your best bet is Homestay.com, which since 2013 has been connecting lodgers with hosted homes and is now available in over 160 countries. Homestay prides itself on affordability: a typical room in Austin, for example, runs about $65 a night. That generally includes the bare necessities, plus breakfast. In some setups, cultural exchange is paramount, with an emphasis on family meals and gatherings. In others you can get away with just a room and a key. Just make sure to discuss your ideal situation and level of privacy with your potential host family beforehand.
Vanita Salisbury is the Senior Travel Writer at Thrillist, currently workcationing from her home in Brooklyn. You can follow her on Twitter but it's mostly just dogs and stuff.