<a href="https://www.flickr.com/photos/epsos/8108903951/in/photolist-dUSc9a-dSZe91-dTUAhR-dSK3tm-9ZA9J6-dSXXyh-dmyfCP-eL9mU6" rel="nofollow" target="_blank">&nbsp;epSos .de/Flickr</a>
<a href="https://www.flickr.com/photos/epsos/8108903951/in/photolist-dUSc9a-dSZe91-dTUAhR-dSK3tm-9ZA9J6-dSXXyh-dmyfCP-eL9mU6" rel="nofollow" target="_blank">&nbsp;epSos .de/Flickr</a>
Thanks to the magic of the Internet, booking your yearly trip to Sandals is just a few clicks away. But formerly innovative travel aggregators are over a decade old, and there are way more resources for preserving your wallet -- off and online. In an effort to save you some serious scrilla, we present some of the most common budgetary travel mistakes and what you can do to fix 'em. Step one: stop going to Sandals so often.
1. Not having travel insurance
This is the one thing you want to have but hope you never need. A lot of people think "I'm just going away for a short time. I'll be fine. Swimming with emotionally troubled piranhas sounds like a fun day trip". But if something bad does happen while you're traveling and you aren't covered, you'll be left paying thousands of dollars in out-of-pocket expenses.
What you should do: Get travel insurance! It only costs a few dollars a day and is offered through many of the same credit card companies you'll likely use to pay for a trip.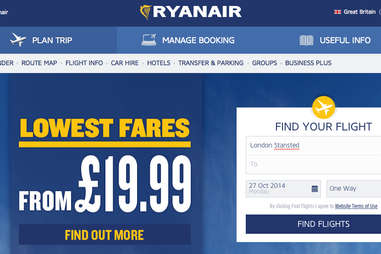 2. Sticking to U.S. travel sites
Major U.S. domestic sites like Expedia, Travelocity, Orbitz, or Kayak are fine. Booking your vacation through one of these websites is easy and simple. You remember William Shatner recommended one of 'em; search, find, pay, and you're done. But they don't search all companies around the world and, by using only them, you'll miss out on airlines, hotels, and deals that don't show up in U.S. based searching.
What you should do: Expand your horizons to include websites such as Skyscanner, Momondo, Holiday Pirates, Laterooms (hotels), and Agoda (hotels). This way you'll get a more thorough view of all the deals out there. Sadly, at this time William Shatner does not endorse any of these, FYI.
3. Mismanaging your money
Whether it's by using traveler's checks (obsolete), getting cash before you go, or by using exchange bureaus at airports, or by bartering vestigial organs, you don't look for the best rates.
What you should do: Use the ATM for cash and a credit card for all your purchases. Check if your bank has a partner ATM network in the country you're visiting and it may cost you nothing to take out local cash. Anything else can go on credit cards -- just tell your issuer you're leaving so they don't flag your card for fraud after they see 15 piñatas show up on your recent purchases.

4. Booking too early
People get excited about their trip and, to make it real, book their flight right away. Or they forget and wait until the last minute. Both are a mistake.
What you should do: Book your flight about two to three months in advance to secure the lowest fares. Prices go up and down for four main reasons competition, supply, demand, and oil prices. Unless you are an Arabian Prince (can we borrow $10?), you control none of these things. But about two to three months before departure, airlines begin to start raising or lowering fares based on demand and competition. Moreover, if you are going to search flights over multiple days, search incognito as booking websites and airlines use cookies to track behavior and may jack up prices if they see you returning often.

5. Sticking to the guidebook's food suggestions
By sticking to restaurants in guidebooks or near major tourist attractions, we over pay on food. Those restos know who their clientele are, and if they're getting an influx of tourists thanks to "Roberto's Fabulous Guide to Florence", they'll jack up the prices accordingly.
What we should do: Use crowdsourcing websites like Yelp, Foursquare, Time Out, or Open Rice when you travel. These sites are global sources of information where you can find top rated (by locals) restaurants around the world.

6. Asking where to eat the wrong way
Even if you're doing the smart thing and asking locals, "Where should I eat?", you're phrasing the question in a way to ensure that you're sent to restaurants locals think tourists would want to visit.
What you should do: It seems simple but asking, "Where do you eat?" means a world of difference. Instead of guessing what you might like ("Hmmm American. So he probably wants a burger with a second burger nestled inside of a third burger?") a local can direct you to more out-of-the-way joints likely to serve more authentic and better grub.

7. Not visiting the tourism board
They have advice on current events, festivals, and off the beaten path information you aren't going to find in any guidebook, if only because they're staffed by locals well versed in what's happening right there and then.
What you should do: Don't be too cool for school. Visit the tourism board when you arrive as they are experts on your location, can give you a lot of information, book tours, and direct you to attractions tailored to your interest. Hello shark dancing!
8. Not asking hostels about budget activities
Hostels are a fun, cheap, and social place to stay, but they aren't for every traveler (remember they have private rooms too!). However, by avoiding them completely, you miss out on access to staff whose sole job is to direct people to budget activities. Well "sole" only if don't consider "creepily hitting on you" an occupation.
What you should do: Even if you aren't staying at one, walk into a hostel and ask them for recommendations for cheap places to eat, tour companies, or activities. If it exists, they will know about it. A Google map search or a quick look at Hostelworld (not affiliated with the movie murder cult) can show you what hostels are located near you.
9. Not calling hotels for better rates
Big booking sites take a cut of the action. That means on top of any discount, hotels are losing out on a chunk of whatever rate is quoted on the web. They might be up for negotiating directly and cutting out that middleman.
What you should do: Call a hotel to see if they will match or have a lower rate than what you find online. It never hurts to ask. Moreover, desk agents have a lot of discretion on offering deals, especially if they have a high vacancy rates.
10. Not accruing frequent flier miles
This is one of the easiest, but most often overlooked wins in travel because of the persistent misunderstanding of credit cards. If you are not collecting airlines miles and hotel points on your day to day spending through credit card purchases, you're leaving money on the table and limiting your ability to travel cheaper and longer.
What you should do: Ensure all your spending goes on a points (or at least cash back) card. Lots of credit cards come with a 40,000 or more point bonus when you meet their three month minimum spending requirement (just remember to pay them off). That's a free US to Europe flight right there. Or Europe to US if you're a foreign friend. Guten tag!
11. Not getting a tourist card
If you're planning to see a lot of sites, you're going to drop a lot of entry fees. By paying as you go, you're wasting a lot of money that could be better spent on fancy European scarves.
What you should do: Get a tourist sightseeing card. They can be purchased at any tourism office and typically allow you entry into all the major city attractions for one flat fee. They always save you money and can come with discounts on restaurants & public transportation, but probably not sweet gondola rides.