This Ultra-Efficient Hybrid Cruise Ship Could Be a Trendsetter in Green Travel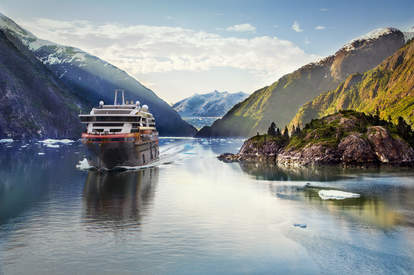 In this new year and decade, the best travel resolution you can make is to be more careful and conscientious about the environmental impact of your trips around the world. Global travel is way, way up, and with that, emissions from our travel is way, way up -- not to mention the many other unintended ecological consequences that may happen when we visit foreign lands and cultures.
The environmental impact of cruises isn't thought about nearly as much as air travel, but with cruise traffic also increasing (the Cruise Lines International Association reports a seven percent increase from 2017 to 2018, with a total of 28.5 million passengers sailing the seven seas) it also needs to come into focus. More than just emission from ships, there are other environmental factors including cruise companies using heavy fuel, dumping waste, disturbing marine life and overcrowding small ports.
But one Norwegian cruise company is working to set a standard for a cleaner cruising future. This year, Hurtigruten, the world's largest expedition cruise company, debuted the world's first hybrid ship powered using batteries and low sulfur diesel.
MORE: Use these seven planet-saving travel tips to minimize your impact
The MS Roald Amundsen operates much like a hybrid car, using the batteries for "peak-shaving" to get as much power as possible out of every gallon of fuel. While other cruise ships fire up an extra engine when they need more power, the Amundsen gets energy from the battery packs shave off the usage peaks, saving over 20 percent of emissions and keeping the ship runs quieter, which means less disturbance to marine life and locals in small ports.
Starting in 2018, Hurtigruten also banned single-use plastic on their ships. "Everyone from every crew member to the owners had the same level of engagement around this effort. Everyone wanted to do it," says Magne Jacobsen, VP Hotel Operations Hurtigruten Expedition.
Toward that effort, the company stopped supplying small amenity water bottles in cabins two years ago and instead use large, refillable ones. And once onboard, every guest gets an aluminum water bottle to use throughout the trip and take back home, typical on expedition cruises. "It's about using less overall. Producing less and using less plastic overall," says Jacobsen.
Hurtigruten banned single-use plastic from their ships in 2018.

| Andrea Klaussner / Hurtigruten
MORE: This handy map tells you which travel destinations have banned single-use plastic
The ship provides Green Stay signs in the rooms to help save water and chemicals on sheets and towels. Hurtigruten reports that 20 to 30 percent of guests use them every day. For each room that put the Green Stay sign on their door, Hurtigruten donates around .50 to the Hurtigruten Foundation, which fights against marine plastic pollution, supports local projects in the areas they explore, and endeavors to save the polar bear population.
These shifts are all ones the guests can see, but there is a lot more going on behind the scenes. The MS Roald Amundsen has a unique wave-piercing hull design that makes the ship move more smoothly through the water to decrease drag and use less fuel.
Its state of the art engine was designed by Rolls Royce, and the water used to cool it sends heat back through the ship to the showers, galleys, hot tubs, infinity pool and ventilation systems. It also has a zero impact wastewater system and advanced heat and energy recovery system.
This 500-person expedition ship is small compared to other cruise ship behemoths, but its power to change the industry is mighty. Hurtigruten hopes that this new ship will become a trendsetter in the industry, and more will follow their lead. By 2022, the Norwegian company plans to have ten battery-powered ships. They're also working on converting their ships to run on a biogas made from liquified fish -- sounds gross but it beats an oil spill.
MORE: The best cruises in the world right now
Book a stay at Soneva in the Maldives -- a resort striving to be 100 percent waste-free.

| Soneva
Not cruising? Other ways to reduce your footprint with planes and hotels
However, cruise ships are just a piece of the problem when it comes to eco-friendly travel. With air travel being the biggest contributor, many are opting to travel closer to home -- one of the biggest things you can do to lessen your travel footprint. But if you have to fly, book with an airline that allows you to purchase additional carbon offsets like Delta, Air New Zealand, Air Canada, JetBlue, Qantas and Cathay Pacific.
And once you land, choose an eco-friendly hotel. A few are doing it more successfully than others -- high up in the Chilean desert,
Tierra Atacama
is South America's first 100 percent solar-powered hotel. All of Tierra Hotels' properties, including
Patagonia
and
Chiloé
, focus on preserving local plants and culture with local artists, workers and tours.
MORE:
The best places on earth to (ethically) see rad animals
On the opposite side of the world in the Maldives, resorts see sustainability as a stark necessity. This sea-level group of islands is on the front lines of feeling the effects of climate change.
Soneva
and
Gili Lankanfushi
are two of the more sustainable resorts there, working to be 100 percent waste and plastic-free with their own recycling plants and sustainable farms on the island.
Kudadoo Maldives Private Island
is the only 100 percent solar-powered resort in the atolls.
Just off the coast of Singapore,
Bawah Reserve
is an all-inclusive paradise working to protect the beautiful environment it inhabits. It was built with a "minimal impact" approach, only clearing what was necessary and using bamboo and stone found on the island for building materials. All wastewater is pumped to treatment areas, and all solid waste is sorted and recycled.
There are dozens of ways to limit our impact on the environments we choose to travel to. These brands are just a handful who are kickstarting the move to travel smarter and more efficiently. If cruising is your thing, put your money towards companies actively working to change the industry for the better. So you can book that next trip feeling less guilty and helping to save the planet at the same time.