Book Your Next Vacation by Text Message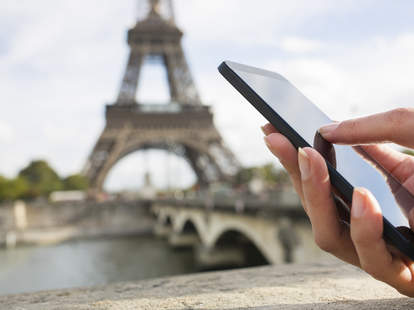 You probably didn't even realize that they still existed, but travel agents are pretty freaking helpful. If you're willing to deal with something crazy like ACTUAL human contact, they know more people and more deals than any travel app ever could. The problem, of course, is that you have to actually set aside time to talk to them. And who wants to do that?
 
Clearly not the folks behind Hyper, a new app that allows users to book flights, trips, etc. with the help of a travel agent, entirely by text message. Yep, while simply avoiding small talk at an awkward dinner, you can send a message to a friendly travel agent (assisted by artificial intelligence) who will then arrange the perfect itinerary for you.
Courtesy of Hyper
Here's how it works:
You send an email, text message, iMessage, or other electronic carrier pigeon stating what you're looking for in an itinerary. It can be as simple as:
 
"I need a flight from Tucson to Milwaukee leaving before noon on American Airlines on January 31, returning February 3rd around 4pm. My budget is $500. I also need a hotel in Milwaukee less than four miles from the Miller Brewery for under $200 a night, and a compact rental car."
 
And presto! The travel agent gets back to you with a convenient, easy-to-read graph that outlines your options. Accept the trip, and you're headed to America's Dairyland! In February. Oh, goodie. Reject it, and they'll go back to the drawing board to help you find an alternative itinerary. There is no charge for the service, and if you find a cheaper rate for any part of your trip, Hyper will book it for you at that price.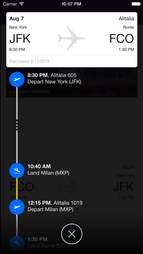 Courtesy of Hyper
Like a real person (because they are!), the agents at Hyper also remember stuff like your hotel preferences and actively look for applicable discounts. And if you want to use points, frequent-flier miles, customer loyalty punchcards, or any other kind of rewards program, just mention that in your text and they'll factor it into their search.
 
While the basic service and the app are free, Hyper's gotta make money somehow. And that somehow is by charging for $20-25 per month for premium memberships. But wait, what extras do you get with a membership? In addition to stuff like single text cancellations/changes and 24/7 service with guaranteed 15-min responses, Hyper will also contact customer service for you should issues arise on your trip. There's also a pay option for businesses to help with group booking and expenses. 
 
So, yes, we may have taken one more step towards never talking to anyone ever again. But at least this step saves you big money by doing nothing more than what you do all day long anyway, sending text messages.
Sign up here for our daily Thrillist email, and get your fix of the best in food/drink/fun.
Matt Meltzer is a staff writer at Thrillist who once booked an entire trip to Europe while waiting for a drawbridge to lower. He also uses his phone for Instagram @meltrez1.