Freeze your balls off at a hotel made entirely of ice
If you haven't been keeping tabs on the recent proliferation of bars made of ice... well, there's been a proliferation of bars made entirely of ice. Consider yourself caught up. But New York's Minus5 and Boston's Frost Bar are totally pedestrian (you can finish a drink in less than a minute) when you consider the prospect of overnighting at Sweden's ICEHOTEL. It's designed, sculpted, and built completely from ice and snow, and only open until April.
1,000 tons of ice from the Torne River and 30,000 tons of mixed snow and ice were stored for months, before being used to create the hotel's structures.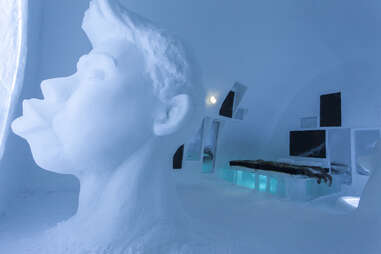 With 20 Ice Rooms (ice furniture included!), eight Snow Rooms (temps hover around ten degrees below freezing, for "comfortable sleeping"), a handful of Art Suites ("designed and created by handpicked artists from around the world"), and two Deluxe Suites (complete with private saunas), the ICEHOTEL offers myriad bone-chilling overnight options. Assuming you're not freaked out by a giant head in your room, ask for the Narcissus Suite.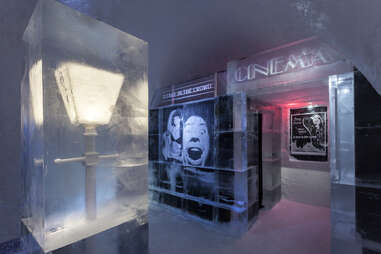 Or perhaps you'd prefer a room with a street lamp you can't seem to turn off because it's frozen in ice (!!), in which case A Face in the Crowd is the Art Suite for you.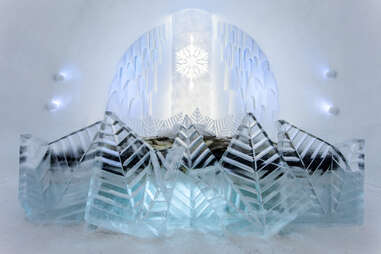 Somehow boasting the exact same name you gave your emotionally unavailable GF sophomore year, the Frosty Flower Suite is designed by two Japanese artists who work for a resort called Igloo Village. That should give you some insight as to their level of expertise.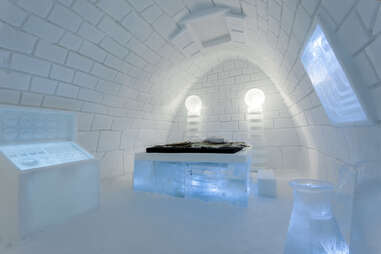 Oh no, we're not done. There're plenty more snow-tel rooms to see -- starting with the Frankenstein-inspired It's Alive Suite.
Possibly the only time you'll sleep in the subway (apart from when you passed out on your way home from the company holiday party), Mind the Gap brings the London Underground to ice. Now please, clear the doors so the train can leave the station.
Enjoy a pre-dinner cocktail at the ICEBAR, then shiver your way into the on-site restaurant for a bit of relief -- it's NOT made of ice, so you can eat without the fork sticking to your tongue.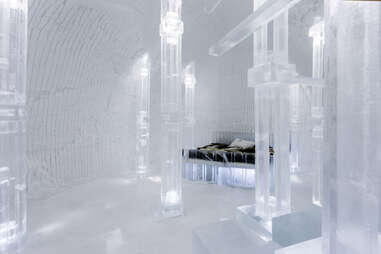 How does one survive a night here without freezing to death? Guests are put though a "survival course" -- complete with details on how to dress appropriately and make the beds with Arctic sleeping bags. If you pass (and wake up the next morning, alive!), you'll receive a fancy little diploma before being escorted to the part of the hotel with heated rooms. Good luck.