The World's First Open-Water Beluga Sanctuary Is Opening in Iceland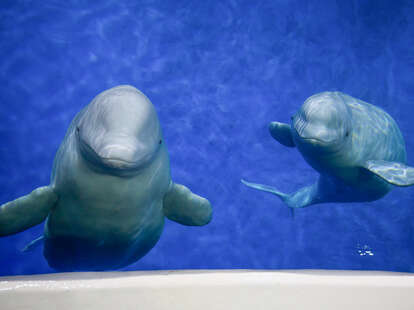 Iceland has just been so under-the-radar these last few years, tourism-wise. (Insert sarcasm emoji.) Finally, though, foreigners have a reason to visit.
This spring, the world's first open-water beluga sanctuary opened in Klettsvik Bay on Heimaey Island, which sits just off the southern coast of Iceland between Reykjavik and Vik. And on June 19, the Beluga Sanctuary will receive its first two belugas: Little Grey and Little White. Between August 1 and October 30, you can take a boat trip out on the bay to view the whales (tickets start around $50 USD). In the meantime, the Visitors Centre has a large aquarium and a puffin sanctuary that are already open for business (tickets to those start around $28.50 USD; no boat trip required).
Little Grey and Little White are both 12-year-old female belugas originally from Russia, around 13 feet long and weighing around 2,000 lbs -- roughly the size of a Clydesdale, just long instead of tall. That's about average size for female belugas (males are bigger). They eat herring and capelin, lil cold-water fish that subsist largely on plankton. According to the sanctuary, Little Grey is the more extroverted of the two -- playful, curious, eager to learn, and with a rather impish side. She enjoys spitting water at her handlers. Little White is more shy and reserved by comparison, but she too likes playing with her handlers once she gets to know them.
Belugas are capable of diving more than 2,000 feet, but usually keep to the 60 or so feet below the ocean's surface. The Beluga Sanctuary is 30 feet deep, but about 34,455 square feet -- roughly six football fields, which represents a massive increase from the Sea World-like conditions the whales have known their whole adult lives. Both were taken into captivity as babies, and have spent the years since in tanks performing at Shanghai's Changfeng Ocean World, China's first marine aquarium.
Sea Life Trust has spent the last seven years working out the logistics of the whales' upcoming journey. First, Little Grey and Little White will be taken from Chengfeng Ocean World by truck to one of Shanghai's two international airports. Then they'll be flown 5,581 miles to Keflavik airport in Iceland. Then another truck will take them to a ferry terminal, and the ferry will move them the last few miles to Heimaey Island. Klettsvik Bay, incidentally, is where Free Willy was filmed; you may recall the eponymous whale of that film heroically jumping to freedom, but in real life whales raised in captivity are unlikely to survive in the wild.
Little White and Little Grey are undergoing special training to acclimate them to the equipment and conditions of their trip so they experience as little stress as possible. They're also being gradually acclimatized to cooler water -- belugas are Arctic whales, but their new Icelandic habitat will be much colder than the tanks they've become accustomed to -- so they'll eat more and pack on the extra blubber they need. We stan a happy, thicc pair of whales.
Sign up here for our daily Thrillist email, and subscribe here for our YouTube channel to get your fix of the best in food/drink/fun.