Filip Fuxa/Shutterstock
Filip Fuxa/Shutterstock
Road trips take on many forms: family trip to grandma's, cross-country with your best friends, or from Ithaca to Texas to ensure your girlfriend doesn't receive the sex tape you accidentally sent her. Then there's the truly spectacular variety -- the road trips that wind through some of the most jaw-dropping scenery in the world, ensuring your faceprint is clearly visible on the car window. And let me assure you, Iceland's Ring Road is that trip, a thousand-odd miles circumnavigating a country of volcanoes and glaciers at the edge of the Arctic Circle.
A thousand miles can be done in a couple of days, if you're just trying to spin your odometer. But Icelanders recommend taking a solid week to make the whole thing, ostensibly to go as slowly as possible when you find something incredible -- which of course you will. In a clockwise direction, we've compiled here the most gorgeous reasons to head to the edge of the world and rent an SUV for, oh, six or seven days ought to cover it.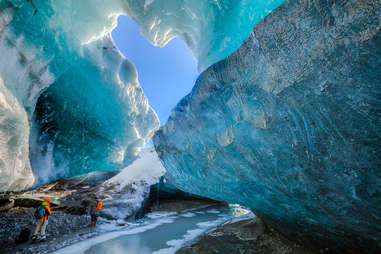 Vatnajökull
A solid point to aim for based on sheer size alone, Vatnajökull is the biggest ice cap in this entire island country. As in, so big you can see it clearly from space. Obviously there's a lot of ground to cover, but the real priority in this region is touring the breathtaking glacier caves, craters, and lagoons. (Don't worry, we're about to tell you the best stops for all of this.)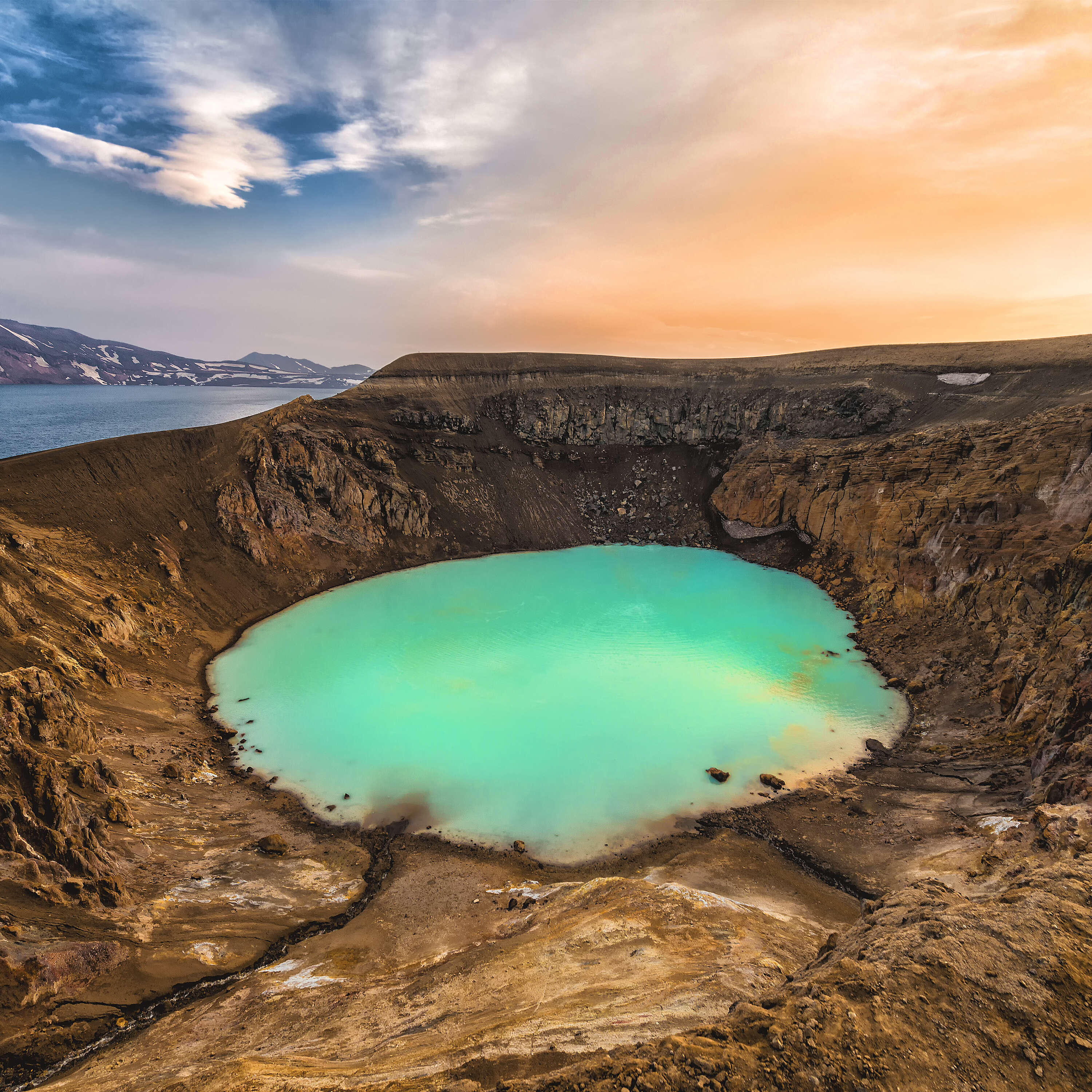 Víti crater in Askja
In the highlands of Iceland (a smidge northeast of Vatnajökull, right under the lakes Öskjuvatn and Víti) lies an area so remote, no one even really knew it existed until the area quite literally erupted. (Typical.) Today you can still only access the roads through this area for a few months of the year since it's located smack dab in a rain shadow, which is exactly what it sounds like: It doesn't rain there, essentially creating a (really cold) desert. So why the hell would you want to go there? Because it's full of craters, geothermal lakes, and is used to train astronauts for lunar missions -- meaning it's as close to walking on the moon as the average Joe can get without actually chartering a spaceship/being Lance Bass.
Jökulsárlón
To get here, just drive straight down from Askja until you literally run into a giant glacial lake on the edge of Vatnajökull National Park -- you can't miss it! This is your spot for epic glacier and lagoon exploring; it's likely what most people think of when they think of Iceland: chunks of glistening ice floating in crystal-blue water like a mythical sea of Hope diamonds. It's even prettier than it sounds. Take your sweet time here.
Svartifoss
Once you start heading west, make a quick stop-over at this 40ft-tall, incredibly kick-ass waterfall in Skaftafell. It's completely surrounded by dark lava columns, coining its street name: Black Fall. You'll need to hop out of your ride and hit three miles of trails to see this one -- but it will be worth it.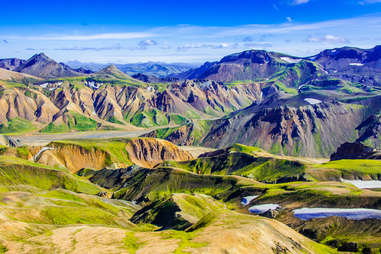 Landmannalaugar
If you veer slightly inland to Fjallabak Nature Reserve in the Highlands, you can cruise through this entire serene, mountainous area (as long as you don't skimp on the 4WD). If want to stretch the legs, you can hike one of the many trails or sit in natural hot springs formed by the neighboring lava fields.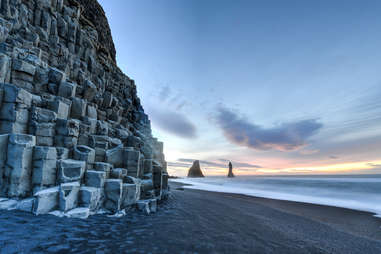 Reynisfjara Beach
The first time I ever heard of a black sand beach I became obsessed with seeing one (what this says about me remains unclear) -- and this is the crown jewel of them all. You can drive right up to it, but give yourself plenty of time to get out and savor all of its black pebble beach, dramatic cliff and basalt columns glory. Unless you're Bodhi, be wary of surfing, as the waves tend to be pretty flipping massive.
Seljalandsfoss
If the Black Fall is Darth Vader, consider this one a bright and shiny Luke Skywalker. Miles of lush landscape and likely a few rainbows can be seen while standing behind 200ft of falling water. While the theory has yet to be proven, it's very likely this is where the term "stupid pretty" originated.
Reykjavík
Just a hop and a skip from the the falls is where you can embrace civilization again. Although it's the country's capital and largest city, it's still Iceland -- so in lieu of skyscrapers, it's refreshingly peppered with sweeping hills, murals, and the famous Hallgrímskirkja church. One of the tallest structures in the country, this Parish was designed to resemble flowing lava and is said to "guard" the town.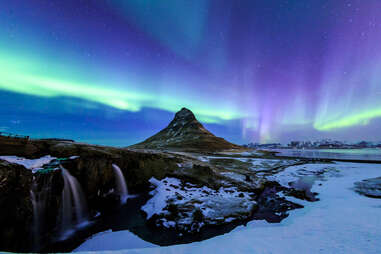 Northern lights at Mount Kirkjufell
You thought you were going to drive around this entire country and not see the aurora borealis? Well, you were probably right -- it's pretty hit-or-miss. But this area located on the Snæfellsnes peninsula, a narrow spit of land that protrudes from Iceland's west coast, is likely your best bet. And odds are even better if you're visiting sometime between November and March.
Ice cave in Langjökull
If you can get past the fact that parts of this frozen labyrinth are reminiscent of the snowy hedge maze in The Shining, cutting inland to explore this breathtaking glacier cave is life-changing. Beside the fact that you're literally going beneath the surface, stepping above several hundred feet of natural ice cap, here's the clincher: It's very likely a monster truck that will transport you to the entrance of the ice tunnel.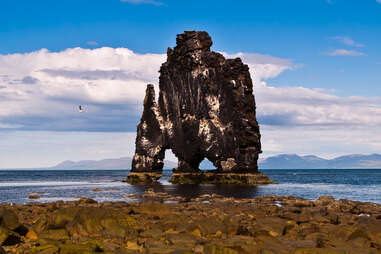 Hvítserkur
You can't climb it, explore it, or even really touch it without braving some frigid water, but this 50ft monolith right off the shore of Northwest Iceland is just plain cool. Formed naturally by erosion, it's a favorite spot for seals to frolic. And despite the fact that legend has it the structure is actually a petrified troll, everyone thinks it looks like something different. (For what it's worth, I stand by prehistoric elephant.)
Sign up here for our daily Thrillist email, and get your fix of the best in food/drink/fun.
Liz Newman is a contributing writer for Thrillist, and refuses to take any road trip without Chex Mix or blaring Nelly's "Ride Wit Me." Follow her on Twitter and Instagram @lizn813.