Because there are (at least) 13 ways a volcano can kill you, it makes sense to stay the hell away from them. Unless, of course, you have the chance to descend 400ft into the middle of one, in which case, you should totally do that.
And you can, thanks to Iceland's epic Inside the Volcano tour, where -- for three months a year -- visitors are lowered into Thrihnukagigur volcano to the only accessible magma chamber on the entire planet.
Recommended Video
This Boozy Hot Cocoa Is 20 Pounds
First things first, though. Across fields of lava south of Reykjavik, a base camp is built each May with materials hauled in via helicopter.
But, like the Dayton Flyers in the NCAA tourney, the run is limited; it'll be gone by September. Assuming you're not feeling a descent into the the belly of the beast, those same aforementioned choppers also offer exciting 2hr tours of the volcano's exterior.
Kick things off with a brisk 2mi hike to the crater, before walking to the edge of this cable lift plank while nervously making bad pirate jokes, or Empire Strikes Back references, or something.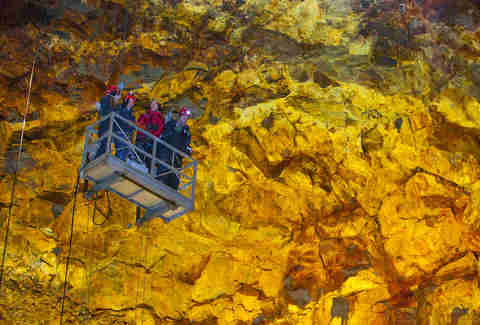 Don't worry, you'll be harnessed to this metal cage.
So that you can impress/annoy your new friends with a Jeopardy-like font of knowledge, know that Iceland is one of the most volcanic regions in the world and home to more than 130 volcanic mountains, many of which are "active" (having erupted during the past few centuries). While science says eruptions occur there every three to four years on average, Thrihnukagigur (or Three Peaks Crater, for the linguistically challenged) has been dormant for over 4,000yrs.
While we're still lowering, more fun facts: the magma chamber is considered the heart of every volcano, where liquid rock (or liquid hot mag-ma) waits to erupt and wreak havoc. At Thrihnukagigur, the magma drained away before it had a chance to cool and seal off the chamber. Scientists remain baffled.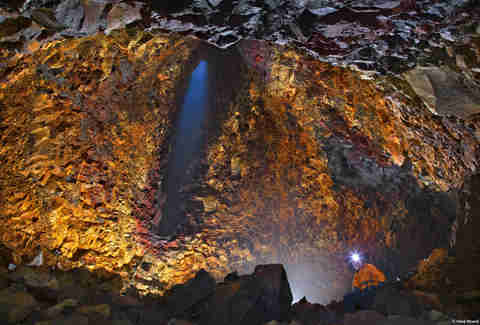 And...we're down. Not only could the massive chamber accommodate three full-sized basketball courts, you could put the Statue of Liberty down there too -- and still have 100ft to spare. And while you'll have to settle for wearing a headlamp and standing on the bottom -- assuming you book your $325, 6hr tour here -- there are passages that continue to a depth of 700ft.
Sophie-Claire Hoeller is Thrillist's über-efficient German travel writer. She's had frequent flyer status ever since her mother gave birth to her at a Lufthansa terminal. Follow her at @Sohostyle