Sometimes I just want to ride in a carriage because it makes me feel like a pretty, pretty princess. It doesn't matter that the man driving my carriage may be an ex-con, or that the smell of feces feels like it's slowly cutting off my oxygen. This is Vienna, dammit. I'm Mozart, or Mozart's saucy lady friend. I've got an imagination, and it's given me a pink powdered wig. That was 50 euro well spent. 
Hi, my name is Kara, and I love cheesy tourist attractions. Glad that's off my chest. 
I'm serious. And you know what? I think a lot of you secretly agree with me, because the line to get a carriage is exceptionally long, as is the line for all romantic carriage rides from New York City to St. Petersburg. The ghost tours are always full. Anything involving a photo op with a man in a Renaissance costume creates a crowd. The Venice canals are the same color as the water in a flooded dive bar bathroom, and yet the people still pay $140 (!!!) to float along and sing. Why? Because it's Venice, and when you are in Venice, you let a foreign man in a striped shirt, straw hat, and suggestively tight trousers sing to you. That's what you do.
Recommended Video
Please Don't Hang Up: The Best Things to See, Eat, and Do in Milwaukee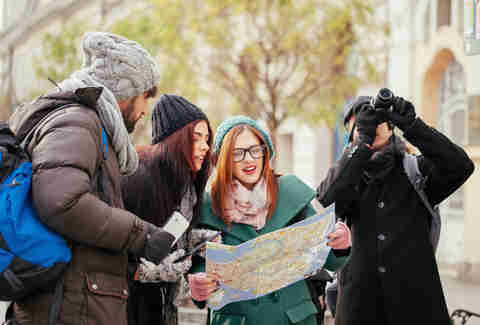 There's a discrepancy here. I see the lines as clear as day. Yet, when I ask anyone what is on the trip itinerary for their latest European rendezvous, they always tell me, "Oh, you know, we're going to some out of the way spots." Or, "We don't want to plan it out. We want to live like the locals." So, are you telling me you're not going to eat at the top of the Eiffel Tower? You are not going anywhere close to the Eiffel Tower? 'Cause, ummm, your Instagram is saying something very different; you might want to check your own Instagram.
 
Personally, I don't understand the shame. You only have one chance to be a tourist. You have your whole life to be a local. Also, you cannot force a society to accept you as a local. Sorry, you just can't. Gaining this status takes years, a work visa, and a much better accent then the Texan-twanged French you are speaking.
You will try and try to look for "underrated" and "under-the-radar" and end up getting lost in the rain, crying "Parlez-vous Anglais?" to every local baker. You are not going to succeed in being a "local" with a europass in one hand and a return ticket home in the other. Give up. But there is one persona you can take on and live out to perfection: the tourist.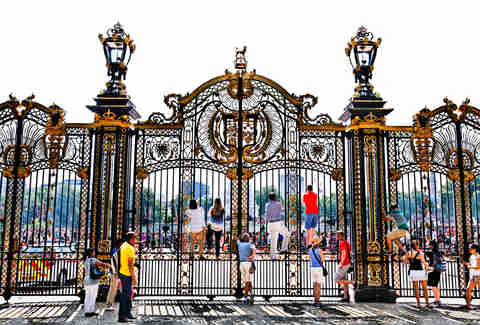 In my opinion, being a tourist is underrated. For instance, short of maybe your office's Polynesian-themed casual summer Friday, there aren't a whole lot of socially acceptable occasions in life to wear a Hawaiian shirt. (If you don't naturally glow and smile when you wear a Hawaiian shirt, we can't be friends.) I also hold a firm belief that there's a small part of every man, woman, and child that wants a photo with a Buckingham Palace guard. Don't smother it. Let it out. It's not crazy. You are a tourist. Be honest with yourself and those around you. Just don't be this guy.
Truthfully, there's nothing worse than a tourist in denial. The long lines to cheesy attractions exist for a reason. You may whine as you stand on blistered toes to look over crowds, but if you are in the line, you are one of us. I've stood in line not once, not twice, but three times to get a cable car ride from Union Square to Fisherman's Wharf in San Francisco. I could have taken the subway. I could have taken a cab. But I can take those in any city. The trolley is special.
Everyone hates to admit they enjoy the mainstream. But these attractions and tourist traps have been around and thriving for years. They are classically popular for a reason. These are the best attractions out there, and in a wacky, exaggerated sense, are a shot to the heart of the country's culture. No matter what the hipster's wagging tongue may tell you, these attractions are a right of passage. And they must be experienced at least once in a lifetime. 
So listen, I suggest you come clean and live the life of travel brochure dreams. Next time you are in a new city, follow the pop-up map. Take advantage of the fact that NOBODY KNOWS YOU, and go to whatever "embarrassing" attraction captures your attention. Eat the giant funnel cake. Go answer the hand-gestured call of a mime. Jump on the nearest Ferris wheel. When it's all said and done, if nothing else, you'll have some damn good photos. Just don't put 'em up on Facebook. Or do, who cares!
Sign up here for our daily Thrillist email, and get your fix of the best in food/drink/fun.
Kara King is a Production Assistant at Thrillist and has yet to go on an obnoxious gondola ride. Follow her shameless tweets at @karatillie