Built inside an old airplane hangar almost 200 miles from the actual ocean, TIR's a 1181ft x 689ft faux paradise of sun and surf where the temp stays at 80F and the sky's always blue -- but only because it's painted on one of the walls.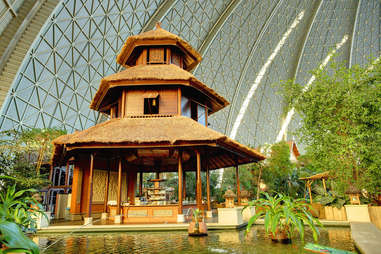 Not only that, there're themed sections like the Tropical Village, Rainforest (with over 50,000 plants), and Bali Lagoon, which boasts a spa, waterfall, and hot air balloon! The park's even tricked out with bungalows you can rent overnight, a full restaurant, and a beach bar for all your favorite German-styled island libations.
The only catch, the place can reportedly handle 6,000 beachgoers at one time; and with only 400 beach-beds, good luck finding a spot to throw your towel down!
Chloe Pantazi is an editorial assistant on Thrillist's travel team. Follow her to fake paradise on Twitter at @ChloePantazi.