Despite what the the media might have you believe, Ebola isn't going to kill you at the beach, or on your vacation to the Bahamas, or anywhere outside of West Africa, for that matter. No, there's no reason to desperately get Cuba Gooding Jr. on the phone (other than to ask what he was thinking making Boat Trip, of course.)
You know what will mess you up on vacation, though? Those tiny microbes -- crawling on everything from your armrest to your in-flight magazine -- that are determined to make you and the airplane toilet best of friends. Not to mention the insects, vegetables, and water you come into contact with once you've landed and are out and about.
Before you invest in an unhealthy supply of surgical masks and hand sanitizer, though, you should know what you're up against. Here's our brief roundup of the most (un)popular agents of infection abroad -- along with tips on where to find them and (most importantly) how to avoid them.
Recommended Video
Here's Our Travel Guide to This Nation of Over 7,000 Islands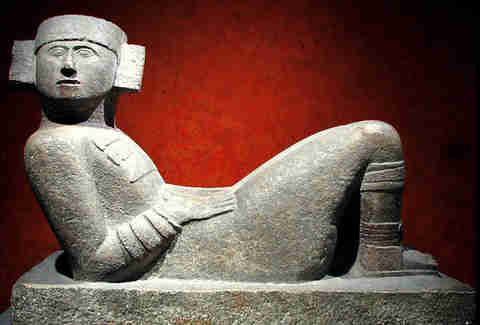 Travelers' Diarrhea
Ah yes, "Montezuma's Revenge". A margarita on the rocks seemed like such as a great idea at the time, but three hours later you can't get off the hotel room toilet, much less eat your money's worth at the all-inclusive resort buffet. At least you're not alone; the most common of all travel illnesses, traveler's diarrhea (TD) works its explosive magic on an estimated 10 million people per year.

Where you'll get it: Developing countries are high-risk destinations -- those include parts of Latin American, Africa, the Middle East, and Asia. The primary culprit? Contaminated food and water. Or, if you prefer the Bill Nye answer: bacterial enteropathogens, which cause 80 percent of TD cases.

How to avoid it: The CDC astutely points out that symptoms "begin abruptly" and result in "increased frequency, volume, and weight of stool". But you already know that. TD is rarely life-threatening, and you can minimize risk by passing on the 2am street kebab and avoiding all raw fruits and vegetables, tap water, and dairy products. Luckily, beer, wine, and booze are all TD free!
Malaria
Just when you thought mosquito nets were a whimsical bed-time fantasy, you realize the flimsy barrier is all that stands between you and some truly miserable symptoms, including fever, chills, headaches, and vomiting.

Malaria is spread by nighttime female mosquitoes carrying a parasite called plasmodium. In 2012, there were some 207 million malaria cases and an estimated 627,000 malaria deaths, mostly in developing counties. While the disease is treatable, you should definitely take it seriously.

Where you'll get it: Malaria is prevalent in the Caribbean, Latin American, Asia, and Africa -- particularly in tropical areas (basically anywhere with a great beach and cheap margaritas).

How to avoid it: Check the CDC Travelers' Health website for destination-specific guidelines. As a general precaution, use the mosquito bed nets -- just think of your hotel as "colonial-themed". Also, slather yourself in DEET-containing repellant and in some cases (read: if your doctor prescribes it) take an anti-malarial tablet. The side effects generally suck, though, so don't overdo it.
STDs and HIV
While a fling in Rio might seem like a good idea, the resulting rash and pee pain are anything but. "Excuse me, are those Bad Idea jeans you're wearing?" An estimated 20 percent of travelers admit to having relations with a random partner in a foreign country; if practicing unsafe sex in an exotic land is your jam, you can look forward to syphilis, herpes, gonorrhea, chlamydia, and HIV, to name but a few of the diseases you're likely taunting.

Where you'll get it: Anywhere you can fornicate, you can pick up an STD.

How to avoid it: No sex. Also, if you're reading this, you should probably attend health class!
Dengue Fever
That blood-sucking beast the mosquito strikes again to deliver yet another malady, and this viral infection is particularly rough. Nicked-named "breakbone fever" for its limb-shattering pain, victims say even their eyeballs hurt. Yeah, it's that bad -- and it's also widespread. As many as 400 million people are infected by Dengue worldwide each year.

Where you'll get it: Once again, our favorite destinations breed the bad stuff. Dengue is most common in urban areas in tropical and subtropical regions, including parts of the Caribbean, Latin America, Australia, Southeast Asia, Africa, and the Western Pacific Islands.

How to avoid it: Currently there is no vaccine, so the CDC recommends avoiding mosquito bites -- you know, 'cause that's easy to do. You're best off covering up, wearing repellent, and avoiding mosquito-breeding grounds, which is pretty much any puddle of standing water you encounter.

For the most part, Dengue clears up in a few weeks, although a small number of cases are more severe. Consult a doctor if you feel like your bones are breaking after visiting a Dengue-prone region.
Influenza
The dreaded flu. Not to be confused with the common cold, variations of this contagious respiratory disease are responsible for the swine flu pandemic of 2009, the bird flu scare cira 2013, and a surge in stylish surgical masks (the pig snout is a personal favorite).

Influenza is transmitted by airborne droplets among crowds in enclosed spaces (translation: that guy who sneezed all over your arm) and hand contamination, or high-fives with sick dudes.

Where you'll get it: Influenza is a tricky one. Flu season for the Northern Hemisphere runs from October to May. For the Southern Hemisphere, it's April to September. To complicate things further, tropical areas have no seasonal pattern, except that it generally peaks during rainy season.

How to avoid: Get your seasonal flu shot (it even comes as nasal spray now!). Also, make like Jack Nicholson in As Good As it Gets (Cuba Gooding, again!) and wash those hands. A lot. Oh yea, avoid any flu-ish fellow travelers like the plague, and if you have symptoms, do your wayfaring comrades a solid and stay home.
Yellow Fever
Guess what causes this one? Yep, that two-winged little bastard continues to wreak havoc on human health. Virus-carrying mosquitoes spread Yellow Fever, a vacation-ruining condition manifested by fever, nausea, vomiting, and a host of other misery-causing symptoms.

Where you'll get it: If you're traveling to tropical regions of sub-Saharan Africa and South America, you're at risk. Check the CDC website for the latest.

How to avoid it: Luckily, this one's got a vaccine. Some countries require a Yellow Fever vaccination on an internationally accepted (and cleverly color-coordinated) yellow card. Note: Proof of vaccination is not valid until 10 days after the shot, so don't procrastinate. The standard mosquito-avoiding ninja tactics apply here too.