Venture into an Icelandic lava-spewer
Not a beautiful, sacrificial virgin, but still want to get all up inside a volcano? Well, thanks to the folks over at obviously spelled Thrihnukagigur Volcano, now you can!You'll begin the tour by taking a hike across a lava field, up the mountain that's "often compared to the surface of the moon", presumably because very quickly, even small steps begin to feel like giant leaps.
Once you get to the top, you're lowered in using "a system that's normally used to carry window cleaners on the sides of skyscrapers".
Regarding sky-scraping, it's bigger than the Statue of Liberty in there, but nowhere near as hot, as it's been dormant for 4000yrs.
This is the view from the bottom.
Once you're down there, you can spend an hour doing whatever you want... high score on Temple Run here we come!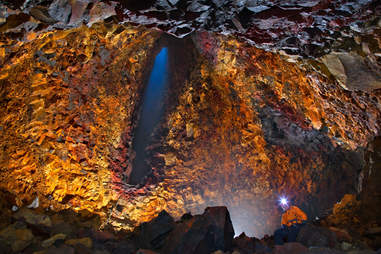 You'll also be fed a delicious, traditional Icelandic meat soup. In fact, "you can have as much of it as you want." Just don't sacrifice your beauty!