6 international beer fests you should hit this year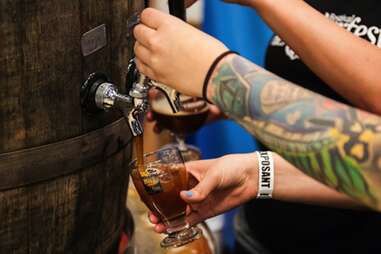 Mondial de la Bière
June 11th to 15th, 2014
Montreal, Canada
Canada's largest brew fest draws 100k over five days with 500 beers, meads, and ciders from 120 breweries. The École de Biérologie MBière conducts workshops -- lending the festival an air of sophistication -- while vendors grill up exotic meats (deer, kangaroo, bison) alongside traditional Montreal staples like poutine and smoked meat sandwiches.

Qingdao International Beer Festival
August 9th to 24th, 2014
Qingdao, China
Asia's largest beer celebration takes place in a town casually known as "the Munich of China", which makes sense considering it was once a German colony, and remains home to the original Tsingtao factory, which opened in 1903. Annually, dozens of famous breweries the world over descend on Qingdao's sandy beaches for this 16-day Asian Oktoberfest, complete with parades, carnivals, and drinking contests -- not to mention tons of karaoke.
The Great British Beer Festival
August 12th to 16th, 2014
London, UK
Brush up on your English accent before crossing the pond for the UK's largest brewfest, a five-day, 900+ suds affair hosted by the Campaign for Real Ale. Rocking a circus theme this year, expect 350 British brewers and 50,000 thirsty revelers across two grand halls. Also, they're bringing back "Hat Day", so don't forget to pack your finest bowler.
Belgian Beer Weekend
September 5th to 7th, 2014
Brussels, Belgium
As you're well aware there's more to Belgian beer than Chimay and Hoegaarden, Belgian Beer Weekend's your chance to try it all -- or at least 350 local brews from over 50 area breweries. Organized by the Belgian Brewers Association, who boldly boast that their homeland brews the largest range of distinctively different beers in the world (uhhh… okay?), the event kicks off with a celebration of Saint-Arnould (the patron saint of not-the-Milwaukee Brewers) and a beer blessing in the Cathedral of St. Michel and St. Gudula.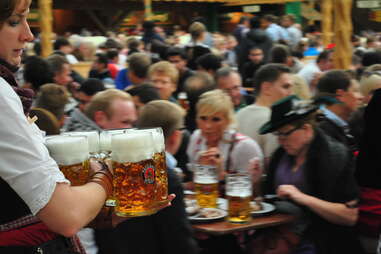 Oktoberfest
September 20th to October 5th, 2014
Munich, Germany
While obviously the most famous (and biggest) beer fest in the world, did you know it originated in 1810 as a folk festival to celebrate the wedding of Crown Prince Ludwig and Princess Therese of Saxe-Hildburghausen? In fact, holding to tradition, only six breweries are allowed to sell their beer there (Augustiner-Bräu, Hacker-Pschorr-Bräu, Löwenbräu, Paulaner, Spatenbräu, and Staatliches Hofbräu-München), and it must be brewed within Munich's city limits according to the German purity law. Usually around 6% ABV, drink too much and you'll become what locals lovingly call a "Bierleiche", or "beer corpse".
Pilsner Fest
October 4th, 2014
Plzen, Czech Republic
An obvious choice of location for an epic annual beer fest, Plzen -- aka Pilsen, aka the birthplace of Pilsner, aka the home of the Pilsner Urquell brewery -- draws thousands each year for this two-day, 200yr-old celebration of suds. In addition to commemorating the day the first batch of Pilsner was brewed (October 4th 1842), you can also don period costumes and actually brew some beer, as well as help try to break the record for most people joining in a collective toast.
Sophie-Claire Hoeller is Thrillist's über-efficient German associate travel editor, and regards Oktoberfest as her true alma mater. Follow her @Sohostyle