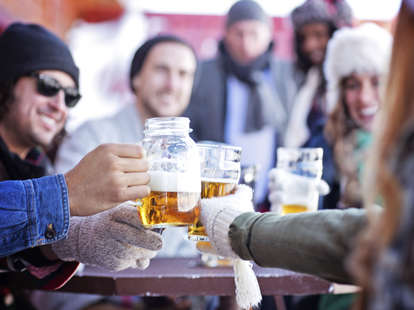 iStockPhoto
iStockPhoto
When the lifts stop spinning, it's time to party. And when it's time to party, well, that's when the weekend turns from memorable to legendary. While most mountains have a bar or two for post-ski libations, a few resorts have turned après into a science.
With big-name concerts, end-of-season blowouts, and go-go dancing après parties, these 13 ski destinations up the ante on the traditional winter throw-down. Welcome to the top party mountains in the world.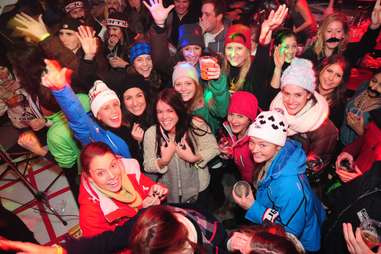 Mont Tremblant
Quebec, Canada
Base Grind: If you're like most of us and can't casually spend a week partying in the Alps, Quebec's Mont Tremblant is a perfect Euro-styled alternative. Just a hop and a skip from Montreal, Tremblant is an epicenter for college breaks and blends club atmosphere with noteworthy skiing and riding. For the park rat, it's also one of the birthplaces of freeskiing and has the terrain parks to prove it.
Secret Stash: If partying with freeski and snowboard legends is your cup of Molson, then Le P'tit Caribou is the spot to be -- a bar where drinking comes first, and looks follow in a close second. If you need bass thumping in your eardrum, take the party down to Bar Café D'Epoque and try out your cage dancing; DJs keep this joint jumping late into the night.
Aspen, CO
Base Grind: It isn't dubbed "Party Mountain USA" for nothing. In addition to hosting the X Games and featuring four unique mountains of legendary terrain, it's Aspen's rowdy local scene and their closing-day bash that really put this classic ski town above the rest.
Secret Stash: There are plenty of spots to grab a drink in Aspen, but locals go to The Red Onion for the real thing. Order a bear fight, tear up the dance floor with a lifty, and try and avoid getting the boot before last call.
St. Anton, Austria
Base Grind: This Austrian resort isn't considered the après capital of the Alps for nothing. St. Anton is where Europe goes to party in the wintertime. Oh, and that whole skiing and boarding thing? With 94 lifts servicing nearly 400mi of terrain, the options there aren't too shabby either.
Secret Stash: Again, this is like picking the MVP of an All-Star team, but it's impossible to say St. Anton without mentioning MooserWirt, which reportedly serves up over 1,000gal of beer a day and a few good party stories to boot.
Heavenly, CA
Base Grind: It's hard to deny that this South Lake Tahoe gem supports a "party first, ski second" mentality, and frankly, we don't hate it. Casinos at the base, go-go dancers at mid-mountain, and a snow cat that's been converted into a mobile DJ booth (we give you, the DJ Cat), Heavenly is all about the innovative party experience -- something even its iconic bump skiing gangs can't deny.
Secret Stash: While Harrah's and MontBleu are South Lake staples for the casino party types, there's nothing in North America quite like Heavenly's Unbuckle Apres at mid-mountain. Grab a cocktail, switch the ski boots into "aprés mode," and bust a move with the Heavenly Angels -- the resort's very own on-mountain go-go dancers.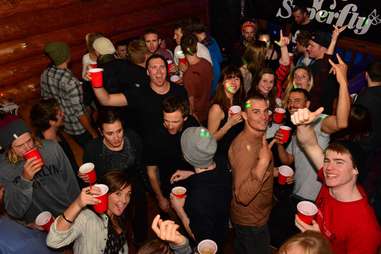 Niseko, Hokkaido, Japan
Base Grind: Japan's mountains are more known for legendary snow than partying, but there is one outstanding exception. Niseko is Hokkaido's crowned jewel, offering a resort town vibe, and much of the crazy nightlife that goes with it. As such, it attracts a European and Australian clientele that enjoys getting after it, whether it be with bottle of Sake from the local Seicomart or at the bars scattered throughout the village.
Secret Stash: The bars themselves are no secret -- hit Bar Gyu+ for a funky laid-back night, or Wild Bill's to get your dance on -- but this little gem could save your night: bring your yen. Most bars don't accept cards, and with only one ATM in town accepting foreign credit cards, you don't want to be the guy at the bar buying shots he can't afford. Just saying.
Sugarloaf, ME
Base Grind: After suffering through their usual bitter-cold winters, East Coasters hang it all out in the springtime. And nowhere more so than Sugarloaf, ME, the host of Reggaefest, a massive end-of-season concert/party that brings the ruckus from all around the region. Hit the best glades east of the Mississippi, skim across freezing water in your Superman costume, and then vibe out to your favorite rhythm band -- all before the sun goes down.
Secret Stash: When the sun does inevitably set, head over to The Rack, Olympian Seth Wescott's libation station, for good beer and good music.
Whistler Blackcomb
British Columbia, Canada
Base Grind: There are few places in North America that rival the terrain and nightlife combo of British Columbia's crowned jewel. Attracting both the nearby Vancouver crowd and a steady stream of international skiers/riders, Whistler has dedicated an entire village to good times after the sun goes down. It also hosts the World Ski and Snowboard Festival every spring, bringing in artists like De La Soul and The Glitch Mob.
Secret Stash: The clubs are always bumping on the weekends, including notables like Tommy Africa's and Maxx Fish. The key here is finding the backdoor -- and that's not even innuendo. We literally mean find the second entrance to avoid the lines, 'cause some of them get serious. While Saturday and Sunday might seem like the jam to most, the locals hit the town hard on Wednesday, and it almost always involves getting weird at Buffalo Bill's.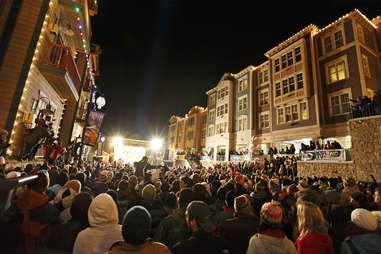 Park City, UT
Base Grind: As a state, Utah might be one of the last places you'd look to party -- archaic blue laws, 3.2% beer, and weak pours -- but Park City is an exception to the rule. Three sprawling resorts all filter into an iconic Main Street packed with its share of bars, restaurants, and nightlife (along a free bus line) that attract an array of partiers ranging from seasonal worker to B-List celebs.
Secret Stash: While Park City's Sundance Film Festival sponsors some of the wildest celebrations in North America, it's next to impossible to score an invite to them. For the everyman, No Name Saloon is a great place to start the evening, and then, if your karaoke game is tight, take the party over to Cicero's for the nightcap.
Verbier, Switzerland
Base Grind: This Swiss village is a classic European après destination -- and no we don't mean that in a hot toddy and tight wool sweater kind of way. Verbier is the place where business moguls rub sweaty shoulders with ski bums, raising pints to a day on some of Switzerland's best off-piste terrain. Mardi Gras is a go-to celebration for the Verbier crowd, but Europe also comes to party on New Years Eve, when close to 12,000 people pack out the center of the village, party in the streets, and turn up their noses at over-priced club covers.
Secret Stash: If you're in Verbier, your après journey has to pass through the Farinet Après Ski Bar -- one of the rowdiest places to grab a post-ski drink on the planet. With live tunes and tons of dancing, this is the spot to cut loose. If you're in town at the end of the season, make sure to check out the Farinet's end-of-season party, the local blowout sure to turn things up a few (hundred) notches.
Killington, VT
Base Grind: Fittingly dubbed "The Beast of the East", Killington is one of New England's biggest resorts and -- just a few hours from New York City and Boston -- serves as party central for the weekend warrior. Expect to find plenty of shenanigans all season long up and down Killington Road at places like the Wobbly Barn, but when the bumps on Bear Mountain turn springtime soft, the party happens on the hill.
Secret Stash: This one's easy: head to Casey's Caboose for free wings, then take the party down the road to either the Pickle Barrel or the Wobbly for drinks, live music, and dancing. You really can't go wrong.
Ischgl, Austria
Base Grind: Referred to as "Ibiza on Ice," St. Anton's Austrian cousin is, in a word, rowdy. The resort plays host to the legendary Top of the Mountain Festival, and on any given day it's tough to figure out where one bar ends and the other begins in the mountain's high-alpine village. Faux-lederhosen aside, the crowd at Ischgl knows how to have a good time.
Secret Stash:Kuhstall is a classic stop and Fire and Ice attracts the young party crowd. But if you want to drop your inhibitions, Kitzloch at the east edge of the village is the spot. Boris the DJ gets things popping early, and dancing on tables is not only allowed, it's expected.
Squaw Valley, CA
Base Grind: Yeah, we have two Tahoe resorts on this list, but frankly, geography is about all that Heavenly and Squaw have in common. You see, Squaw is the spot for adrenaline-seeking skiers and boarders that carry their extreme over to the bar. It's also the locale of the Pain McShlonkey Classic, the biggest and wildest Chinese downhill out there, and a perfect excuse to throw on some neon spandex and make a few drinking buddies.
Secret Stash: Squaw is home to an amazing outdoor après scene, and the party usually revolves around Le Chamois. This is the spot where the hardcore skiers and boarders go to brag about the day's on-hill shenanigans while enjoying a few (dozen) off-hill suds. Grab a Buddy Pass and catch some cosmic rays on the bar's sundeck.
Las Leñas, Argentina
Base Grind: As the snow disappears in the Northern Hemisphere, the party's just getting started south of the Equator. And Las Leñas in Argentina is a prime spot. In addition to playing home to some of the best off-piste skiing in the world (yes, all of planet Earth), it attracts quite the party crowd from Brazil and Argentina. Grab a customary fernet and Coke and try your best to keep up with rapid Argentinian Spanish.
Secret Stash: Las Leñas is pretty far west of the latitude line forming its time zone, so it stays light until around 7:30pm. And since you're in Argentina, don't expect the partying to ratchet up until later; definitely take a nap before sending it too deep. Clubs like UFO Point and Corona Club will keep people jumping until early in the morning and don't be surprised to see crowds filing out as you walk for first chair. But hey, sometimes first chair is overrated, right?