Pub culture has existed in Ireland for centuries. Actually, make that more than a millennium; Sean's Bar in the medieval town of Athlone was established in the year 900. That's enough to distinguish it as the oldest extant bar in all of Europe. Amble inside today and you'll find walls smothered in framed photos depicting historic countrymen and women. Pints of stout crowd wooden tabletops, surrounded by felted booths. Trad music fills the air.
But you need not make your way to the center of Ireland to gain an understanding of the scene. Indeed, you're probably envisioning it right now—because you've seen it plenty of times before. From Malaysia to Mississippi, the Irish pub now exists as a universal cultural commodity. How exactly did it amass such exalted status?
Well, it's a relatively recent phenomenon—by the yardstick of Irish history, at least.
"In the late 19th and early 20th centuries, the Irish people, motivated by famine, spread out around the world, and they brought their drinking culture with them," explains T. Cole Newton, drinks expert and owner of Twelve Mile Limit and The Domino in New Orleans. "The trend didn't really accelerate until Mel McNally founded the Irish Pub Company, which sold 'kits' to anyone interested in opening an authentic Irish pub."
These kits amounted to "turnkey design, build and fit-out" for any space, anywhere on the planet, as described by the company's current website. If you had a roof and four walls, McNally could convert it into your own personal portal to the Emerald Isle. His concept was launched in 1970, but it wasn't until 1990 that things kicked into high gear. That's when he formed a partnership with the fine folks of Guinness.
The famed stout makers of Dublin already enjoyed status as producers of one of the most widely consumed beers on the planet. But after throwing some muscle behind McNally's operation, they were instrumental in reimagining popular Irish drinks as a tangible experience instead of mere tipple. It proved to be a monumental marketing move.
"In Europe alone, the Irish Pub Company helped open 2,000 Irish pubs throughout the '90s," adds Newton. This was followed by thousands more across six continents. The runaway success of the formula led to an entire cottage industry. There are now a handful of operations offering services mimicking the original, though the Irish Pub Company retains its status as the "Official Partner of the Guinness Irish Pub Concept."
But as Newtown is quick to point out, the global expansion of the Irish pub is owed to more than just shrewd marketing.
"Irish pub culture is notoriously friendly and welcoming," he notes. "They have historically been community centers—'public houses,' in a true sense. There are also people of Irish descent all over the world. More people with Irish ancestry live in New York City than in Dublin."
In fact, there are currently around 36 million Americans who identify as ethnic Irish, making it the third largest ancestry group in the country. So it's hardly a surprise that Irish pub culture has found lasting success here. For many domestic drinkers, it's a far cheaper alternative to flying across the Atlantic for a taste of the motherland (unless you're actor Paul Rudd, who constructed a faithful facsimile in the basement of his New York home).
"The proliferation of Irish pubs has also created a feedback loop," says Newton. "Nowadays any English speaker abroad knows that they can find other English speakers at the local Irish pub, whether they're in Moscow or Mongolia."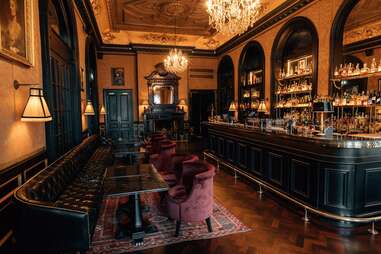 Nevertheless, this very specific brand of watering hole runs the risk of becoming a victim of its own success. "It's a very constrictive, and sometimes stale, space from a conceptual standpoint," according to Jay Bradley, founder of the Craft Irish Whiskey Company. "They have all these caricatures they have to adhere to and—as modern drinkers are craving creativity—I think there is a real opportunity for evolution within the category."
At least two fellow Irishman have been quick to perceive this eventuality, and to fight back against the well-worn stereotypes of what a bar ought to be from this part of the world. When tapped to head up the beverage program at the Merchant Hotel in Belfast back in 2006, Jack McGarry and Sean Muldoon concerned themselves not with stout and trad music, but with top-shelf spirit and ingredient-minded cocktails. By 2010, their elegant outpost was crowned "World's Best Cocktail Bar" at the annual Tales of the Cocktail awards.
"The Merchant does not make me ever think about an Irish pub, in any conventional sense of the word," explains Daryl McNally, a native of Northern Ireland and founder of Limavady Irish Whiskey. "It's not the place you would start dancing a jig or take shots at the bar. It affords drinkers a way to appreciate the culture in a more reserved setting."
But as with all things Irish and drinking, McGarry and Muldoon exported the concept internationally. In 2013, they landed in Lower Manhattan with a multi-floor concept called Dead Rabbit Grocery and Grog. Billed as a "cocktail emporium," it offered a more traditional setting on the ground floor, with elevated tipples—by reservation only—available upstairs. Within two years, the establishment had already stockpiled an enviable heap of accolades and awards.
Then there's London-based mixologist Dave Mulligan, who returned home to Dublin in 2019 to open Bar 1661. Its name was inspired by the year in which the British Crown criminalized poitín, the native spirit of Ireland. It wasn't re-legalized until 1997. Mulligan began compiling a massive collection of the clear grain spirit and started working it into inventive cocktails. He was determined to build a markedly modern drinking den inspired by a proud past that had largely been left out as Irish pubs became a global commodity. Less than 3 years later, the bar was recognized with the industry's top honor at Ireland's 2022 Bar of the Year Awards.
Even Guinness is working to help broaden the definition of what it can be. In 2015, the beer company cut the ribbon on the Open Gate Brewery. The Dublin facility is dedicated to the production of experimental beers, meaning you're more likely to see a sour or a gose in the glass than an Irish stout.
"It exists to make people change their perception of what Guinness is," explains Ryan Wagner, an ambassador for the brand. "We want our adorers to start thinking about a brewery—not just a single beer. Many of our most ardent fans are convinced that they know all there is to know about Guinness simply because they know and love Guinness Draught Stout. Open Gate Brewery is just the next chapter in that story, one that is written anew every day."
And (surprise, surprise) it's being exported abroad as we speak. Guinness Open Gate Brewery Chicago is expected to come online in Fulton Market before the end of summer.
No matter what form it assumes, there's something ineffably cozy about Irish drinking culture, which never strays too far from a warm vibe and a cold stout. We can't help but come back to it, wherever we find ourselves. Though—thanks to the Emerald Isle's eagerness to share with the world—our next night out in an Irish pub is destined to be quite close indeed.