Is this the world's worst hotel?
There's no such thing as bad publicity, right? The Hans Brinker Budget Hostel in Amsterdam doesn't seem to think so -- proudly advertising itself as the world's worst hotel, boasting of bed bugs and filthy rooms, and using slogans like "It can't get any worse. But we'll do our best".
But is it really the worst? We took to TripAdvisor to corroborate/rebut their bold claims.
The 127-room hostel, which opened in 1970, claims to be dirty and have no hot water.
"Everything about this place makes my skin crawl". -- keljam731, Adelaide, Australia
"The rooms were very dirty (even for a college student used to grimy dorm life conditions). The toilet was very unclean, and the basin was the same. Overall, the room was pretty disgusting". -- 676ashleighb, Paris, France

It calls itself "accidentally eco-friendly", and advises guests to use windows as hair dryers, curtains as towels, and socks as toilet paper in order to "save the planet".
"Toilet and shower were unbearably smelly and dirty". – fizzyinch, Oxford, United Kingdom
"This place is just....disgusting. I have never seen such a horrible, gross, disgusting shower and bathroom as I did in this place. One of my roommates went into the male toilets and said there was puke everywhere, and clogged up toilets". -- Little_Kiwi84, Auckland
"Skimpy towel, no soap or cup in the bathroom". -- DrKacieCrisp, San Francisco, California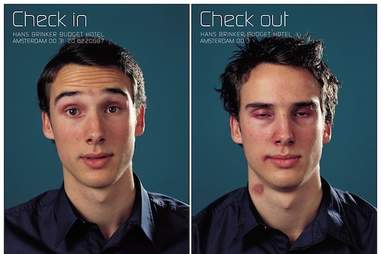 It promises you'll check out a different person...
"I still have welts on my arms from being attacked by mozzies whilst sleeping". -- Caitlin_El, Canberra, Australia
"We left covered in bites, bed bug bites. This is by far the worst place I have ever stayed and would never recommend anyone in staying here". -- smackin93, Northern Ireland
For $20 a night, the hotel vows to "improve your immune system" thanks to an assortment of bugs and germs.
"This hostel was absolutely terrible. I can't begin to describe the filth and horror of seeing bed bugs pouring out of the ceiling. 5 days after my return I came out in a bed-bug created rash and had to have my house and my girlfriend's house fumigated. This cost £300. Save yourselves a lot of money and book somewhere, anywhere else". -- sparkritchie2000, London, United Kingdom
"Mosquitos and squashed flies all over the walls". – fizzyinch, Oxford, United Kingdom
Well, it does claim to be the best at something... ignoring complaints.
"We opened the door to our room and were hit by a wall of smoke. 2 seedy guys sitting on the beds drinking and smoking weed. When asking the woman at reception if there was another room she just shrugged and said no. When asking about the smoking guys in the room, and the big sign in reception stating no smoking, she again shrugged and grunted with a 'get over it' attitude. We left immediately (with no refund or anything offered)". -- sbirchall, Adelaide, Australia
"We noticed there were bed bugs at the time, complained and asked to be moved rooms. We were told they were all full and that bed bugs were brought in by travellers and were not their fault". -- Only_on_Thursdays, Sheffield
"My friends wallet had been stolen, which was made significantly worse by the treatment of the staff. They were rude, obnoxious, offensive and all around unhelpful, complemented with excessive amounts of eye rolling". -- juwbug63, Cardiff, United Kingdom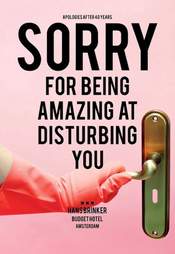 It apologizes for disruptions... but not threats.
"The cleaning staff are absolutely disgusting, a lady came in ten minutes before 10am to give us a heads up, all 6 of us were up and getting ready, as she left she shouted back 'if you're not out in ten I'll kick you' .. This we took as banter and laughed off, when she came back she started kicking off. She went to get her manager or supervisor who came back asking us to leave, when we left the room the first woman started called us bi****s and wh***s." -- Sarah26587, Preston, United Kingdom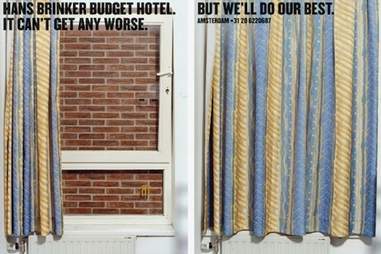 The hostel, whose neon sign reads hel[l] at night, also promises to try and make things worse.
"Better off sleeping in the street. Worst hostel I've ever stayed in".  -- emma-louiseee, Blaxland, Australia.
Sophie-Claire Hoeller is Thrillist's über-efficient German associate travel editor, and has had frequent flyer status since she was born in a Lufthansa terminal. Follow her @Sohostyle