If you were planning a trip to Amsterdam in the near future, that's so 2000-and-late.
Turn instead to our neighbor to the north, Canada. It's been a year since cannabis became legal up there, and all 13 provinces and territories have since set their own rules -- including where marijuana would be sold and consumed  -- sparking (!) many a traveler's curiosity.
As it stands, Canada might now be the world's best place for travelers seeking cannabis experiences. While it's true that Amsterdam's coffee shops used to be the go-to spot for a quick smoke break, a lot has changed. And despite what you think you know, cannabis is pretty much illegal in the Netherlands. While many Dutch lawmakers have been trying to change the legislation, at this point Canada is the only country offering legal places to blaze, and it's set to become the world's next hot spot for cannabis tourism. There is even an entire tourism summit dedicated to the cannabis industry taking place on October 28 in Ontario.
While the rollout of legal cannabis in Canada has been all but perfect, travelers who want to have a stylish (and legal) weed experience can do so with relative ease. Each province offers everything from lounges to retail shops, and some tour operators have sprouted up offering facility tours or curated weed experiences to tourists.
As a toker (or non-smoker), what do you need to know before getting hazed and blazed on your next trip in Canada? We've broken it down from the east to the west coasts.
MORE: Check out the current state of cannabis legalization in the US
How much cannabis are you legally allowed to purchase in Canada?
Are you ready for it? No matter where you are in Canada, you can legally possess, carry, and share (with other adults, obviously) 30 grams of cannabis. If you're trying to wrap your head around just how much that is, it is about 60 to 75 pre-rolled joints. Depending on where you are in the country, it could cost anywhere from 160-400 Canadian dollars.
What's the legal smoking age?
In most provinces across Canada, the legal age for marijuana use is 19. However in Quebec, the legal age is 18. More recently, their newly elected government has vowed to raise the minimum age to 21.
So can you just smoke anywhere you want in Canada?
We wish! Could you imagine if Canada was one big hot box? To date, nearly every province in Canada has banned smoking both cigarettes and cannabis in indoor public spaces, public transit facilities, and at workplaces where smoking could take place.
In Ontario, British Columbia, and Alberta, the law states that people can smoke cannabis where they can smoke cigarettes. But in Halifax, there are plans to make designated toking zones.
Don't feel like getting fined or ticketed? This Wikipedia entry does a good job of breaking down province by province where you can smoke, without issue. For the full listing of the Cannabis Act, province by province, read it here. It's a long read, but a useful one.
So where exactly can I buy cannabis in Canada and how much is it?
Each province has its own specific rules on where to purchase cannabis. The important thing to remember is that weed will be legally sold only in government-regulated stores, and typically have a seal displayed in the window to indicate they are approved by the Canadian government. 
While many provinces have an option to order online, you definitely can't order legal cannabis while you're not in Canada. A deep-dive through each province and territory's online cannabis sales website suggests you can order while in the province and have it delivered to your hotel or Airbnb for arrival within a matter of days. (What a treat!) 
More recently, US Border Services has gone on record to remind folks that the United States still considers cannabis to be an illegal substance. They have said that they would block Canadians from traveling to the US if customs officials find out that they have purchased the drug, or been involved in legalized production. So it's something to consider and be aware of.
Nova Scotia: The Nova Scotia Liquor Corporation is the only retailer of legal cannabis. You can find all their store locations via their website. Right now, there is an online retail site, but you actually can't access it until you obtain a special access code in-store and verify your age. The cards are free to obtain, but make it difficult to find out what kind of products are in store until you arrive. Right now, there are 12 retail locations listed on the Nova Scotia Liquor Corporation website. On average, you're looking to pay $10.99 for what they've listed as "core" or "premium" cannabis.
Ontario: Up until recently, all legal cannabis in Ontario had to be purchased via the Ontario government's e-commerce website, the Ontario Cannabis Store. But as of April 1, a lottery took place which handed out 25 retail licenses, which has seen a few stores open to date in the downtown Toronto area including The Hunny Pot Cannabis Co. on Queen Street West, Ameri in the Yorkville neighborhood and Tokyo Smoke, located at Yonge and Dundas -- the busiest intersection in the city. Retail stores will sell flower, pre-rolls, cannabis oils, and capsules, and prices will range from $7.95-$13.25 per gram.
Quebec: Everything in Quebec will be sold in publicly run stores by the government-run Société Québécoise du Cannabis (SQDC). Currently, there are 22 cannabis stores around the province, which sell everything from buds to pre-rolls, cannabis oils, and capsules. As of press time, the SQDC had a note on their website that they were experiencing "significant supply issues." Prices range from $5.25 a gram, with all taxes included.
British Columbia: Many of the cannabis activists in Canada first started out in British Columbia selling through compassion clinics. Now all legal weed can be found in privately-owned dispensaries and in the BC Cannabis Stores (BCCS) operated by the provincial government agency, the BC Liquor Distribution Branch. Right now, there are multiple locations listed via the website or visitors can order via the e-commerce site. In each of the retail stores, there will be buds, pre-rolls, cannabis oils, and capsules. You may find accessories in some stores, like rolling papers, lighters, pipes, or bongs. Prices range on their website from $6.99-$16.28 per gram.
Statistics Canada has been collecting information on the average cost of cannabis across the country, and you can find a break down for each province here.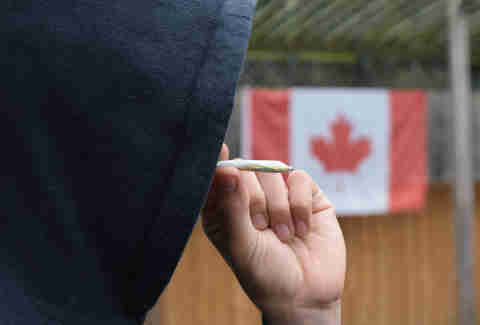 Does Canada have smoke lounges and coffee shops like they do in Amsterdam?
Long before cannabis became legalized in Canada, smoke lounges existed in cities like Toronto and Vancouver. However, in their current state, these cannabis lounges and coffee shops are kinda (not quite) legal. If you're confused -- trust us, it's not just you. 
With so many rules and regulations on where you can and can't smoke, many provinces are looking at legalizing lounges in the future. Unfortunately, that doesn't look as if it will pan out until the second round of legalization, scheduled for sometime in the fall of 2019.
For many, having these types of smoke lounges keeps people from smoking cannabis illegally in places indoors and outdoors that they may not be able to smoke.
Ontario: If you're in Toronto, stop by the Hotbox Cafe, a private cannabis lounge in Toronto's famed Kensington Market. Operating since 2003, the café has been regarded as a safe haven for citizens looking to consume cannabis or vape on their back patio. However, once cannabis became legalized, lounges like the Hotbox Cafe and Underground Cafe 420 (a comedy club) had to ask their guests to stop smoking on-site as it fell under the Smoke-Free Ontario Act. Total bummer.
New Brunswick: Open since April 2018, The Green Room is a private cannabis lounge in the heart of Saint John's. With dab rigs and vaporizers on hand, visitors are asked to bring their own bud for consumption at the lounge. Strict rules apply about joining as a member in order to use the facilities, which include paying a $5 membership fee and providing photo ID. The club also asks that each of its members come with a designated driver or money for a taxi.
British Columbia: One of the largest and most notable in the West Coast, the New Amsterdam Cafe operates as a full-functioning cafe by day and a cannabis lounge by night. Founded in 2000, the cafe asks visitors to bring their own stash and for a nominal charge of $5 before 5pm (it's free after 5pm) guests can have full access to the bongs and dab rigs on site. If you get the munchies, they've got a fairly extensive menu including a grilled cheese sandwich, ice cream sundaes, pastries, and, of course, coffee.
There are lots of other lounge and cafes in Canada, but most of them try to keep a lower profile (like the Calgary Cannabis Lounge in Alberta, which provides little to no information on its website). When you're traveling, the best thing to do is either ask nearby fellow smokers if they are aware of any lounges that are great to visit in the area.
Can I smoke in hotels or AirBNBs?
If you're thinking about booking via Airbnb during your next trip: think again. Although legalization took place in Canada, Airbnb still has been noticeably silent on what exactly their policy is, with no official policy listed on their website.
The most notable takeaway from this is that Airbnb really is leaving the decision in their host's hands and how they feel about smoke, and moreover having cannabis in their homes. Across Canada, many hotels and rental landlords are banning marijuana. Before legalization, many condo boards were writing in new rules to clamp down on cannabis use indoors. So the host's policies really depend on where the Airbnb is located and how they feel about cannabis in their space. You'll often find that hosts will use keywords like "420-friendly," "cannabis-friendly," or "green-friendly" in their posting to indicate that smoking a little toke here and there is totally fine.
But if that seems like a lot of work, check out Bud and Breakfast, an Airbnb-style site dedicated to providing folks with cannabis-friendly places to stay. Right now there are over 30 Canadian hosts, including places to stay in Ontario and Montreal. Following a similar path is Dank Destinations, which currently just has one listing for Canada located in Calgary. The listing (a chain hotel) indicates that cannabis is permitted and "smoking is allowed in the designated outside area."
In Muskoka, Ontario, a new cannabis resort has just opened, while in Niagara, a cannabis-friendly hotel is in the works.
Are edibles and cannabis-infused meals legal too?
Many people have been waiting anxiously for the second wave of Canada's cannabis legalization process to hit in the fall of 2019. Cannabis 2.0, as some have been calling it, will introduce cannabis edibles, drinks, concentrates, and topicals into the market in select retail outlets and online stores. Deloitte estimates that the edibles and alternative cannabis products will be valued at 2.7 billion Canadian dollars. Regulations on these products just kicked in, and they should be available in mid-December of 2019
Until cannabis edibles, concentrates, and drinks are legalized in Canada, we likely won't see them fully introduced into bars and restaurants. But that doesn't mean that there isn't aren't DIY or underground infused dinners taking place around the country or infused cocktails with CBD being made somewhere.
Secret pop-up dinners are taking place all over Canada, with two notable chefs The Herbal Chef and The Nomad Cook, both based out of British Columbia, hosting them often. Check out their event listings to find out when and where their next event is. There are also two underground groups based out of Toronto called The High Five and Matty's Patties who run pop-up cannabis markets and music events, where food and drinks are always on the menu.
Should I try to bring some back on the plane with me?
So if you're traveling within Canada, going from one province to another, the Canadian Air Transport Security Authority (CATSA) has confirmed that 30 grams (aka the legal amounts of recreational cannabis) will be allowed on checked or carry-on baggage on domestic flights.
Now if you're traveling elsewhere, well that still remains illegal although if you're really thinking about taking it across, you may want to refer to some of these handy tips. Just remember: the United States border authorities will likely not quiz you on your smoking habits whilst away. So don't sweat it.