Everything You Need to Know About Legal Cannabis in Canada
Skip the trip to Amsterdam.
Canada is a haven for green-minded travelers.

| arindambanerjee/Shutterstock
Canada is a haven for green-minded travelers.

| arindambanerjee/Shutterstock
Gone are the days we have to trek to a coffee shop in Amsterdam to get our (legal) cannabis fix. Just look to our northern neighbor, Canada. In 2018, the Government of Canada debuted the Cannabis Act, which legalized and regulated the production, sale, distribution, and possession of recreational cannabis (for adults of legal age).
As more states across the US are legalizing weed, Canada may not seem so groundbreaking—but it's the first major industrialized country to be so green-minded (despite what you think, cannabis isn't entirely legal in the Netherlands). Edibles are already estimated to be a $1.6 billion (Canadian dollars, that is) market in Canada a year, and with the next stage of legalization, it's expected for that number to go up another billion. (There's now more than 3,000 cannabis stores, if that tells you anything.)
But, like most things with cannabis, the rules aren't so simple: In fact, each of the 13 provinces and territories has its own set. So, if you want to legally embrace Canada's cannabis culture, you'll need a bit of a backgrounder first. Here's everything you need to know to navigate—and partake in—Canada's extensive cannabis culture.
How much cannabis are you legally allowed to purchase in Canada?
Are you ready for it? No matter where you are in Canada, you can legally possess, carry, and share (with other adults, obviously) 30 grams of cannabis. If you're trying to wrap your head around just how much that is, think about 60 to 75 pre-rolled joints. Depending on where you are in the country, it could cost anywhere from 160-400 Canadian dollars.
What's the legal smoking age?
In most provinces across Canada, the legal age to purchase and consume marijuana is 19. However, in Alberta the legal age is 18, and the newly elected government in Quebec raised the minimum age to 21.
So can you just smoke anywhere you want in Canada?
We wish! Could you imagine if Canada was one big hot box? To date, nearly every province in Canada has banned smoking both cigarettes and cannabis in indoor public spaces, public-transit facilities, and at workplaces where smoking could take place.
In Ontario, British Columbia, and Alberta, the law states that people can smoke cannabis where they can smoke cigarettes. Recently, Halifax designated 84 designated toking zones on municipal property throughout the Halifax region (here are the exact locations).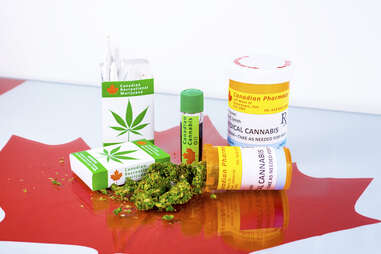 Where can I buy cannabis in Canada, and how much is it?
Each province has its own specific rules on where to purchase cannabis. In nearly every province (except Nunavut), cannabis is typically sold in a government-run retail shop or a privately run dispensary—or a hybrid of the two. Here's the most important thing to remember: The only legal way to purchase cannabis is through these stores, and they typically have a seal displayed in the window to indicate they are approved by the Canadian government. Leafly and BudHub Canada do a pretty good job breaking down the products, pricing, and customer service experience at different shops.
The purchasing experience can vary province-by-province. Here's what to expect.
Nova Scotia: The Nova Scotia Liquor Corporation is the only retailer of legal cannabis. There's an online retail site, but you actually can't access it until you obtain a special access code in-store and verify your age. The cards are free to obtain, but make it difficult to find out what kind of products are in-store before you arrive. There's currently 12 retail locations listed on the Nova Scotia Liquor Corporation website, and, on average, you're looking to pay $10.99 per gram for what they've listed as "core" or "premium" cannabis.
Ontario: As of April 1, 2019, Ontario's regulated retail market finally opened for business, with all legal cannabis becoming available for purchase via the Ontario Cannabis Store. But now there are plenty of other choices and options. The Alcohol and Gaming Commission of Ontario (AGCO) lifted its private retail-licensing lottery and opened the floodgates to those who wanted to open a cannabis retail space. Currently, there are 33 cannabis stores authorized to operate in Ontario (here's a full map). Retail stores will sell flower, pre-rolls, cannabis oils, vapes, edibles, and capsules. (Prices range from $7.95-$13.25 per gram.)
Quebec: Everything in Quebec is sold in publicly run stores by the government-run Société Québécoise du Cannabis (SQDC). Currently, there are 52 cannabis stores around the province, which sell everything from flower, pre-rolls, cannabis oils, beverages, and capsules. Prices range from $5.25 a gram (taxes included).
Alberta: One of the most surprising markets since legalization has been Alberta, with more than 400 cannabis store licenses—more than any other Canadian jurisdiction. The Alberta Gaming, Liquor, and Cannabis agency has been praised for granting retail licenses quickly and efficiently, ensuring the consumers can purchase products such as buds, pre-rolls, edibles, cannabis oils, and capsules throughout the province. Prices range from $9.24-$15.42 a gram, depending on the retailer.
British Columbia: Many cannabis activists in Canada started out in British Columbia selling through compassion clinics. Now all legal cannabis can be found in privately owned dispensaries and in BC Cannabis Stores (BCCS) operated by the provincial government agency, the BC Liquor Distribution Branch. Right now, there are multiple locations listed via the website, and visitors can order via the e-commerce site. In each of the retail stores, there will be buds, pre-rolls, cannabis oils, and capsules. You may find accessories in some stores, like rolling papers, lighters, pipes, or bongs. Prices range on their website from $6.99-$16.28 per gram.
At the moment, prices are dropping, and the average cost of cannabis across Canada is $9.74 per gram.
What about delivery and online ordering?
If the thought of going into a retail setting overwhelms you, don't let that be a deterrent. Some provinces and territories offer online cannabis sales where you can have it delivered to your hotel or Airbnb for arrival within a matter of days. The other option is same-day delivery, which is available via Pineapple Express Delivery.
Does Canada have smoke lounges and coffee shops like they do in Amsterdam?
Long before cannabis became legalized in Canada, smoke lounges existed in cities like Toronto and Vancouver. However, in their current state, these cannabis lounges and coffee shops are kinda (not quite) legal. If you're confused, trust us, it's not just you. With so many rules and regulations on where you can and can't smoke, many provinces are looking at legalizing lounges in the future.
If you're in Toronto, stop by the Hotbox Cafe, a private cannabis lounge in Toronto's famed Kensington Market. Operating since 2003, the café has been regarded as a safe haven for those looking to consume cannabis or take in a bit of cannabis culture. One of the largest and most notable lounges in the West Coast, meanwhile, is the New Amsterdam Cafe, which operates as a full-functioning cafe by day and a cannabis lounge by night. Founded in 2000, the cafe asks visitors to bring their own stash, and for a nominal charge of $5 before 5 pm (it's free after 5 pm), guests can have full access to the bongs and dab rigs on site. If you get the munchies, they've got a fairly extensive menu including a grilled cheese sandwich, ice cream sundaes, pastries, and, of course, coffee.
There are many other lounges and cafes in Canada, but most of them try to keep a lower profile. When you're traveling, the best thing to do is ask nearby fellow smokers if they are aware of any lounges that are great to visit in the area.
Can I smoke in hotels or Airbnbs?
Although legalization took place in Canada, Airbnb still has been noticeably silent on what exactly their policy is, with no official policy listed.
Airbnb really is leaving the decision in their hosts' hands and how they feel about smoke—and having cannabis in their homes. Across Canada, many hotels and rental landlords are banning cannabis. Before legalization, many condo boards were writing in rules to clamp down on cannabis use indoors. So, the host's policies really depend on where the Airbnb is located and how they feel about cannabis in their space. You'll often find that hosts will use keywords and phrases like "420-friendly," "cannabis-friendly," or "green-friendly" in their posting to indicate that smoking is totally fine.
If that seems like a lot of work, check out Bud and Breakfast, an Airbnb-style site dedicated to providing folks with cannabis-friendly places to stay. There are more than 30 Canadian hosts in places like Ontario and Montreal. If you're looking for something a bit more high-end, check out Sir Sam's Inn & Spa in Haliburton, Ontario. Dubbed Canada's first cannabis-friendly resort, the property has lakeside views and tons of areas to smoke peacefully.
What about edibles and cannabis-infused meals?
Cannabis 2.0 products—which included vape pens, beverages, edibles, and topicals—first became available to consumers in some provinces in December 2019. So, since you can purchase edibles in-store, does this mean you can go to a bar or restaurant and have an infused meal? Not quite. Similar to smoke lounges and compassionate clubs, Health Canada has said that the Cannabis Act will maintain control over all edible products made from cannabis mixed with food ingredients, which means restaurant meals would be excluded from legal sale.
But that doesn't mean that there aren't DIY or underground infused dinners taking place around the country (or CBD-infused cocktails aren't being made somewhere). In Toronto, ByMinistry and dirt are two of the go-to high-dining and high-concept cannabis events in the city. In Edmonton, chef Daniel Huber used to host pop-up dinners for guests via his Edmonton Cannabis Dinner Club, and Travis Petersen, a former contestant on MasterChef Canada, started The Nomad Cook, where he hosts dinners for guests across Canada on a pop-up basis.
Should I try to bring some back on the plane with me?
So, if you're traveling within Canada, going from one province to another, the Canadian Air Transport Security Authority (CATSA) has confirmed that 30 grams (aka the legal amounts of recreational cannabis) will be allowed on checked or carry-on baggage on domestic flights.
If you're traveling elsewhere, well, that still remains illegal (although if you're really thinking about taking it across, you may want to take a look at this first). One thing to remember: The US Border Services has gone on record reminding folks that the United States still considers cannabis to be an illegal substance. Not too long ago, U.S. Customs and Border Protection supervisors were instructed to take away or deny passes to Canadian travelers who admitted to using cannabis, have purchased the drug, or been involved in legalized production. Just something to think about.
Amanda (Ama) Scriver (@amascriver) is a freelance journalist best known for being fat, loud, and shouty on the Internet. Her writing has appeared on
Buzzfeed
,
The Washington Post, FLARE, The Walrus, Allure
, and
Playboy
. She lives in Toronto.