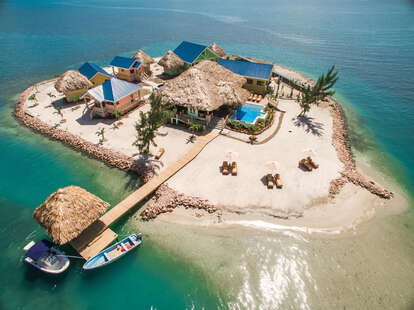 Editor's Note:
We know COVID-19 is impacting travel plans right now. For a little inspiration, we'll continue to share stories from our favorite places around the world. Be sure to check travel restrictions, protocols, and openings before you head out.
Contrary to popular belief, you don't need to own a G6 and frequently drink Champagne in non-celebratory settings to afford your own private island, at least for a week. No ma'am: All you need is a little imagination—and a whole lotta bug spray. It also helps to have two, or five, or ten friends to split costs with. After all, what good is a week of secluded seaside luxury without your nearest and dearest to share it with? Here are eleven private islands you can totally afford to rent on Airbnb and VRBO.
Cartagena, Bolívar, Colombia
Rate: $1,899/night
This fanciful six-bedroom property is giving us Antoni Gaudi, with eccentric architecture, curvy lines, and colorful mosaic tile accents throughout (go look at the bathrooms…we'll wait). Located in the tropical Rosario Islands just off the coast of Colombia, the spacious villa comes with a seawater jacuzzi, a putting green, expansive sun decks and terraces, paddleboards, snorkeling gear, and chef-prepared meals 3x a day. Split the bill up to sixteen ways with your friends (that's only $118 a night!), BYOB (or order an alcohol stash through your hosts), and pack your swimsuit for a few days in paradise.
Placencia, Belize
Rate: $695/night
Twenty minutes from Placencia, Belize, lies a small island inside a coral reef. And for $695 per night, you get the whole damn thing, plus transportation to/from, fishing and snorkel gear, kayaks, a fire pit, a bar, overwater swings, and all the Wi-Fi your heart desires. The island has a main house and a separate cabana, for a grand total of three bedrooms, four beds, and one bathroom. Go look at it from above—it's ridiculous.
Rio de Janeiro, Brazil
Rate: $635/night
Frankly, this one had us at "fresh caipirinhas made with local fruits." Two hours from Rio, this island owned by an Italian designer has everything you need to bring the vibes of Brazil's biggest party city out to sea: colorful interiors, three different ocean decks, barbecues, kayaks, hammocks, and a full staff (plus, six bedrooms—each with their own private bathrooms—for when those caipirinhas really hit and you need some peace and quiet.) Come for the luxury, and stay for the waterfalls, rainforest trails, and wildlife.
Bocas del Toro Province, Panama
Rate: $205/night
These eight overwater bungalows can be rented individually or as a group, accommodating up to 24 guests total. The stay also comes with perks like snorkeling and kayaking gear, tropical breakfasts, and lobster diving. But that's not even the best part: Urraca is home to the Monkey Island Foundation, so you'll spend the week chilling alongside 12 rescued (and very friendly!) monkeys that live permanently on the island. In other words, not only will you feel like a rich person with your own private island, but you can also pretend to have your own weird, rich person pets for a few days. Bonus: at night, you'll see that the waters here are also bioluminescent.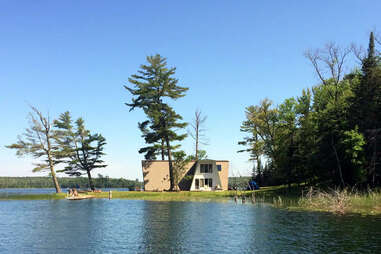 Juggler Lake, Minnesota
Rate: $349/night
Just a few hours outside of Minneapolis, this cabin is surrounded by the clear waters of Juggler Lake on three sides and 18 acres of wild old-growth forest on the fourth. It's the only home on the island, which means no neighbors to hear you scream… during the playful filming of your amateur teen horror film, of course! With 20-foot ceilings and a lived-in rustic vibe, the A-frame cabin sleeps 10 with the option to rent a pontoon boat for an additional fee.
El Nido, Philippines
Rate: $419/night
Located on the only private island in all of El Nido, this retreat requires you to book with a minimum of four guests—lowering the cost to $100 per person, per night. (Personally, we've spent more than that on a single takeout order. Sad, but true.) Along with superb white sand beaches and blue waters, you'll also have access to snorkeling gear, kayak rentals, boat transportation, and three meals a day, as well as additional services like beach massages and alcohol catering.
Westport, Mayo, Ireland
Rate: $1,735/night
You might not think of Ireland as a prime island getaway, but this lodge just off the country's west coast in Clew Bay will convince you otherwise. Soak in the house's hot tub, blow off some steam in the sauna, lay out on the private beach, or kayak out into the bay and take it all from the sea. And best of all: there's room for up to 22 guests, so feel free to invite your best friends and your B-tier friends!
Hilton Head Island, South Carolina
Rate: $694/night
Why get one private island when you can have three? Surrounded by lofty sabal palmettos, this rental just 10 minutes from Hilton Head puts a brand new (read: way more private) twist on a classic Lowcountry getaway. Accessible only by boat (the hosts are happy to shuttle you to and from the mainland), spend your days here fishing and birdwatching by the docks, catching the sunset from the watchtower, relaxing by the fire pit, and enjoying a moment off the grid. Just looking at the photos makes us wanna sit back in a rocking chair and drink a mint julep.
Placencia, Belize
Rate: $3,124/night
Belize is two for two on the list! If you want to splurge, this is the place to do it: this 7,000-square foot, solar-powered villa off the southern tip of Belize's Placencia Peninsula looks like something built for the stars, with a private chef, large pool, boat (plus captain!), and full staff on deck. They're also happy to arrange excursions, whether that's fishing, diving, or heading into town for shopping and bar hopping. The cabana sleeps up to 14 people—all of whom will be able to wake up to views of the sun shining over the Atlantic, nearby Placencia Village, and the Maya Mountains. Oh yeah, and split the bill.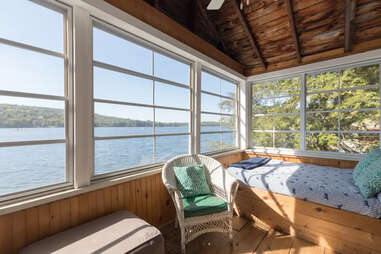 Hinesburg, Vermont, United States
Rate: $329/night
This light, airy cabin on Lake Iroquois just 20 minutes from Burlington, Vermont, feels like somewhere we could imagine Snow White merrily cleaning and singing to adorable woodland creatures. Same exact vibes. This cozy abode features a master bedroom with beautiful views across the lake, complimentary canoes and kayaks, a fire pit, and room for about four to six people. Plus, the host's description mentions (multiple times!) that the island is dog-friendly, so feel free to bring your furry best pals out for a weekend of absolute freedom.
Marathon, Florida, United States
Rate: $1,350/night
As you probably know, Florida's beaches are incredibly popular. So why not snatch up a little slice of paradise you can have all to yourself—and one far from the reaches of Florida Man, at that? This sweeping seaside villa built from cypress trees hosts up to 8 guests for week-long stays and comes with the works: four bedrooms, an enormous Boston Whaler boat, a private beach with hammocks, lush grounds, and an outdoor bar and grill. Plus, there's a dedicated office space in the house. Workcation, anybody?
Tiana Attride is Thrillist's Associate Travel Editor. She would like to live on her own private island forever and ever, thank you.