Scotland's Magical Whisky Island Is a Year-Round Adventure
Come for the Scotch, stay for… more Scotch.
If you thought Scotland was all about whisky, well, you wouldn't be entirely wrong. Much like Kentucky in the States, the charming UK nation is virtually synonymous with the carefully aged spirit, its 30,000 square miles hosting nearly 150 distilleries spread over five distinct whisky-making regions. But as with its US counterpart, booze isn't the only reason to visit Scotland—fairytale architecture, age-old football rivalries, cutting edge restaurants, verdant national parks, top universities, fascinating museums, and sparkling blue lochs all have equal sway. That is, unless you're talking about Islay. Because there, it really is all about the whisky.
"Islay is beautiful, rugged, serene, and abundant, with a very strong sense of place, and an ever-evolving and supportive community," says proud Islay resident and Ardbeg Distillery visitor center manager Jackie Thomson. "I love so many things—the huge skies, the unforgiving seas, birdsong, rutting stags, tractors, single track roads, wit, and wisdom… and the whisky, of course."
Islay's—pronounced eye-luh—hyper-focus on whisky has been obvious to Scots for generations, but that wasn't always the case when it comes to out-of-towners. Legend has it that Scotch whisky was actually born on the island back in the 1300s, when a group of visiting Irish monks flexed their distilling skills on the small Inner Hebridean outcropping. Not only did the locals enjoy the hooch, but the monks were delighted to find that the area provided an abundance of ingredients necessary for making great whisky. Dubbed the Jewel of the Hebrides by the Lord of the Isles, Islay is flush with crystal clear water sources, excellent soil for growing barley, and energy-producing peat perfect for fueling stills. Whisky, it seems, was off to the races.
"I had the good luck of being introduced by a Scotsman in Scotland to scotch whisky back in 1983," says Olaf Meier, longtime ambassador and current chairperson of the esteemed Scotch Malt Whisky Society. "I'd been to England—Yorkshire, down in Devon, and what have you—but this gentleman said, 'No, Olaf, you haven't seen the best part of Britain: You have to come to Scotland.'"
That encounter sparked Meier's lifelong love affair with whisky, one that led him on a whirlwind pub crawl from Speyside's northern reaches down to the depths of the Lowlands and, of course, to Islay, famous for infusing its whiskies with a big, burly dose of peat smoke. Yet this was the early 1980s, a time when delicate blended whiskies quickly dominated the mainstream market and Islay's aggressive single malts plummeted out of favor, causing many of the island's distilleries to shut their centuries-old doors. It was, as Meier would soon witness firsthand, the perfect time to plot a comeback.
"I loved the country, I loved the people, and I loved the whiskey, of course," Meier recalls. "I came back to Germany and told my friends about this wonderful discovery and they said, 'Forget it.' These guys only knew Johnnie Walker, Bell's, Teachers, Famous Grouse, Chivas Regal. So I said, 'No, no, no, you have to drink single malts!' And they said, 'Single what?'"
Word eventually spread, and thanks to the efforts of the Scotch Malt Whisky Society and other industry advocates, Scotland's unique and diverse single malts began to pick up steam around the world. And no whisky-making region benefited from this newfound thirst quite like Islay, where one-time single malt titans like Laphroag, Lagavulin, Bowmore, and Ardbeg bounced back with cask-strength vigor.
"I'd never tell you, probably I should tell you, but I don't, that we have the best whiskey in the world, because there's lots and lots of other whiskeys which are also brilliant," says Meier. "But what we do have is that community—whiskey brings people together."
If you're ready to make like Meier and set off on your very own whisky tour through the land of kilts and bagpipes, this magical little island is a fantastic place to get your feet—and your whistle—good and wet. Here's everything you need to know about planning a trip to Islay, Scotland.
Best places for first timers to visit in Islay
"On Islay, visitors have the opportunity to have a sensory experience at a distillery, to interact with nature, to find peace, to have 'great crack' in the pub with locals, or to set sail on the Atlantic to find baby seals," says Thomson. "Even if you have only two days, I'd recommend a whistlestop tour along the north or south coasts to drop in at the distilleries and have a chat."
First and foremost, follow Thomson's order of operations and check out the distilleries. There are currently nine whisky producers on the island, and between tours, tastings, onsite pubs, and epic views, each can keep you busy for hours at a time. Non-booze activities are also up for grabs, including hitting the links at the Machrie Hotel, browsing the shops in Port Ellen, chartering a boat and venturing out into the chilly sea, traversing historical landmarks dating back centuries, and simply enjoying the peacefulness that touches every inch of the island.
"There is great seafood, loads of deafening silence, and time goes ever so slightly more slowly," Thomson adds. "Tourism can be very transient, but Islay is alluring and has a way of calling people back, again and again."
Distilleries to visit in Islay
Clearly, you're here for the whisky. Dip your toes into the overproof waters at any one of the island's nine operations. In alphabetical order, they are: Ardbeg, Ardnahoe, Bowmore, Bruichladdich, Bunnahabhain, Caol Ila, Kilchoman, Lagavulin, and Laphroaig. They're further categorized into four mini-regions, with Ardbeg, Laphroaig, and Lagavulin anchored in Port Ellen, Port Charlotte playing host to Bruichladdich and Kilchoman, Port Askaig supporting Bunnahabhain, Caol Ila, and Ardnahoe, and Bowmore Distillery bringing up the rear in its namesake Bowmore. And while, for the most part, the scent of varying degrees of peat smoke brings them together, the "you've seen one, you've seen them all" attitude definitely does not apply here.
"All the distilleries have their own distinct characteristics," says Thomson. "Ardbeg has been here for over 200 years and wears its history well—there's a beautiful balance between the turbulent past and the witty, unorthodox way that the stories of today's whiskies are told. Tour guides are armed with lots of knowledge and tours can range from self-administered tastings to an in-depth, forensic tour of the production process. "
Onsite offerings differ depending on which distillery you visit, but all of them feature visitor centers where you can pop in to learn more about tours, tastings, and other events plus pick up some bottles or merch to take home. Many tours can also be booked ahead of time online (recommended during the busier seasons). Ardbeg, Ardnahoe, Caol Ila, Kilchoman, Laphroaig, and Lagavulin also house their own bar areas where you're welcome to post up for a dram and an informative chat with the staff, and a few even serve food to soak up all those tasters.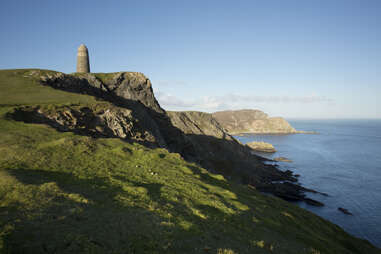 Nature and outdoor experiences in Islay
Even in driving rain, Islay's natural beauty is hard to deny. The green rolling hills, endless miles of peat bogs, dramatic cliff sides, open seas with picturesque beaches, and historical sites that date back to medieval times and beyond. And it's all at your fingertips.
"Without a doubt, connect with the outdoors and the elements and nature," Thomson advises. "A long walk on a windy beach with sand between the toes, the three distilleries path and, if the weather permits, a wee wildlife boat trip with Islay Sea Adventures where you might spot dolphins, seals, and sea eagles."
On Islay's southwest corner, you'll find the American Monument, a stunning stone tower erected as a tribute to two US warships that met their end in the choppy waters some 400 feet below at the close of World War I. The surrounding Oa is a recognized Royal Society for the Protection of Birds nature reserve, and a stroll up the sloping, rocky peninsula culminates in one of the most captivating panoramas in the UK.
Over on the island's southeast coast, Kildalton Cross, an incredibly well preserved and beautifully detailed Celtic cross constructed in the 8th century, guards a ruinous churchyard ideal for idyllic contemplation. And if you're hungry, you're in luck, as an adorable self-serve tea and cake cart has set up shop beside the hallowed grounds—it's basically the definition of a hidden gem. "All you do is pop your pennies in a donation box," Thomson says. "It's the art of the unexpected here that makes the cake taste so sweet."
Where to eat and drink like a local in Islay
For an island the size of a postage stamp, Islay has more than its fair share of fantastic places to eat and drink—and that's on top of all the deliciousness found at the distilleries. And according to Thomson, there's a bite for just about every season.
"Craigard Kitchen of Ballygrant is a favorite place to go when out for a spring walk in nearby Bridgend Woods," says the Islay local. "A real family affair, it offers sumptuous cakes prepared on site and simple, well-filled toasties using lovely Scottish ingredients. Summer brings walks on the beach (or adventurous wild swims) and a delectable lunch at the Oyster Shed at Gruinart. The family farms creamy, tasty Pacific oysters on the island and has a quirky menu with lots of thoughtful ingredients—homemade chili jam, seaweed butter, focaccia, or a belter of a crab sandwich oozing with seaweed butter and saffron mayo."
"I love an evening meal at the Machrie Hotel in autumn, sitting in the elegant restaurant watching the sun go down over the Atlantic Ocean," she continues. "In winter, a hearty homemade meal at the Bridgend Hotel is a delicious prospect—it's a cozy hotel with a warmth from both the roaring fire and the staff."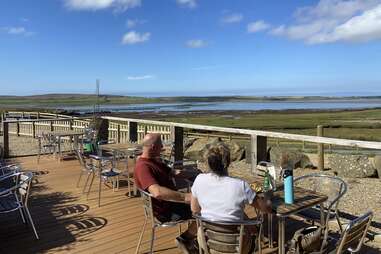 Care for a picnic? Thomson has you covered on that front, too. "The SPAR delicatessens in both Bowmore and Port Ellen hide many treasures: charcuterie, cheeses, sauces, snacks, and great advice from the friendly staff. I love a wee meander to pick up some delicious food and drink," she says. "A real treat is to call prior to your arrival on Islay and to book a seafood platter from the Seafood Shack—the owner is a fisherman and he catches the bounty and his wife prepares it. Perfect."
And if you're still thirsty after that third distillery tour, there's no better place to post up than a classic Scottish pub. "Hands down the best 'craic' and service, with a balance of good drinks and great company, is the Ardview in Port Ellen—it's the center of the village," says Thomson. "The Bowmore Hotel [also] has an immense whisky collection and the ambience is pure Islay."
Hotels and other great places to stay in Islay
Since tourism is so key to Islay's success, finding a quality place to lay your head after a long day chasing whisky is no problem at all. The Machrie Hotel and Golf Links, set on a sprawling patch of seafront real estate, is one of the nicest outposts around. Inside, luxe add-ons like a spa and sauna complement spacious, handsomely appointed guest rooms and a fantastic kitchen and bar, while the grounds support a beautifully designed 18-hole course set on rolling dunes overlooking the shoreline.
Other top-notch area lodgings include the historic Bridgend Hotel, the family-run Ballygrant Inn, the quaint, 12-room Bowmore Hotel, the ultra-traditional Lochindaal Hotel in Port Charlotte, and laid-back Port Askaig Hotel, which comes with easy access to the ferries. Airbnbs also abound these days, and if you're pinched for cash, the Port Charlotte Youth Hostel will suit just fine.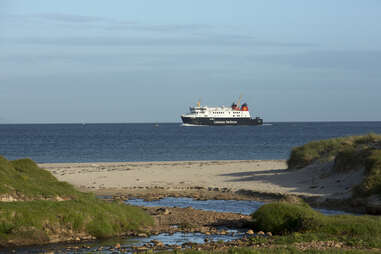 What to know before you go to Islay
Best times of the year to visit
While Scotland is receptive to visitors any time of year—drinking whisky isn't exactly a seasonal activity—the fall and spring stand out as the best time to enjoy all the island's offerings.
"I love autumn—the colors, the sunsets and sunrises, and the incredibly knowledgeable whisky lovers who come to the island at this time of year," muses Thomson. "I also love Spring, where there's a playfulness in the skies, woodland, and soil. There is a warmth as we turn our faces towards the sunshine with the birds being more active and audible in the sky. Islay has been silent for so long through the winter–no chattering of visitors, no vapor trails, no chaos. Then it bursts into life."
Summer is also an option, especially if you time your trip to late May's Fèis Ìle, or Islay Festival. The island's distilleries go all out for the 10-day carnival-like event celebrating Islay's unique spirit (liquid and otherwise), and there's rarely a dull moment.
Islay's time zone
Islay falls under Greenwich Mean Time (GMT). This translates to five hours ahead of New York's Eastern Standard Time and eight hours ahead of California's Pacific Standard Time.
The weather and climate
Brisbane is dryer and sunnier than the far northern reaches of Queensland, which can err on the tropical side. It's warm and sunny for most of the year, with average temperatures ranging from 70 degrees to 85 degrees Fahrenheit in the summer and 52 degrees to 70 degrees Fahrenheit during the winter months.
How to get around
It's not so much getting around the island that's an issue, it's getting to the island. As for that, you have two options: by air or by sea. There's a miniscule airport in Islay, and depending on the weather and season, it receives one to three inbound Logan Air flights from Glasgow per day, with a flying time of about 45 minutes each way.
If you prefer the scenic route, there's always the ferry. The daily two-hour voyage departs from Kennacraig on the mainland and arrives at either Port Ellen or Port Askaig. It's a comfortable and beautiful ride, so long as you don't fall prey to sea sickness. Tickets are available on the Caledonian MacBrayne website.
Once on Islay, you'll find it quite small and easy to access, with most points of interest set around a single road that loops around the edge of the island. Walking paths abound, and it's easy to navigate many sites via a network of sidewalks and unpaved trails. Cycling is also a popular means of transport, and you'll frequently see small groups of cyclists touring the distilleries on their bikes. As for cars, you can opt to bring a rental over on the ferry, or, better yet, arrange to hire a car from one of a handful of taxi companies or tour operators servicing the island—probably a safer bet if you're there for the whisky, anyway.
The currency
Scotland uses the Pound Sterling and each pound is worth 100 pence. As of November of 2023, $1 USD exchanges for £0.80 GBP.
International adapters you'll need
All UK nations, including Scotland, use plug type G, marked by three rectangular pins organized into a triangle.
Meredith Heil is the Editorial Director of Thrillist Travel. She prefers her whisky sherry-aged and with a touch of burn water. Follow along with @mereditto.