Presented By
How to Spend the Perfect 5 Days in Istanbul
A new airport has made exploring two continents and millennia of history easier than ever.
Presented By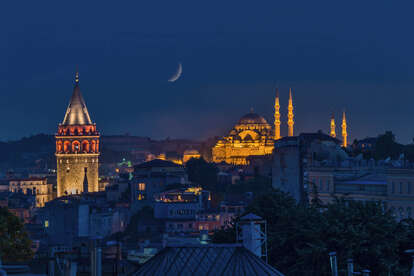 Note: The US State Department has issued a Level 3 travel advisory to reconsider travel to Turkey. For more information about travel restrictions in Turkey, click here. For now, use this guide as inspiration to satisfy your wanderlust safely from home.
After several years of bad press that cast it as unsafe, the Eurasian megacity of Istanbul is now on the upswing, ready to reemerge into the spotlight as a safe and exciting destination. Hospitality's been part of the Istanbul way of life for nearly 2,000 years after all, and this year it's reinventing itself yet again at the confluence of ancient and modern while maintaining -- and re-upping -- its welcoming allure.
With a new airport making travel extra easy, a great currency exchange rate, and a bevy of new attractions commingling with historic ones, it's no wonder Istanbul is one of our 20 Places We're Dreaming About in 2020. Read on for a guide on where to go, what to eat, and what to see.
Know before you go
Spring and fall in Istanbul are sublime, with warm, sunny weather and a buzzing café culture. Plan to stay in Beyoğlu or Beşiktaş, a little farther out, for easy access to Old Town's historic sites and all modes of public transport. Istanbul's traffic jams are the stuff of nightmares; avoid them by planning travel on the ferry or Metro during peak times. As of August 2019, select Metro and bus lines also run 24 hours a day Friday-Saturday, making late-night transit easy.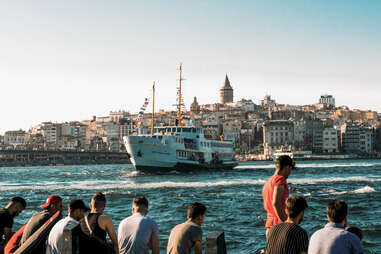 Days 1-2: Eminönü and Fener-Balat
Eminönü is a bustling commercial district and transport hub, which is home to the Spice Bazaar and the Yeni Cami, or "New Mosque," built in 1665. The square outlined by these buildings is pretty much always crowded. There are commuters racing to catch ferries and the tram, locals sipping tea and enjoying döner kebab with friends, street cats hoping for scraps, and people shopping for plants and pet supplies at various stalls outside the bazaar. (It also happens to be where you buy leeches used to treat varicose veins, in case you're in the market.) On Friday afternoons, devout worshippers congregate and kneel on plastic woven carpets to observe prayers en masse. Inside the Spice Bazaar, also known as the Mısır Çarşı, there are endless stalls selling tea, herbal remedies, olive oil soap, dried fruit, and spices. For high-quality spice mixes, rose water, and oils, head straight to No. 51, Hayfene Baharat, which is reputable and frequented by local chefs.
You can sample Turkish delight, called lokum, at the Spice Bazaar, but buy it at nearby Hacı Bekir. Established in 1777, the shop is the oldest purveyor of the rose-scented candy and other lokum flavors, like pomegranate encrusted with barberries or pistachios. Next, for a truly Istanbul experience, lose yourself in the winding backstreets of Eminönü, which is essentially the city's one-stop shop for a mishmash of wholesale accessories, knock-off clothing, cosmetics, fabric, baskets, appliances, and more.
Wander far enough and you'll eventually find one of the many doors to the Grand Bazaar. It's the world's oldest covered market, which is large enough that you can use mapping apps to navigate its "streets." The market is divided into sections of gold and jewelry; leather goods; pashmina scarves; traditional regional wares like cobalt, turquoise, and red Iznik tiles; Eastern-style slippers; shadow puppets; and leaded glass lanterns. Vendors are friendly but can be quite assertive in courting customers. Duck into the antique section for a little peace and quiet and to browse Ottoman-era jewelry, watches, and collectibles. Those in the market for a carpet should head to Adnan & Hasan, a favored seller among American expats.
Refuel after the Grand Bazaar with classic Turkish snacks like pide or lahmacun -- two types of flatbread -- or a simple glass of black tea at any of the tiny eateries that pepper the area's backstreets. Then make your way from Eminönü past the Golden Horn to Fener-Balat (this will involve a crowded bus ride up the coast). This rapidly gentrifying area is home to numerous antique stores, cafés, and artist ateliers. The mosaics at the beautifully restored Chora Church are worth the uphill walk. Plan on dinner around the corner at Asitane, a fine-dining establishment with a menu composed of carefully researched recipes served from the Ottoman sultans' royal kitchens.
Traveling may be on pause, but that doesn't mean your dreaming and planning has to be. With The Marriott Bonvoy Boundless™ Card, earn 6X Points at 7,000+ hotels participating in Marriott Bonvoy™ and 2X Points on all other purchases, including future flights. For the journey ahead, carry a card that's here for you now.
Day 3: Sultanahmet
Starting from Eminönü, take the tram to Gulhane Park and the Topkapı Palace complex. Locals gather at the park for picnics, to snap pictures of the green parrot population, and to enjoy the tulips in springtime. There is a small restaurant in the park, from which you can get views of the Bosphorus Strait. Between Gulhane Park and Topkapı, which lies a few meters uphill, there is a museum complex. The Istanbul Archaeological Museum, in particular, is worth visiting for its collection of Assyrian and Hittite artifacts. You'll want to budget an entire afternoon to explore the Topkapı Palace grounds. There's just that much to look at -- including relics like the arm bone of St. John the Baptist and the saucepan of Abraham -- particularly in spring or summer when the grounds erupt with roses. Note: If you're planning on going into the mosque section -- or any mosque in Istanbul -- dress modestly with legs covered. Women will also be asked to don a scarf before going into mosques. Loaners are available or you can bring your own.
Up the tram line lies Aya Sofya. Known as Hagia Sofia in the west, this architectural triumph dates back to the 360 AD. Since then, it's had various incarnations, from a Greek Orthodox church to a mosque to, today, a museum. It is also home to Gli the cat, who has her own Instagram account. The Blue Mosque is located across the plaza, adjacent to the Hippodrome. For souvenirs, look to the nearby Arasta Bazaar. It's far saner and more easily navigable than the Grand Bazaar and many of the same items are on offer, including traditional "peştamel"-style towels.
Day 4: Beyoğlu
Art Nouveau edifices in neighborhoods like Şishane, Cihangir, and Karaköy in the fashionable Beyoğlu district are home to modern art galleries and museums. Salt Galata and Pera Müzesi feature artwork by Turkish and international artists and have documentary and independent film screenings. Istanbul Modern is also located nearby. The Works: Objects of Desire is an antique shop that is chock-a-block with vintage Turkish memorabilia.
Taksim, defined by the shopping thoroughfare Istiklal Caddesi, is also in Beyoğlu. The "nostalgic tram" runs up and down this famous street, but it is often literally faster to walk due to the crowds. Fast fashion brands, independent boutiques, bookstores, movie theaters, and galleries nest inside the restored early 20th century buildings that line this busy street, but the side streets are far more interesting, particularly for food. If you need a change from Istanbul's tasty but ubiquitous Turkish fare, look to Reyhun for excellent Iranian cuisine or Los Altos, one of only a few Mexican restaurants in the city and the only one serving corn tortillas and carnitas (pork is extremely rare in Istanbul for religious reasons). Cocktails are relatively pricey but delicious, and the panoramic views are spectacular.
Day 5: Kadiköy-Moda
The hipster haven of Kadiköy on the city's Asian side is just a short ferry ride from Eminönü. It is known for its café culture, which really comes to life at night. The commercial center starts a block or two inland from the ferry terminal. Before heading there, stop for Iskender kebap, a trademarked dish of succulent meat served over cubes of bread and drenched with a tomato-based sauce and brown butter. Afterwards, check out the traditional shopping thoroughfare, where a rainbow of olives, produce, fish, cheese, and sausage are sold.
After checking out Kadiköy's design and ateliers, hike over to Moda Park, one of Istanbul's few generously proportioned green spaces. There's a tea garden overlooking the park, which affords scenic vistas of the sea. Before leaving the Asian side, you will want to eat at Çiya. The restaurant, profiled on the Netflix documentary series Chef's Table, features meticulously researched regional dishes from around Turkey.
MEET THE WRITER
Ruth Terry is a Black/Puerto Rican freelancer based in Istanbul who covers the intersections of race, identity, culture, and travel. You can read more of her work about Istanbul on Tenderly, Asparagus, and Culture Trip. Follow her on Twitter @Ruth_Terry.
How long have you been living in Istanbul?
I moved to Istanbul in the summer of 2015 with my partner, an international teacher. We wanted a city that was easy to fly in and out of, with a low cost of living and deep arts and culinary traditions. I also wanted to live in Europe. I love that I technically do live in Europe, but only by like a few hundred meters.

What was the most surprising thing about Istanbul you didn't expect?
You mean, besides the coup attempt our second summer here?! I was actually really surprised that Santa Claus is so big in Istanbul. There's no Christmas because it's Islamic. But Santa apparently transcends religion and delivers presents to Turkish children on New Year's Eve. Fun fact: The real St. Nicholas was born and lived in Turkey.

What's something about Istanbul that people probably don't understand if they haven't been there?
That it's a thoroughly modern, world-class city with many amenities that are on par with -- or, in the case of the subway, far superior to -- those in places like London and New York.

Number one can't-miss recommendation for a visitor?
Take the public ferry north up the Bosphorus toward the Old Town at sunset. On a clear day, you can see the Topkapi Palace, Aya Sofya, and the outlying Prince's Islands. In the summer, there are dolphins in the strait, too. Sit on the upper deck and sip tea from these clear, tulip-shaped glasses, which are ubiquitous in Turkey. Or get fresh-squeezed orange juice and a cheese sandwich. It's the best 40-cent tour in the world.

How easy is it to get around for English speakers?
In the tourist areas, you almost always find someone who speaks some English, but if you venture off the beaten path you may have difficulty. English is just not as widely spoken in Turkey as it is in Western Europe. That being said, Turks are super hospitable, like to a fault, and locals are eager to help. Also, subway and tram directions are almost all in English and Turkish. Many restaurants have English menus.


Next big trip you have planned in 2020?
The suburbs of Orlando, Florida, for my grandmother's 90th birthday! My mom and I may also go to Puerto Rico and/or Spain.

What's your ultimate bucket list destination you've always wanted to visit?
Anywhere involving snow and the northern lights.