For a True Taste of Life on the Italian Riviera, Head Beyond Cinque Terre
The five kaleidoscopic villages of the Cinque Terre, nestled in the hills of the Italian Riviera, are undoubtedly the highlight of any visit to northern Italy. And, judging by the massive flood of tourists and omnipresence in social feeds, the idyllic cluster of untouched-by-time villages in the northwestern region of Liguria is the highlight of every trip to northern Italy.
That makes sense, because Cinque Terre is absolutely gorgeous. The World Heritage Site is the very picture of what you'd envision if you closed your eyes and imagined a Riviera utopia. Each hamlet provides an exhilarating composition of heart-stirring vistas between vineyard covered cliffs. Traditional Ligurian cuisines like trofie al pesto and anchovies are prepared in a variety of ways, and soulful locals welcoming you to their ancestral land. It's pure Italy, but it's not the whole picture.
While you can (and should) easily spend days exploring Cinque Terre -- hiking from Riomaggiore to Monterosso; indulging in copious amounts of gelato and sun-drenched aperitivos at 11th century tower turned restaurant Torre Aurora as the sea lulls you with its hypnotic melody -- there's much more to feast your eyes on along the bucolic Mediterranean coastline. To truly experience this unforgettable Ligurian destination requires exploring the surrounding areas.
My own love affair with the Cinque Terre began during an around-the-world journey in 2007, and grew more profound after serendipitously meeting my husband, a native of Monterosso al Mare, the largest of the five villages. With every encounter I become more deeply enamored with this Ligurian landscape and its neighboring communities. And it's those lesser-known towns and villages -- off the beaten path, but not prohibitively so -- that truly capture the timeless, ethereal beauty of the region. Here's how to best enjoy and explore them.
Levanto pairs small-town vibes with world-class waves

| Westend61/Getty
Levanto: The Riviera's laid-back surfer haven
Located just over seven miles west of Monterosso al Mare you'll find the town of Levanto, which is accessible via a quick five-minute train ride or a leisurely two-hour hike along craggy cliffs overlooking the azure sea. This lesser-known but equally enchanting Ligurian town is surrounded by a lush valley of pine forests and olive groves. Protected on two sides by soaring cliffs Punta Mesco and Punta di Levanto, this surfers' haven is home to over 5,000 full-time inhabitants.
Levanto reveals many secrets, if you know where to find them. Stroll the streets of the medieval town center lined with boutiques and weekend markets, or better yet, settle in at one of the many cozy B&Bs. Among them, Villa Valentina is a family-run haven boasting a selection of well-appointed rooms and apartments sandwiched between Levanto and Monterosso. If camping is more your speed, pitch a tent at Camping Pian di Picche, whose location offers ample opportunities to explore the coastline. If you do nothing else in between savory plates of seafood while relaxing in Levanto, watch the waves roll in from the recently revamped Il Casino' Di Levanto, one of the town's most famous landmarks, now a restaurant and lounge bar run by locals. And, of course, if surfing's your thing, Levanto is home to some of the finest waves in the Riviera.
Bonassola is all about the beach clubs

| www.matteorinaldi.it/Moment Open/Getty
Bonassola & Framura: Beach oases in an uniquely Italian paradise
If you're mastering the sport of sunbathing, hop a westbound coastal train from Levanto until you reach the public and private beaches of Bonassola. With a population not quite reaching 1,000 very content year-round inhabitants, this sun-drenched destination is favored by Ligurian locals: It's nestled between the mountains and the sea, offering simple pleasures and an abundancce of charm. One visit to beach club
Bagni San Giorgio
for a
macchiato
or an
aperitivo
following a dip in the crystal-clear waters will convince you of its allure, and possibly tempt you to push that census count up to 1,001.
An even more secluded and unspoiled beach can be found further down the coast in the pre-Roman Ligurian town of Framura. Made up of five small hamlets scattered along the remote, rugged cliffs, Framura is the kind of idyllic destination travelers dream of when they say they want to discover something off the beaten path.This seldom-visited town offers a handful of small-town dining options, and unlike its neighbor, lacks a beach club, instead offering a more relaxed claim-your-patch-of-beach vibe on the pebbly expanse of a shoreline. And once you're done basking in the glow, one of the oldest medieval churches in the regions, San Martino, is the centerpiece of the town's oldest area, offering a vibrant look into Italian history against an unforgettable Riviera backdrop.
Sestri Levante is a modernized city with a fairytale history

| Luca Roggero/EyeEm/Getty
Sestri Levante: Scenic and chic shopping, Riviera-style
Further north, the once-quiet fishing town of Sestri Levante -- originally a small island with a promontory now reachable via train -- awaits those who haven't yet discovered her unaffected beauty. For those who have, it has become a favorite stop along the Riviera, a place whose quiet past has been supplanted with considerable bustle without losing its distinct regional charms. Sestri's historic center is uniquely set on a peninsula, with two bays -- the Baia del Silenzio and a beach on one side and bay Baia delle Favole on the other -- making it twice as scenic. The latter "Bay of Fairy Tales" is named for notable Danish author Hans Christian Andersen, who once called this Riviera village home. While the streets are lined with elegant shops, restaurants, and boutique hotels, follow the path from the old town to Punta Manara to inhale the panoramic coastline from Levanto to Portofino that remains timeless despite the area's evolution.
Portofino has golden-age Hollywood vibes and a hidden abbey

| Peter Cade/DigitalVision/Getty
Portofino: Old Hollywood vibes meet the Italian coast
Reachable by ferry or via bus from neighboring Santa Margherita Ligure, pastel-hued Portofino is a small crescent-shaped village that began attracting movie stars en mass in the 1950s. It's since become a meeting spot for the jet-set crowd while well-heeled Milanese prefer to bask beneath the summer sun of Santa Margherita or Rapallo. Portofino -- named
Portus Delphini
(Port of the
Dolphin
) for the dolphins in the surrounding waters -- merits a visit to its lighthouse and famous Church of Saint Giorgio, it's patron saint. Skip the swell of super yachts lining the heavily touristed harbor for the stellar views from atop 15th-century Genoese fortress and museum Castello Brown.
A boat ride or three-mile hike away from from Portofino lies one of Liguria's best truly hidden gems, the Abbey of San Fruttuoso. Inaccessible by road, the waterfront abbey is surrounded by verdant vegetation and set within a cove, where it appears like a mirage, albeit a sacred medieval one. This Benedictine monastery dating back to the year 1000 was later used as a pirate's cove in what became a tiny fishing village. With only one B&B, a scattering of locally run restaurants, and small stretches of sandy beaches, Liguria doesn't get any more remote, or endearing, than this. Journey by ferry to the other side of the cove and discover one of the best-kept secrets along the Italian Riviera.
Camogli is a throwback fishing village referred to as "the town of wives"

| Olja Merker/Moment/Getty
Camogli: The Italian Riviera of decades past
Located on the Golfo Paradiso in the Riviera di Levante, the sleepy town of Camogli is as unpretentious as it is enchanting. Set behind long pebbled beaches, the town's church and 13th century Castello della Dragone loom dreamily against a backdrop of hilly terrain. With a population of just over 5,000, this still active-fishing community translates to "town of wives," a name referring to the women left behind as their fishermen husbands went off to sea. Where better to enjoy a leisurely lunch than at one of many terraced restaurants along the port serving the catch-of-the-day while admiring the pastel-colored
palazzi
embellished with
trompe
l'oeil?
Refurbished palatial hotel
Villa Rosmarino
, opened in 1907, sits among the regal residences of a bygone era. This is what sets Camogli apart -- its unparalleled milieu evoking an Italian Riviera of decades past.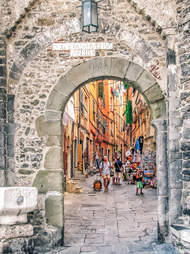 Poets have been drawing inspiration from beautiful Portovenere for centuries

| Francesco Dazzi/Moment/Moment
Portovenere & Lerici: Where poets draw inspiration
East of Cinque Terre -- the medieval town of Portovenere overlooks the Gulf of La Spezia, known to locals as the
Golfo dei Poeti
-- casts its own magic spell. With the first glimpse of Saint Peter's Church as you enter the Gulf of Poets via ferry, the fairytale-like story of Portovenere unfolds. The sinuous harbor boasts slender, brightly colored houses reaching up to seven stories high. Take in the breathtaking vistas from Castello Doria, the region's oldest surviving fortification dating back to around 1000. Once captivating literary great Lord Byron, a wondrous sea cave named Byron's Grotto recalls the presence of this 19th-century poet. It's impossible not to imagine yourself as the star of your own Ligurian story as you sail into the sunset, perhaps en route to neighboring island Palmaria.
Across the gulf from Portovenere, the ancient Etruscan harbor town of Lerici is often called "The Pearl of the Gulf of Poets." Once a favorite destination of scribes including Percy Bysshe Shelley and Mary Shelley, Henry James, Virginia Woolf, and Dante, Lerici is now home to 10,000 inhabitants. A walk around Piazza Garibaldi reveals history in the form of 17th century Baroque-style Church of Saint Francis and the Oratory of San Rocco dating back to the 13th century. Stroll the streets of Tellaro, a neighboring fishing village perched on a cliff. High up on a rocky promontory, discover Lerici's medieval castle San Giorgio, one of its most noteworthy monuments, now fully restored. Take a moment to inhale the views of Portovenere in the distance while taking in the unique splendor that is the Italian Riveria from a perspective far too few travelers have seen.
Kasia Dietz is a contributor for Thrillist.