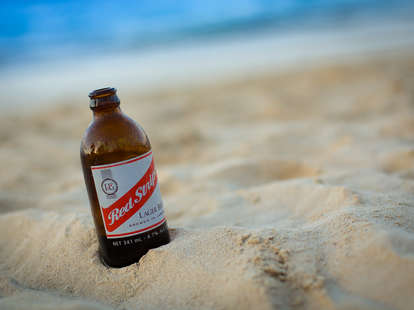 To most, jerk is the first and last word in Jamaican cuisine, but the trail of tasty treats here is far longer and more diverse than that. Here are 13 irie eats and drinks you shouldn't miss when next you go-ah-yard…

Ackee and Saltfish
Jamaica's real national dish. If you come and don't try ackee and saltfish, then you really weren't here at all, and you'll fade out of all vacation photos like Marty McFly in Back to the Future. The salty and savory legend is most popularly consumed on the weekends at breakfast with fried dumplings or plantains and hardough bread, but don't be surprised to see it mixing and mingling with peas and rice at lunch or dinner either.
Solomon Gundy
Pickled stuff may not appeal much to you. Pate may not either. The two come together so nicely in Solomon Gundy, though, that you'll likely find this treat hard to resist. Made from smoked red herring, mackerel, or the preppiest of all fish, "shad", it works as a miraculous spread over crackers.
Patty
The patty is a yellow, flaky, meat-filled pocket of spicy goodness. You'll generally find beef hiding inside, but all manner of fish, chicken, ackee, veggies, and cheese are available as well. A melting pot of the many overseas influences that have shaped Jamaica's history over the years, its roots can be traced back to Cornish pastries, with seasoning and peppers coming by way of India and Africa. Scotch bonnet peppers bring de heat, SO BE CAREFUL.
Dragon Stout
For something darker and stronger, Dragon Stout packs a punch at 7.5% ABV, with a bitter-bold and sweet flavor that hints a bit of chocolate. It's great on its own -- and no one will argue that saying "I'll have another Dragon Stout" isn't one of the manliest feelings ever -- but to really go local order up a Stout Punch that adds condensed milk and an egg, topped with fresh, grated nutmeg.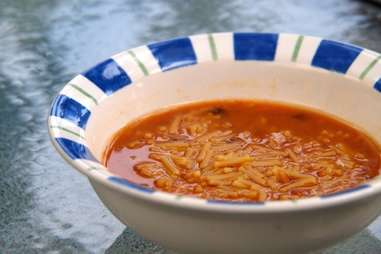 Cock Flavored Soup
The name may draw snickers, but this soup is no joke. Thick, hearty, and packing a good 40+ ingredients, Cock Soup has everything you might need to warm your soul… except chicken. In fact, it tastes more fishy than anything else.
Overproof
More imposing than standard 80proofs, Overproof -- whose big daddy brand, J. Wray & Nephew, is said to account for 90% of all rum sales in Jamaica -- dates all the way back to 1825. It's so ingrained in the culture that it's used for way more than just drinking, finding its way into cooking, cleaning, disinfecting, even warding off duppies, ghosts, and other spirits. To properly enjoy, order it with ice-cold water.
Festivals
Wherever there is great jerk, festivals can never be too far behind. Not Bonnaroo, but filling fried dough fingers that take the heat from the jerk spices down a notch via the light sweetness of cornmeal and sugar. They're no one-trick pony either, working well as a side for almost anything, or as a solo snack.
Bob Marley Shot
The man and his music are legendary, and you will be too if you sample this mix of equal parts strawberry syrup, crème de banana, and crème de menthe mixed with some overproof in order to float atop the heavier alcohol below.
Mannish Water
This aptly named soup is a strong aphrodisiac for men who can handle its, *ahem*, exotic ingredients. Basically, just about any and every part of a goat can be found in this liquefied Muddy Watters song (liver, head, brains, heart…). The dish dates back to the Maroons, who escaped the Spanish when the British took over in the 1600s, and is widely available across the island.
Red Stripe
'Ray Beer! You know it; you love it -- Red Stripe has been the unquestioned king of beers in Jamaica for more than 75 years. You can likely find it on a store shelf near you these days, but sipping these shorties on your couch is nothing compared to the taste experience you can have in their homeland.
Devon House Ice Cream
Sour Sop, Strong Back, Coconut Coffee, Stout, Rocky River – these are but a few of the 27 badass flavors available at Kingston's Devon House, the former residence of Jamaica's first black millionaire. The richness of the mansion is readily apparent in its architecture, furnishings, and appointments, but it's the amazing ice cream that's the true luxury here now.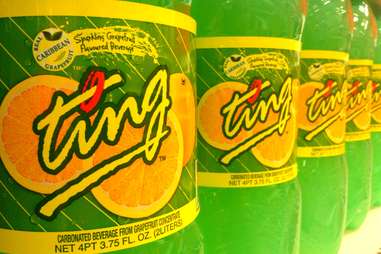 Ting
The best, most refreshing soda to ever come out of the Caribbean, Ting is the Thing to drink when you need to cool off in Jamaica. Not really at all like Tang, Ting is a carbonated beverage made from grapefruits so tart, light, and sweet that it's impossible to only drink one. It also mixes nicely with rum in a "Ting 'n Sting." To make it, just combine two parts Ting to one part rum and add a dash or two of Angostura bitters.

Jerk
Okay, it's not like you're going to NOT try the jerk. Smoky, spicy and righteously delicious, jerk-anything just raises BBQ cooking to all new levels of awesome. Scotchie's is generally seen as the best place to get a taste, and that's especially true in MoBay. But you shouldn't sleep on the Pork Pit or the Jerk Hut at the Holiday Inn SunSpree Resort (seriously, the jerk's amazing there). For the full jerk experience, though, trek over to Boston Beach on the island's northeastern shore. Not only is this jerk's birthplace, it's also where you'll find some of the best surfing in Jamaica.