Swim in a lake teeming with more than a million jellyfish
Surprisingly not the name of the SciFi original movie in which Ian Ziering must save a small town from a lake full of mutant, man-eating jellyfish, Jellyfish Lake is a safe-to-snorkel Micronesian lake that's filled to the brim with... you guessed it, jellyfish.
That's Jellyfish Lake. It's on an unpopulated island in Palau's Southern Lagoon.
It's got two things: crystal clear waters and, thanks to the fact that it used to be linked to the actual ocean but no longer is, mutant golden jellyfish...
But seriously, mutant jellyfish? Yeah, basically. That's a golden jellyfish from Jellyfish Lake on the left. It's a subspecies of the spotted jellyfish that reside in other area lakes (on the right) but has become visibly different over time. But what you should really care about is that its stinging cells or nematocytes (thank us when you nail Final Jeopardy tomorrow) have very little power and are, as such, harmless.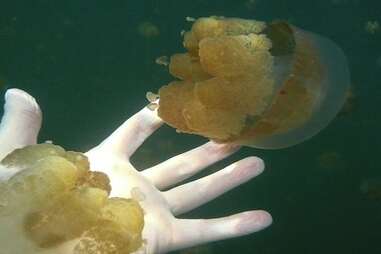 Fear not, that dude's fingers aren't all pruney from touching the jellyfish... just from the enjoyment of petting the jellyfish so much that he stayed in the water for a really freaking long time.
Although the jellyfish are actually moving around with a purpose (daily migrations, son!), most peeps just swim around aimlessly with gigantic fins, trying to avoid kicking those gelatinous sacks of harmlessness.
If you wanna check the place out, there's an outfit called Sam's Tours that'll take you there, but fair warning, just because the jellies can't get you doesn't mean that something else won't. The lake's also got saltwater crocodiles lurking, and at 50ft deep there's a layer of hydrogen sulfide that can be absorbed through the skin... and kill you... even if Ian Ziering's there acting heroic.

PHOTOS: Wikimedia Commons