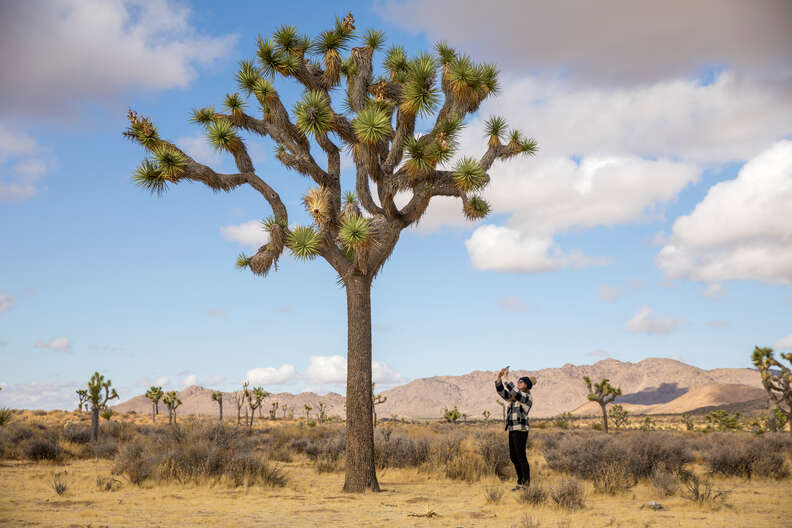 Your Guide to the Beautifully Bizarre Joshua Tree National Park
Camp, hike, and rock climb your way through California's High Desert.
California's Mojave Desert has inspired a number of monumental artistic endeavors, including the fictional planet Tatooine in Star Wars and the iconic U2 album The Joshua Tree. But Joshua Tree National Park, which lies within the boundaries of the Mojave, has a landscape and special magnetism all its own.
"People come to Joshua Tree for their own special reasons," says David Smith, park superintendent with the National Park Service. "Sometimes it's wilderness. Other times people come here for the music history, the diversity of raptors, or just the epic landscapes. People come to Joshua Tree to find themselves."
And find yourself you will—whether you're hiking, biking, rock climbing, camping, stargazing, or daydreaming about selling all your stuff to move to the desert. (Don't worry, we've all been there.) Here's how to do it all on your next trip.
The best time to visit Joshua Tree National Park
Joshua Tree is open (and beautiful!) year round. Come in the spring or fall for the best weather (but keep in mind, the park gets extra busy January through April, so book your Airbnb early). If you visit in the hot summer months, Cane West, an interpretive park ranger in training, suggests planning outdoor activities early in the morning or later in the day when the air is cooler, just to be safe.
"Most people spend four hours in the park," says West. But Joshua Tree's abundance of jaw-dropping geological and ecological sights mean one could spend days exploring the otherworldly landscape.
Fuel up in the funky artist towns nearby
There are over 100 miles of roads within the park and not a gas station in sight, so fill up beforehand. The quirky towns surrounding the park—especially Joshua Tree, Twentynine Palms, and Yucca Valley—are also your best bet for grabbing a bite and a beer after a long day in the park.
Populated by UFOlogists, solitude seekers, antique dealers, and offbeat creatives drawn to the power of the desert, there are plenty of unusual adventures to be had in town. Definitely swing by Pioneertown, which served as a film set for Old Westerns in a past life and today houses the area's most famous bar and music venue, Pappy & Harriet's.
Getting into Joshua Tree National Park
The park's larger than Rhode Island, which means there's a lot of ground to cover. Of the three main entrances, the Joshua Tree entrance (known as the West Entrance) is often the busiest. The North and South Entrances near Twentynine Palms and the Cottonwood Visitors Center, respectively, are far less crowded. Get there early; parking lots tend to fill up by mid-morning.
Just drive up to one of the park's entrances and pay at the booth. A seven-day vehicle permit runs $30. Alternatively, $55 gets you a pass valid for a full year—OR, if you think you'll visit more than one national park in the next 12 months (and you should!), NPS offers an $80 pass that buys you entry to any park for a year.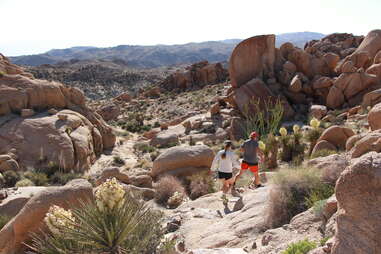 Hit Joshua Tree's best hiking trails
Once you're all geared up with the right shoes and as much water as you can carry (seriously, it's hot), it's time to hit the trails, baby. Skull Rock Nature Trail is one of the most popular in the park. From the Jumbo Rocks Campground, it'll take you winding through about 1.7 miles of desert until you arrive at Skull Rock, an enormous boulder with two eye sockets carved into it by years of water erosion. It's a pretty mild route and great for beginners.
The second trail you should hit is the Wonderland of Rocks, which—can you believe it—is a wonderland of rocks! Pebbles, stones, and giant boulders are yours to traverse for 5.5 glorious miles. Given the terrain, it's considered a difficult trail, so be sure you're up to the task.
Sara Combs from The Joshua Tree House has written a whole book about Joshua Tree with her husband Rich. She recommends three underrated hiking trails: Willow Hole Trail, which covers 6.8 miles of relatively flat land; Pine City Trail, a moderate four-mile jaunt where you'll spot a sprawling rock canyon and very few other humans; and North View Trail, a six-mile hike that can be tricky to navigate at times (probably wise to download a map!), but will drop you into steep canyon aisles and desert dry washes lush with Joshua trees.
There's also a plethora of trails to ride horses and mountain bikes if you prefer something speedier than hoofin' it yourself. The winding roads through the park are perfect for motorcyclists as well—just watch for desert tortoises crossing the road.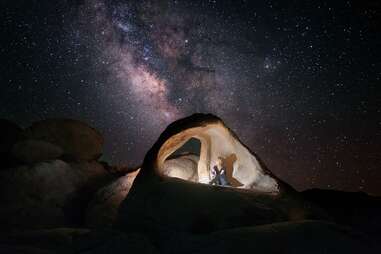 Check out Joshua Tree's most Instagrammable sites and rock formations
The aforementioned Skull Rock is a great one, and then there's Arch Rock, a 30-foot tall formation that's especially beloved by night-photographers out to capture the Milky Way. Though it's not technically in the park, it's worth seeking out Giant Rock, an enormous free-standing boulder that has... maybe the most bizarre backstory of any giant boulder you will ever meet in your entire life. It involves Hopi shamans, an espionage conspiracy, and a UFO convention. You know, desert things.
Around sunrise or sunset, wander over to Keys View, the highest lookout point in Joshua Tree. You can look out across the Coachella Valley and see as far as the Salton Sea and Palm Springs on clear days. And for those entering from the north, Combs also recommends stopping to check out the towering rock formations in Indian Cove (in her opinion, "the best in the park").
Scope out the unparalleled plant and animal life
We assume you know the park's tall and spiky namesake: the Yucca brevifolia, more commonly known as the "Joshua Tree." In Spanish, the tree is known as izote de desierto, or desert dagger, which is arguably more badass.) It's important to remember that since these trees are endemic to this 1,235-square mile expanse of desert, they're strictly protected—aka, no touchy!
Visit the Cholla Cactus Garden (at sunset, if you can swing it) to walk amongst hundreds of beautiful cholla; swaying in the desert breeze, they almost resemble coral (and, much like coral, should be left alone). You'll also probably spot the ocotillo plant, which is technically a succulent but is most closely related to blueberries and tea.
Joshua Tree National Park is more known for its flora than fauna, but there's also plenty of wildlife in and around the park. Birding is especially popular, with native species like roadrunners, raptors, and tons of migratory flocks as well. Predators like bobcats, coyotes, and snakes also roam these parts, and—lest we forget—keep an eye out for our good (and adorable) friend, the desert tortoise!
Find out why Joshua Tree is a rock climber's paradise
Whether you're brand new to climbing or navigate cliffs like a baby mountain goat, the Joshua Tree's 9,000+ climbing routes means that everyone's welcome to give it a go. (We also feel the need to note that most of the routes have truly supreme names; take, for example, Yabba Dabba Don't, Breakfast of Champions, Room to Shroom, Dangling Woo Li Master, Possessed By Elvis, and so on. Too good.)
For a route best suited to beginner and moderate climbers, head over to the Quail Springs area, home to the ever-charming Trashcan Rock. One of the most popular climbing spots due to its relative ease (and the cool shade that covers it during the afternoon), expect to wait in line for your go. Intersection Rock also makes a great spot for novices, and The Eye ends with a tunnel that opens up onto excellent views across the desert.
If you want a challenge—seriously, these climbs will bust your ass—push your skills to the limit with Big Moe, a classic climb known to challenge even more experienced climbers; Lost Horse Wall for some of the longest routes in the park; or a 1,500-foot-steep scramble up Saddle Rock for great multi-pitch climbing.
Gear up at Joshua Tree Outfitters (their storefront is currently closed due to COVID-19, but equipment rentals are still available) or Nomad Ventures. If you think you'll need a little guidance, consider hiring a guide from Cliffhanger Guides. They'll get you out on the rocks no matter your level of skill or experience.
Joshua Tree National Park is a Silver Tier International Dark Sky Park, which means nighttime can be pretty extraordinary. Even with its overall remote location, the western part of the park gets a fair amount of light pollution from nearby Palm Springs. West recommends sticking to the central part of the park, "especially along Pinto Basin Road… [it's] perfect for seeing the Big Dipper, full moons, Milky Way, and shooting stars."
Where to lay your weary head at night
Of the 520 campsites in Joshua Tree National Park, about half are first-come, first-serve. The other half take reservations through Recreation.gov. West warns that it's notoriously difficult to score weekend spots, so during peak times look for reserve-only campsites. West recommends the Cottonwood campground for stargazing, or White Tank Campground, which boasts some awe-inspiring rock formations that are millennia in the making.
And if you're more of an indoorsy type, Joshua Tree is famous for its hip Airbnbs. So if you'd prefer to stay in, say, a giant UFO or a converted 1950s Spartan trailer, there are plenty of options available for you.
What to bring and other essential tips for visitors
Sunscreen and water are must-haves year-round. The National Park Service stresses that there are no water sources inside the park, so again, pack a lot of water… and then pack even more. Binoculars, sturdy hiking shoes, snacks, a flashlight, and hats are also recommended. If you find yourself in need of supplies, Coyote Corner, a combination gift shop and general store, sits just outside the park. They sell everything from camping supplies to locally-made goods.
To avoid being one of the approximately 60 search-and-rescue operations Joshua Tree sees every year, Smith recommends exploring the park with a buddy and always letting people know where you're going. Cell phones don't work in most of the park, so if communication is crucial, bring a satellite phone and a printed map to get around.
Over 80% of Joshua Tree is officially designated wilderness—emphasis on wild. Be respectful of wildlife to avoid tangling with an angry critter. And if you remember one thing about your visit to Joshua Tree National Park, it should be "leave no trace." Be sure to leave the park as pristine as you found it to help preserve its natural beauty for generations to come.