The Ultimate Joshua Tree National Park Travel Guide
The Mojave Desert has inspired a number of monumental artistic endeavors, including the fictional planet Tatooine in Star Wars and the iconic U2 album The Joshua Tree. Joshua Tree National Park actually lies within the boundaries of both the Mojave Desert in the west and the Colorado Desert in the east, but the landscape within the park is wholly unique to itself.
Joshua Tree National Park gets its name from the tree species Yucca brevifolia, which is more commonly known as the "Joshua Tree." Legend has it that Mormon settlers heading west bestowed this name on the unique plants that are only found in the Mjave, but that story has been debated and remains unverified. Still, there's an absolute ton of geological and anthropological history in the area; multiple indigineous groups settled the area as early as 4,000-8,000 thousand years ago.
Nowadays, the park and surrounding areas serve as a haven for the artistically-inclined, UFOlogists, solitude seekers, and otherwise offbeat creatives drawn to the power of the desert. Ken Layne, a writer, podcaster, and publisher of Desert Oracle (a desert-based publication and radio show) has lived in the area for years. He calls it a "one-of-a-kind place" with a "mix of weird geology and wide-open skies."
David Smith, Joshua Tree's park superintendent with the National Park Service, says there's a magnetism to the region. "People come to Joshua Tree for their own individual reasons. Sometimes it's wilderness. Other times people come here for the music history, the diversity of raptors, or just the epic landscapes. People come to Joshua Tree to find themselves."
From a dome built by telepathic instructions received from aliens to a sleepy saloon that's hosted musicians like Paul McCartney, there's no shortage of funky, fun, and sometimes freaky things to do and see in and around Joshua Tree National Park. Here's how to do it all.
Thanks to its desert climate, Joshua Tree can be visited year round

| Purestock/Getty Images
When to visit
Since seasons aren't really a big thing in the high desert, Joshua Tree is just as gorgeous in April as it is in November. That being said, summertime in the park can feel sweltering; not
quite
hot enough to
fry an egg on the street
, but pretty hot. Since the park is open year-round, the gentler weather from October through May brings the biggest crowds, and it's
extra
busy January through April -- thanks, spring breakers!
If you're camping outdoors, spring or fall tend to be the ideal times to visit Joshua Tree to avoid extreme temperatures. However, if you prefer indoor lodging, holiday weekends and school breaks can fill up nearby accommodations especially quickly. Book early.
During the hottest months, Cane West, an interpretive park ranger in training at Joshua Tree National Park, suggests that guests plan their outdoor activities early in the morning or later in the day when the air is cooler for safety reasons.
Joshua Tree National Park is a Silver Tier International Dark Sky Park with spectacular stargazing

| Mike Ver Sprill/Shutterstock
The best things to see and do in Joshua Tree National Park
"Most people spend four hours in the park," says West. But Joshua Tree's abundance of jaw-dropping geological and ecological sights mean one could spend days exploring the otherworldly landscape.
Hiking & Climbing: There are thousands of rock-climbing routes sprinkled throughout the park, making it a world-class destination for climbers and boulderers of all skill levels. Most of it is centered around the Hidden Valley area, but if you're not sure where to start, there are plenty of professional guides who can help you find less-crowded sites.
Wildlife spotting: Joshua Tree is more known for its famous flora than fauna, but there's plenty of wildlife in and around the park. Birding is especially popular, with native species like roadrunners, raptors, and tons of migratory flocks as well. Bring binoculars and lots of patience!
There are plenty of big desert predators as well: bobcats, coyotes, snakes, and more. It's crucial for visitors to be aware of their surroundings and use caution when in the wilderness.
Stargazing: Joshua Tree National Park is a Silver Tier International Dark Sky Park, which means nighttime can be pretty extraordinary. Even with its overall remote location, the western part of the park gets a fair amount of light pollution from nearby Palm Springs. West recommends sticking to the central part of the park, "especially along Pinto Basin Road… [it's] perfect for seeing the Big Dipper, full moons, Milky Way, and shooting stars."
Scenic routes: Sara Combs from The Joshua Tree House has written a whole book about Joshua Tree with her husband Rich, but she shares three of her favorite underrated trails: Willow Hole Trail, Pine City, and North View Trail. Skull Rock is a favorite for macabre Instagrammers, as is Wonderland of Rocks, which is, well, pretty wonderful. There's also a plethora of trails to ride horses and mountain bikes if you prefer something speedier than hoofin' it yourself. The winding roads through the park are perfect for motorcyclists as well—just watch for desert tortoises crossing the road.
Iconic Pioneertown saloon Pappy & Harriet's offers BBQ, beer, and live music from legendary musicians

| BrianPIrwin/Shutterstock
Things to do just outside the park
There's something about the desert that attracts people who want to live on the fringe. That hypnotic charm means the towns surrounding Joshua Tree National Park are filled with innovative thinkers doing things that can't be found anywhere else on Earth. For example,
the Integratron
is a bizarre dome in Landers, 20 miles north of the park where guests climb a wooden ladder into an acoustically perfect space to take "sound baths" created by crystal bowls. The website describes it as "a resonant tabernacle and energy machine sited on a powerful geomagnetic vortex". Still confused? It's one of those "you have to see it to believe it" type of places. Make a reservation and enjoy the trip.
Eat & drink: Yucca Valley is the creative hotspot that most travelers pass through on their way into the park from Los Angeles, Orange County, and San Diego. You can find a pretty decent variety of dishes: pizza at Pie for the People, Mexican food at Kasa, La Copine for French-inspired California, diner-style brunch at Country Kitchen, or coffee at Giant Rock Meeting Room and Frontier Café.
Shopping: Yucca Valley is an antiquer's dream, with endless galleries and secondhand shops up and down the main drag. The End sells one-off vintage finds as well as work from local artisans, while Coyote Corner gift shop is perfect for kitschy souvenirs. Pioneertown General Store is a short drive from Yucca Valley and is a carefully curated collection of 'zines, textiles, vintage goods, and other hipster must-haves.
Arts & entertainment: At first glance, Pioneertown seems more like a movie set than a real place. That's because it was built as a nod to old-timey Westerns and never lost its rustic charm. Legendary Pioneertown honky-tonk Pappy & Harriet's dishes up some serious barbecue served with ice cold beers, but it's better known for being one of the more unique music venues in the country. Check their show schedule before and after Coachella -- there's always some good performances from artists already in the area.
Combs also recommends Smiths Ranch Drive-In in Twentynine Palms on the north side of the park. "We love going there on warm summer nights with a picnic to catch a movie with friends. Plus, it's only $5!" she explains.
The area around the park offers ample lodging, but sleeping under a canopy of stars is peak Joshua Tree

| Harrison Weinberg/Shutterstock
Where to stay in Joshua Tree
Indoors:
The towns surrounding Joshua Tree National Park (especially Yucca Valley and Twentynine Palms) have all the basic hotel chain options. But the area has become a hotbed of impeccably furnished, painfully photogenic short-term rentals on Airbnb and VRBO. Some especially eye-catching accommodations include
Casa Joshua Tree
, the teeny-tiny
Porte-Cochere in Joshua Tree
(only sleeps 2!), the refurbished trailer
1950 Spartan at Camp Temenōs
,
The Joshua Tree House
hacienda, or the multiple rentals offered by the
Joshua Tree Surf Club
. Prices range from around $75 to $175, but there are plenty of comfortable options at around $100 per night for small to mid-sized groups.
Outdoors: Joshua Tree is amazing at lots of things, but camping in this gorgeous landscape is definitely at the top of the list. Within the park are 520 campsites, around half of which are first-come, first-served while the other half take reservations through Recreation.gov. West warns that it's notoriously difficult to score weekend spots, so it's best to look for reserve-only campsites during peak times. For a more rugged alternative, he recommends some of the nearby BLM land outside the park's south entrance.
For stargazers, Smith suggests the Cottonwood campground within the park. "It is far from city lights and offers great views of the cosmos," plus it's a reserved campsite. Finally, he recommends White Tank Campground, which boasts some awe-inspiring rock formations that are millennia in the making.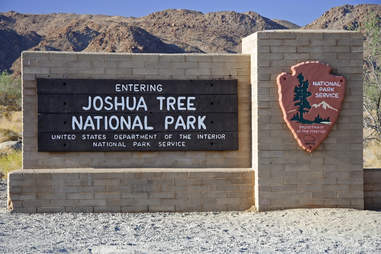 Three main entrances serve as the official gateways to Joshua Tree

| William Silver/Shutterstock
Essential travel tips for visiting Joshua Tree
Plan your trip:
A seven-day non-commercial vehicle permit is $30, but an annual pass is valid for a full year and costs $55. Year passes are available at park entrance stations as well as visitor centers. Motorcyclists can enter the park for $25 (valid for seven days), and individuals on foot or bike are $15 apiece (yep, you guessed it -- valid for seven days). Advance permits are not required: simply drive up to one of the park's entrances and pay at the entrance booth.
Where to enter the park: The park's boundaries are larger than Rhode Island, which means there's a lot of ground to cover. Of the three main entrances, the Joshua Tree entrance (known as the "West Entrance") is often the busiest. The North Entrance in Twentynine Palms is far less crowded as is the South Entrance near the Cottonwood Visitors Center. For those entering from the north, Combs recommends stopping to check out the rock formations in Indian Cove (in her opinion, "the best in the park"). There are numerous parking lots sprinkled throughout the park -- including Barker Dam and Hidden Valley -- but those often fill up by mid-morning.
What to bring: Water and sunscreen are needed year-round. (A camera is always a good idea, too.) The National Park Service stresses that there are no water sources inside the park, so bring a lot… and then pack some more. There are also over 100 miles of roads within the park and not a gas station in sight, so fill up beforehand. Cell phones don't work in most of the park, so if communication is crucial, bring a satellite phone and a printed map to get around. Binoculars, sturdy hiking shoes, snacks, a flashlight, and hats are also recommended and easily acquired at any of the many stores in the surrounding towns.
Safety tips: To avoid being one of the approximately 60 search-and-rescue operations Joshua Tree sees every year, Smith recommends exploring the park with a buddy and always letting people know when and where you're going. It's also important to carry enough water to avoid heat stroke during the day, even in winter months. Over 80% of Joshua Tree is officially designated wilderness -- emphasis on wild. Be respectful of wildlife to avoid tangling with an angry critter.
Finally, if you remember one thing about your visit to Joshua Tree National Park, it should be "leave no trace." Be sure to leave the park as pristine as you found it to help preserve its natural desert beauty for generations to come!