If you can't afford one of those fancy First Class seats that turn into a mattress larger than the one in your apartment, but want a taste of the good life while grounded, Jumbo Hostel's an ultra mod 29-room, 76-bed hotel built into a decommissioned Boeing 747-212B jumbo jet on the edge of Stockholm's Arlanda Airport.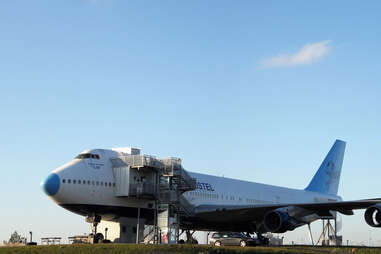 Now boarding, your accommodation for the evening. She was once a part of the Pan Am fleet and was known as the "Clipper Belle of the Sky". And not only can you reenact your favorite scenes from that movie where Harrison Ford plays the President while aboard, as the plane's located right at the airport's entrance, you're only a quick five minute free shuttle from the terminal when it's time for you to actually fly.
In addition to the luxury private cockpit suite (pictured top) that offers panoramic views of the airport, JH also rocks single-room suites (twin or queen beds) w/ private toilets and showers.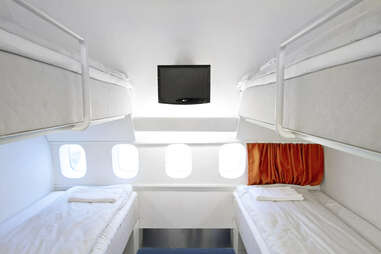 And if you fly Economy because you're not a big fan of privacy, or personal space, or spending extra cash, snag a simple quad dorm room instead. They come equipped with gratis WiFi (actually, the entire craft is wired) and flat-screen TVs that broadcast up-to-date departure times for all outgoing flights, which plane-spotters can wave off from a communal balcony with runway views.
Pretzels? Peanuts? Maybe a stiff cocktail as you spend an evening in the sleek 24hr cafe/bar (built in the former First Class cabin) chatting with new Dutch friends as you leaf through an issue of Plane & Pilot? Before long, you'll be ready to fake it, DiCaprio style, and commandeer your hotel home. But until then, you're advised to keep that seatbelt fastened, sit back, relax, and enjoy the flight night.