Spring is a magical time in Japan. Cumbersome winter jackets, scarves, and fuzzy mittens are shed. Masses congregate at the local parks to imbibe far too much alcohol (or sakura lattes from Starbucks) under budding cherry blossom trees. And in a city called Kawasaki, conveniently located just 20 minutes outside of Tokyo by train, people gather to partake in one of the most bizarrely amazing festivals of all: Japan's annual penis festival.
No, this is not a joke.
Every year on the first Sunday of April, droves of locals and foreigners alike really do bum-rush the otherwise quiet city of Kawasaki to celebrate the spectacularly real Kanamara Matsuri, or the "Festival of the Steel Phallus." I got to experience the festival and penis parade in all its glory with my own eyes. And it's just as phallic (or perhaps more so?) as you'd expect.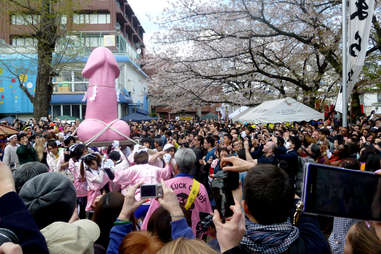 The penis festival -- which is totally free to attend -- takes place at Kanayama Shrine, where the main attraction is a giant iron dong (still not joking). What's more, revelers can find all manner of phallic statues, floats, candles, candy, NSFW drawings on wooden plaques called ema, and many other penis-themed items that are sure to give you a good chuckle. Put simply, if you come to see schlongs, you won't be disappointed.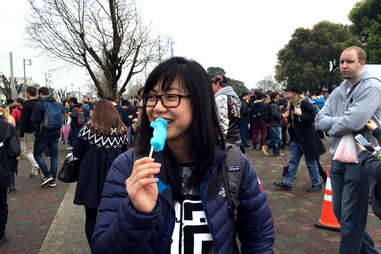 Now before you think, "Oh, Japan…," there's actually a deeper significance to all of this. The festival's origin has many interpretations, but historically, Kawasaki was a main thoroughfare for weary travelers during the Edo period (between 1603 and 1868) where they could recharge with food and drink -- and buy time with prostitutes. The shrine became a popular place of worship among prostitutes who prayed to the iron phallus for protection against STDs.
Today, the festival is meant as a celebration of LGBT culture and to promote HIV awareness -- though that sentiment gets a bit muddled by the boozy revelry, overpriced phallic merchandise, and gaggles of foreigners, like myself, who flock there to point, laugh, and make dick jokes. Chocolate-covered bananas and fried chicken skins are served up at the food booths, and nearly everyone in the crowd has a bright-pink or -blue dick lollipop in their mouth.
The chief highlight of the festival -- and the reason that most people attend -- takes place around noon when a cartoonish, oversized pink penis altar called the omikoshi is carried to Kanayama Shrine. This signals the beginning of the grand street parade, when more mikoshi penis altars are carried through the crowded streets, propped up on the shoulders of dong-worshippers who shout, sing, and chant.
All in all, it's a darn good time. Should you make it to the penis fest next spring, why not take in some of the equally breathtaking sights to see in Japan, besides cherry blossoms -- or giant phalluses.