The World's Hottest Destinations Blowing Up on Kayak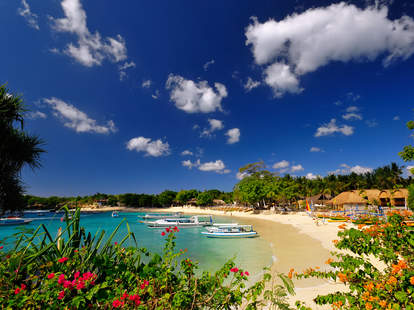 The holidays left you too broke for online shopping. Fantasy football is over. Scrolling through your Facebook feed is about as uplifting as a German art film. So what, pray tell, is the average American office employee supposed to do at their desk all day?
Search for vacation flights, of course.
We have quite the aspirational bucket list of places to visit in 2017, but certain destinations are popping off more than others. David Solomito, the vice president of North American marketing at everyone's favorite travel search engine Kayak.com, broke down for us the destinations that saw the biggest increases (and decreases) in search traffic last year.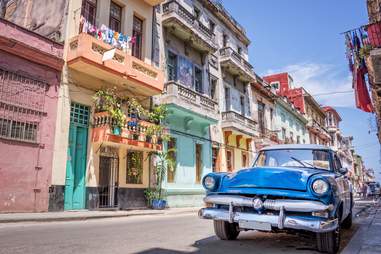 Havana, Cuba

| Delpixel/Shutterstock
1. Havana, Cuba -- Up 191%
When the forbidden fruit suddenly goes on sale for 69 cents a pound, everybody's gonna line up to get some. The historic island of Cuba is no longer off-limits, and with cheap and easy flights on airlines like JetBlue, travelers are rushing to experience it at its most authentic before the tourism industry grabs hold.
2. Reykjavik, Iceland -- Up 77%
For years Iceland, was pretty much just a strategic place to put Risk pieces. But then Icelandair got the brilliant idea of the overnight layover, and now all of a sudden the entire world is fascinated by lava fields and glacier caves and snowbound volcanoes. This year WOW air and Icelandair opened up a ton of low-cost routes to the US, and people are flocking.
Auckland, New Zealand

| gracethang2/Shutterstock
3. Auckland, New Zealand -- Up 44%
Air New Zealand entered into a new strategic partnership with United last year, and now you can soak up that incredible Lord of the Rings scenery without feeling like you literally trekked a year through Middle Earth to get there. "Auckland seemed really far-flung for a long time," Kayak's Solomito told me. "But the new routes give people new options and make it more affordable."
4. Bali, Indonesia -- Up 37%
Bali should just go ahead and rename its airport Julia Roberts International. "Ever since Eat, Pray, Love, Bali has been increasing in interest," said Solomito. "It's highly aspirational, among younger people especially, and in recent years it's become more affordable. Median airfare in April is $810, so now you can actually get there." With prices like that it's not hard to see why more and more people are ready to get out and find themselves.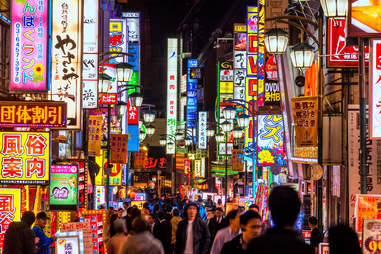 Tokyo, Japan

| Luciano Mortula/Shutterstock
5. Tokyo, Japan -- Up 34%
Much like Bali, Tokyo has become a "buzzy" destination -- not so much because of its appearance in movies (although plenty of people seek out Bill Murray and ScarJo's Lost in Translation hotel), but mostly due to interest in the upcoming 2020 Olympics and Japanese culture. 
6. Cartagena, Colombia -- Up 31%
As fears of drug-related violence lose steam, more Americans are taking advantage of Colombia's northern location as a convenient jumping-off point to explore South America. "Colombia is benefiting from perceived safety improvements," Solomito said. "Because people see the advances made in terms of security and safety, they want to go there." JetBlue's added routes and flight deals to the palm-lined beaches of Cartagena haven't hurt either.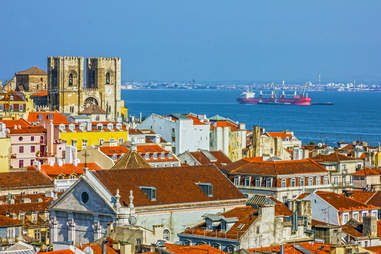 Lisbon, Portugal

| Valentina Photo/Shutterstock
7. Lisbon, Portugal -- Up 30%
Historically, Portugal has kind of flown under the radar. But because this historic coastal city is more affordable than other waterfront locales in Europe, the secret's gotten out. It's the only trending destination on the European continent.
8. Medellin, Colombia -- Up 28%
For the same reasons Cartagena has seen a jump in searches (security, peace accord, location), interest in Medellin, further south, is also on the upswing. The country's second-largest city behind Bogota, Medellin is best known for its rambunctious nightlife and has become a trendy weekend destination for Americans looking to party on the cheap.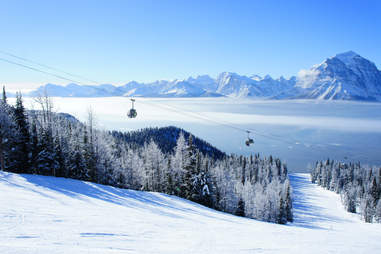 Calgary, Alberta

| Timothy Yue/Shutterstock
9. Calgary, Alberta -- Up 27%
Interesting that a cold landlocked Canadian cattle town would rate so highly on the list. But Solomito explained a unique combination of factors is driving people to Calgary -- in particular, the skiing. "It has a lot to do with the town of Banff," he said. "For destination skiers who've considered Colorado and Utah, Banff is now part of that conversation." Add in Canada's 150th anniversary celebration and a strong exchange rate, and it makes sense that Calgary would be Canada's hottest destination.
 
10. Sydney, Australia -- Up 26%
Sydney has always been a trendy vacation spot for Americans, despite its bad rap for being on the spendy side. But much like with Auckland, 2016 saw an increase in flight options out of the US, which makes getting to the Down Under a ton more affordable.
Panama City Beach, Florida

| Rob Hainer/Shutterstock
Some notable decreases
Panama City Beach, Florida -- Down 12%
This year saw PCB institute a ban of alcohol on the beach, which put a swift end to the city as a spring break destination.
Dayton, Ohio -- Down 16%
Your first thought right now might be, "Wait, people were actually going to Dayton?" Apparently so, but large airlines consolidating flights into big Midwestern hubs means more people are opting to take in the Ohio scenery by car rather than fly there.
St. Croix -- Down 16%
The Caribbean as a whole saw big search decreases because of the Zika virus. St. Croix was hit the hardest, but Cozumel (16%), Puerto Plata (15%), and St. Thomas (11%) all saw significant drops as well.
Melbourne, Australia -- Down 14%
Travel searches Down Under can be a zero-sum game, as Solomito explained: "Melbourne was on the opposite end of all the interest Sydney and Auckland got. Basically, more searches there meant less for Melbourne."
Istanbul, Turkey -- Down 39%
Coups and indiscriminate jailing of foreigners is apparently bad for tourism. Duly noted.
Sign up here for our daily Thrillist email, and get your fix of the best in food/drink/fun.