13 Weird Things You Could Only Ever Do in Austin
If you're even thinking of being in Austin, check out the rest of our DestiNATION: Austin guide. It's stacked with expert advice from locals on what to eat, where to drink, and what to do.
Austin's unofficial slogan, "Keep Austin Weird," rolled off Red Wassenich's tongue in the spring of 2000 when he called into a local radio station. Slapped onto bumper stickers and T-shirts almost instantaneously, it was a battle cry for old-timers who saw their sleepy college town threatened by a soaring population and tech industry giants (IBM, Dell, Apple, and Samsung all have operations here). Wassenich's website bemoaned "Austin's descent into rampant commercialism and overdevelopment," and his slogan spread in support of local businesses and the city's fierce individuality.
These days, the city that "Keep Austin Weird" hoped to defend is even more obscured by ungodly traffic, rising prices, closed businesses, and hordes of newcomers who don't quite get it. Leslie Cochran, a homeless man and iconic Austin weirdo known for his high heels and second-place finish in a city mayoral race, passed away. The Broken Spoke, a 50-year-old honky-tonk, practically shares its parking lot with a new luxury condo.
But Austin's proclivity toward the unconventional is still here, if you know where to seek it out -- and you absolutely should. These are the small businesses, oddball landmarks, and standout quirks that give this city its character -- deeply appreciated, and staunchly defended, by the Austinites who still strive to keep the weirdness.
Play a game of chicken shit bingo at The Little Longhorn Saloon
The unassuming white facade of The Little Longhorn Saloon (sometimes called Ginny's) might lead you to believe there's nothing inside worth writing home about. You'd be wrong. This Austin institution is the only bar with a Honky Tonk Happy Hour that features a rousing game of Chicken Shit Bingo. Well, rousing isn't exactly the right word for waiting patiently on a chicken to poop in a square to call bingo, but with the help of a couple of Shiners, you'll feel surprisingly invested in chicken waste.
Every Sunday from 4 to 8, Austinites young and old gather in the small dive, hovering around a chicken pen filled with seeds and a numbered grid. For $2, you receive a number, and if the chicken lets loose on your square, you win a cash prize. Chicken Shit Bingo can be a surprisingly popular event, so if you want to play and get a good look at the chosen hen, arrive early.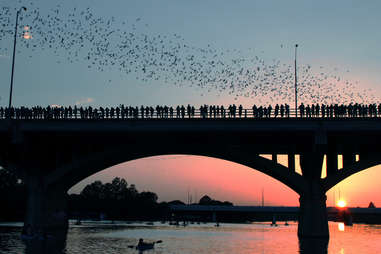 See the largest urban bat colony in North America
It's impossible to have a list of Austin oddities without mentioning the enormous Mexican free-tail bat population living under the Congress Avenue Bridge. Over 1.5 million bats roost in the crevices underneath one of the most popular roads in the city connecting South Austin to Downtown. If you're lucky enough to visit between April and May, you have a good chance of seeing these little gals (it's a maternity colony) emerge right at sunset. An even crazier sight comes in late July to early August during the peak season when you can observe the full population of moms and babies fly as the sun goes down.
Add your tag at the HOPE Outdoor Graffiti Gallery
You'll spy plenty of bizarre yard art and illegal graffiti around the city, but at this abandoned construction site tucked away off North Lamar, tagging is encouraged. The cement slabs and crumbling walls have been transformed into the HOPE Outdoor Gallery, where local graffiti artists and amateurs alike come to practice their skills. The artwork is constantly changing, and the top-tiers of this sloping hillside offer up an inspired view of the Downtown skyline. Sadly, this space will soon fulfill its original destiny as a condo development. Go while you still can.
Celebrate Christmas year-round at Lala's
If you hadn't noticed, dive bars hold a sense of grandeur in this town, and only the ones with real character withstand the test of time. At Lala's, every day is December at your quirky grandma's house. String lights and ornaments cover the walls and ceiling, elves dangle over the bar, drinks are served in festive mugs, and Christmas trees abound. Lala's underwent a slight facelift a few years ago under new ownership -- a good scrubbing lifted out the ancient stains and lingering cigarette smell -- but the jukebox is still killer, with the same yuletide ambiance they've had since the '70s.
Pose in front of Austin's iconic public art pieces
Austin has a slew of oft-Instagrammed permanent pieces of street art. One of the most popular is "I love you so much," spray-painted on the side of Jo's Coffee on South Congress, a simple love note between the owner of Jo's and her girlfriend. "Greetings From Austin" is a mural painted onto Roadhouse Relics -- inspired by an old postcard, you might also find it on, ya know, actual postcards. And of course, the endearing "Jeremiah the Innocent," a friendly frog off of Guadalupe St that just wants to say what's up. He's been greeting passersby since 1993, when Daniel Johnston painted him on the side of what was then a record store, Sound Exchange, for $100 and as many records as he could carry.
Check out the more, uh, unusual museums
If indoor art is more your thing, Austin has its share of impressive art collections at the Blanton Museum of Art and The Contemporary Downtown. But for something a little more eclectic, smack in the middle of the debauchery of Sixth St sits the Museum of the Weird. In addition to a two-headed sheep and a Fiji Mermaid, you'll find a freak show upstairs where an employee will happily put a nail through their nose and point out that Johnny Depp stayed in the building while he was filming What's Eating Gilbert Grape.
The Museum of Natural & Artificial Ephemerata (MNAE) is part of Scott and Jen Webel's home. The pair will hold tours through their gallery of etcetera: memorabilia from World's Fairs, a clipping of Elvis' hair, a fork bent by telekinesis, and that's only scratching the surface. Be sure to ask about the contents of the small bottle by the door.
Also unmissable is artist Vince Hannemann's backyard, which doubles as the Cathedral of Junk in South Austin. The "cathedral" is a breathtaking sight -- Hannemann has molded trashed objects into towers and tunnels full of color and texture, like a dystopian playground filled with an undulating architecture of debris.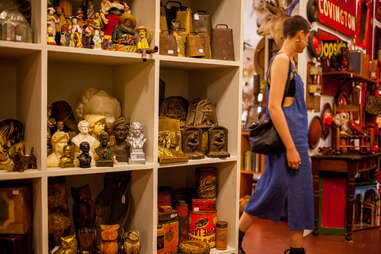 Get lost shopping for oddities at Uncommon Objects
If you want to take home a piece of Austin's oddness, eschew that tie-dyed "Keep Austin Weird" T-shirt and head to South Congress instead. Appropriately nestled between a cowboy boot shop and an art gallery, Uncommon Objects is a tightly packed maze of antiques and junk, ranging from vintage furniture and jewelry, to old personal letters and photographs, to skulls and bizarre tchotchkes. Each section contains pieces with endless stories.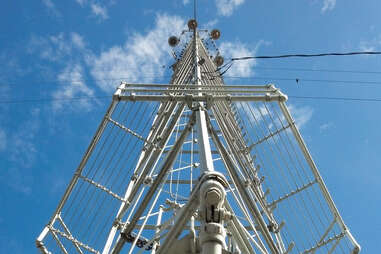 "Party at the moontower"
Matthew McConaughey's career began here on the set of Richard Linklater's Dazed and Confused, playing mustached stoner David Wooderson. One of his classic lines -- "party at the moontower" -- isn't just some metaphor for getting cosmically blazed. In fact the movie's debaucherous graduation party scene takes place at a very real "moonlight tower" that still exists in Zilker Park. Erected in the 1890s, these tall skinny structures of crisscrossing metal beams used to be the only lights illuminating the streets at night. 15 towers still remain around the city today -- the only known surviving light towers in the world.
Rent a VHS at I Luv Video
If you've got three bucks and a hankering to support Austin's independent businesses, get thee to I Luv Video, a beloved institution that's been renting out flicks to locals since 1984. Sadly their hole-in-the-wall location on the Drag closed, but the store on Airport Blvd. still boasts an absolutely massive inventory -- two floors' worth -- of DVDs, VHSs, and wacky movie memorabilia. "Netflix is going out of business" is the catchphrase here. Chat with the freakishly knowledgable staff, watch whatever B movie they've got playing, and drink a beer while you browse obscure movie box covers you haven't laid eyes on since your hometown Blockbuster in 1994.
Pay tribute to Austin's music legends
There's a statue standing along the river at Auditorium Shores, the Downtown skyline a dramatic backdrop, the kind of majestic spot where you'd expect to find a Texas founding father. Well, yes and no -- it's Stevie Ray Vaughan, revered as one of Austin's greatest guitarists. His statue was erected in 1993 following his untimely death in a helicopter crash, mere hours after his final performance alongside Eric Clapton, Buddy Guy, Robert Cray, and his brother, Jimmie Vaughan -- a tragedy that shook music fans in 1990.
Meanwhile, the patron saint of Austin -- yep, we're talking about Willie -- has his own bronze statue Downtown. The country star and lovable stoner helped kickstart the local music scene into a high fever in the '70s. His serene statue reflects the city's love for him with his iconic braids resting on his chest and his famous guitar, Trigger, sitting on his knee. It sits outside of the Moody Theater where Austin City Limits -- the TV music series Willie helped start in 1974 -- is still recorded. Second St was also renamed Willie Nelson Blvd in his honor.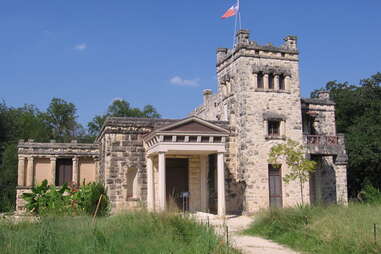 Visit a 125-year-old art studio in the middle of a modern neighborhood
The Hyde Park neighborhood is enviable real estate these days, especially if you're after a cute historic bungalow with a roomy front porch. These craftsman-style houses are old, but this one takes the cake -- dating back to 1892, the Elisabet Ney Museum houses the work and personal items of 19th-century sculptor Elisabet Ney in what was once her former studio. It's very rare to see such a complete look at a creative woman's work and life from that time period. Pieces in the collection include incredibly lifelike busts of herself and her husband and a death mask of a University of Texas president.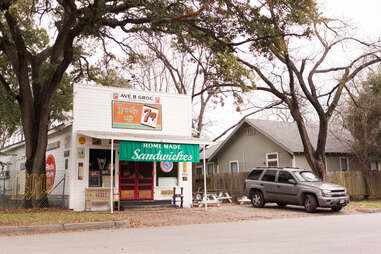 Order a sandwich at a century-old grocery store
Hyde Park gets even weirder just a few blocks from the Elisabet Ney Museum. Smack dab in the middle of a block of houses on 44th St, you'll stumble upon another anachronism: Austin's oldest delicatessen and grocery store. The Avenue B Grocery & Market has been slicing up fresh deli meat for Hyde Park residents since 1909. You'll find the owner Ross behind the counter, the daily special written up on the chalkboard, and patrons lounging on the front porch munching on their groceries.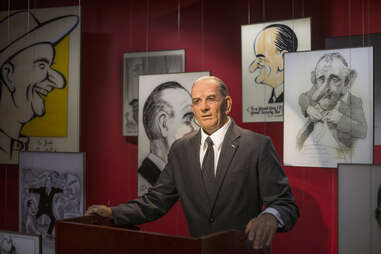 Listen to Lyndon B. Johnson tell jokes
To the east of the UT Tower, inside the walls of the monolithic LBJ Presidential Library, a life-size animatronic Lyndon B. Johnson makes gestures, tells jokes and old stories -- the ones he most often told at events and dinner parties. The museum of presidential artifacts also includes LBJ's presidential stretch limo, the suit he wore the day President Kennedy was killed, and a 7/8th size replica of the Oval Office while he was president.
Sign up here for our daily Thrillist email, and get your fix of the best in food/drink/fun.
Kelli McDonald is a perpetually curious writer who moved to Austin, TX in 2009. She's either thinking about crafting, actually crafting, painting her nails, planning her next cocktail, or agonizing over editing photos in Instagram at this very moment.