School's in at a school converted into a hotel & brewery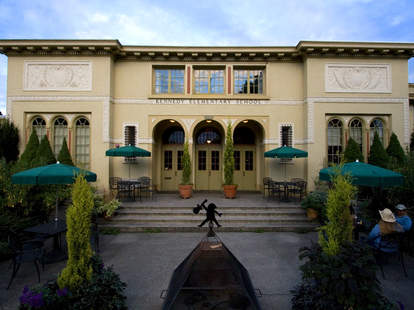 Making a bid to be the biggest party school in the Pacific Northwest (suck it, OSU), Kennedy School's a century-old elementary that ditches reading, writing, and 'rithmetic for a sprawling combo of rooms, restobars, concert venues, and on-site breweries.
All of the school features have been kept in place, right down to the ironically gigantic boy's room urinals, and you can snag a pint or a cocktail from one of the myriad bars and wander the halls looking at their vast collection of artwork.
Get hot for teacher from the comfort of your boutique room, which used to be a classroom and comes complete with a wall-sized chalkboard.
There're five restaurant & bars on site, including this huge centerpiece with it's fire-pitted courtyard, a cigar & Scotch bar known as "Detention", and the jewel box Cyprus Room.
The Boiler Room bar boasts two levels of chill, with repurposed bronze piping and a billiards area.
Their soaking pool is basically an Olympic-sized hot tub where you can sip a beer and get your spa on.
Making in-room HBO almost irrelevant, the former auditorium is now a theater where you can watch new flicks for $3 a pop and lounge on plush sofas, drinking beer & eating pizza delivered to your seat. And if you wanna go live, the gymnasium hosts free rock & bluegrass concerts, which's the definition of music class.