The 13 Kinkiest Hotel Rooms in the World
Asking someone about their favorite love hotels is a bit of a trick question. Frankly, any hotel gets sexy on the right occasion, with the right person. But that's the innate charm of a home away from home: the impersonal nature of hotels makes them ideal for getaways and lovers. A straight-laced business room might get your heart racing while you role-play secretary and CEO. Maybe for you and your boo, it's water-warped wallpaper peeling underneath the popcorn ceiling of a roadside desert motel. Yo, y'all do y'all.
Obviously tastes range to even more particular than that -- maybe candles and roses, maybe canes and bruises. You might opt for alternatives to a room with bland décor... and, wouldn't you know, some hotelier has already been trying to predict what gets you buzzing. We've rounded up the kinkiest hotel rooms from around the world. If you actually want to have sex in all of these, you're definitely a trooper.
The Palms Casino Resort
Las Vegas, Nevada
What's naughtier than a night of debauchery in Sin City? High rollers can spend the night at The Erotic Suite at The Palms, an extravagant, 1,450sqft private strip/sex club in the guise of a hotel room. The rotating bed (!) is round and shiny and red beneath mirrored ceilings, and the shower features a stripper pole and "nightclub inspired lightning." Also, there's a big TV, in case your fetish is pretending you're a happily wed couple who watch Fallon every night before getting it on for 12 solid minutes.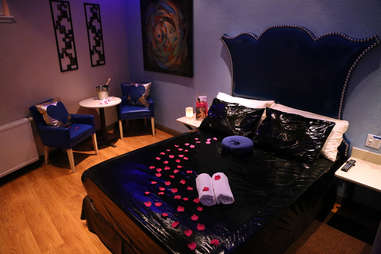 The Liberty Inn
New York City
This quintessential by-the-hour love/sex hotel is parked on its own little island in the Meatpacking District in Manhattan. Make sure you stock up on condoms from the vending machine in the lobby, and enjoy the colorful decor inside the rooms: think lip-shaped headboards and mood lighting you'll be able to adjust at will. The hotel offers goodie bags (with a pocket Kama Sutra) and specials for ladies (whether she'll opt for the tender romance of the Sweetheart Special or the Fifty Shades-inspired Restrained Rendezvous).
Desire Resort & Spa Riviera Maya
Cancun, Mexico
Heads up, swingers, nudists, and group sex enthusiasts -- we see you sitting together over there in the cuddle puddle. Ever wanted to escape to a tropical resort where you and your sweetheart can cavort in the nude? The Desire Resort & Spa, on the coast of Cancun is the answer to your prayers. Daily activities include sunning your most sunburnable parts on the nude beach, "sexy aqua fitness," and pole dancing lessons. The Resort will even do the heavy orgy lifting for you: just sign up for the Foursome Erotic Massage with another couple. For $600, you'll warm up in the Jacuzzi, get a 50-minute "erotic massage," as if there were any other kind, and split two bottles of sparkling wine (wet naps and Purell not included). The resort is couples-only, so all you lonesome singles should find your date before check-in.
V8 Hotel
Stuttgart, Germany
Got a thing for hot rods? Head to this car-themed hotel where you can get it on in automobile-themed rooms. Live out your fantasies (or memories?) of a romp in the backseat at the gas station, the car wash, or the drive-in room, where you'll get to sleep in a bed nestled inside of a Cadillac Coupe de Ville and store your clothes in the ticket booth cum wardrobe. Oh, and the room is big enough for five people.
Karosta Prison
Liepāja, Latvia
Want to take your kink into the real world? How about spending a night in an actual jail cell? For a measly 15 euros a night, the Karosta Prison will let you sleep like a prisoner, in a tiny room behind wire bars, on a bunk bed, next to the toilet. You'll even get to eat a proper prison meal. The truly masochistic can sign up for the "extreme" experience: prison "guards" will treat you as they would a real prisoner, punishing you for misdeeds. You'll have to sign a contract agreeing to obey orders and take insults. Bring a partner with a sense of humor and try out the line, "So what are you in for?"
Hotel Pelirocco
Brighton, England
If pin-ups, burlesque, and rock 'n' roll get your pulse racing, the Hotel Pelirocco is where to take your beau. Themed rooms include a lingerie-inspired boudoir, a Bettie Page room decked out in leopard print, and the "infamous" Kraken's Lair, a three-room suite complete with mirrored ceilings, a stripper pole, and its own street entrance -- which means you won't have to embarrass yourself in front of the other guests when you enter in your best roleplaying outfit.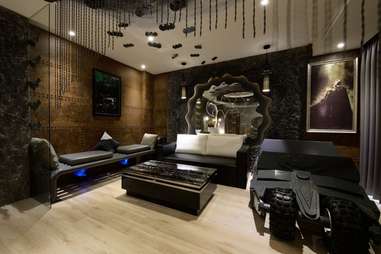 Eden Motel
Taipei, Taiwan
"Let's get away," Batman said to Robin. Things had been tense between them for a while. Robin was sullen. "Where?"
"It's a surprise!" He blindfolded Robin and brought him to the Eden Motel. He held Robin for a moment before he took off the blindfold. "Ta-da!"
It was the Batcave, transformed into a hotel room. The Batman logo was frosted on the mirror. Gargoyles and bat decor adorned the room. The chair in front of the vanity was a mini Batmobile. "Have you seen my favorite part?" Batman said, motioning at the moody oil portrait of himself above the desk.
"Oh, Batman," Robin sighed. "Why do you always have to make it about you?"
"Say no more, my love." Batman held a single, gloved finger to Robin's lower lip. "I've only paid for three hours, and there's no time to waste."
The Standard
New York City
If you really want to get kinky in true New York City style, you'll opt for the sexy (and pricey) rooms at The Standard hotel, which feature floor-to-ceiling glass windows, where you and your exhibitionist beloved can display your wild passion to the unsuspecting tourists walking the High Line. After a bit of that and this and some of that and a bit more of oh my, head up to the ultra-chic rooftop bar for a celebratory cocktail.
Stay and Play
Los Angeles, California
Plan for a kinky vacation in this 3,000sqft loft in Downtown Los Angeles. The Stay & Play has six themed play rooms, including the ominous Interrogation Station or the more glamorous Scarlett Boudoir. You'll be able to lock your lover in a tiny cage at the foot of the bed, strap them to a bondage chair in the shape of a helpless, latex-clad submissive, or put them on display against a spider web made of chains. Play and torture with the cabinets full of toys (you're still invited to bring your own favorite flogger). The room sleeps up to four, so, you know, bring some friends.
Love Hotel
Paris, France
Look, you perversions are going to land you in one place and one place only. Hint: it's hot and full of pitchforks. Naturally we're talking about the Infernal Suite at the Love Hotel in Paris, city of amour. You and your devious accomplice can enjoy visions of lost souls lit up in the flames of passion after a cooling shower. You can rent devil's horns for a costume... and the truly exhibitionistic can enjoy a new perk: peeking through a common window at the going-ons of the room next door -- Temptation Paradise. Provided, of course, that both heaven and darkness agrees to the show.
Drake Hotel
Toronto, Canada
On the surface, Drake Hotel looks like another hip boutique hotel: high ceilings and wood floors, hand-made dolls, a tech library. But it's the "Pleasure Menu" on the amenities list that's got our attention. Get the rose petal turndown service along with a blindfold, some bondage tape, and a pair of vibrating cock rings. Single? Not to worry. You can request Tenga eggs (toys just for him) or the famous pink rabbit vibrator (a la Sex and the City). Also on the menu? A $600, 24-carat dildo from luxury sex toy manufacturer, Lelo. (It's a hell of a deal -- the latest version of the Olga retails for $3,500.)
Keio Plaza Hotel
Tokyo, Japan
The Keio Plaza Hotel in the heart of Tokyo, Japan might claim that its popular Hello Kitty-themed rooms are great for families with children, but let's be real: they are clearly aimed at the dedicated Sanrio fetishist. I mean, just look at the Princess Kitty room, which includes a giant plush high-heel shaped chair, a huge Hello Kitty Princess reigning above the beds, and big, plastic Bow shaped water bottles, perfect for hydrating between trysts.
Don Q Inn
Dodgeville, Wisconsin
OK, hear us out: Dodgeville, Wisconsin may not sound like the sexiest place on the planet. But there's an actual plane (a Boeing C-97, fer real) on the hotel's premises, as well as 25 fantasy and themed rooms to cater to any fetish, including ancient Roman courts, a Gemini Space Capsule, a hot air balloon, a viking ship, and a swingers' room, with a bed actually suspended from the ceiling by heavy chains.
Sign up here for our daily Thrillist email, and get your fix of the best in food/drink/fun.