Ahhh the KOA. America's only brand name in outdoor sleeping that still likes to spell "camping" with a K. Part national park, part trailer park, they're the residential/recreational hybrid that attract some of the more colorful characters our country has to offer.
And while you may have some vague recollections of what these bastions of Americana were from when you were a kid, perhaps it is time for a little refresher. If you're headed to one of the over 480 Kampgrounds of America, here are 11 people you're likely to meet. And might just want to avoid.
Homesteading retired couples
These are the grandparents who didn't save enough for an ACTUAL house, and instead have opted to retire on a Airstream in a public campground. Their idea of "home décor" is an excessive amount of wind chimes, astroturf, and lawn flamingos. If you can't find their trailer, just follow the grandmas on beach cruisers with baskets, peddling home from the KOA knitting group.
Nostalgic baby boomers
These people actually have money, but for some reason have rose colored ideas of their childhood, when mom and dad used to take them to the KOA in Poconos. So they buy trailers that look like set pieces from Breaking Bad and drive across the country trying to relive "the simple life" -- forgetting of course that "the simple life" included stuff like no air conditioning, AM-only radio, and four-inch mattress pads. All of which are much easier to deal with when you're eight than 65.
Hippies
But not the charming, come-on-over-and-split-a-joint-while-we-jam-out-to-Dylan hippies. The off the grid, truly stinking hippies who always have the worst RVs. Or, more likely, a school bus.
The 40-year-old Eagle Scout
This guy in khaki shorts and pulled up socks with Timberlands is just a little TOO into birdwatching and tying knots for no reason. And there is a better-than-60-percent chance his name is "Steve." He means well, as he over-enthusiastically tries to help you camp better, pointing out all the birds and weeds you can eat. But you you just came here to drink around a campfire, and really just wish he'd go away.

Sad single dads
This poor guy is overly proud of himself for "at least being a good dad," like he's gonna somehow win the best parent award by taking miserable kids on a camping trip. Who just end up on their phones the whole time anyway. His two week court-sanctioned summer trip is a flailing attempt to out-do mom's new husband, and most likely ends up with them leaving by Saturday afternoon and spending the rest of the vacation at Six Flags.
Leather-skinned Parrotheads
In warmer weather KOAs, these are the people selling seashells or crappy T-shirts, running dive boats, or pretty much doing anything to ensure their skin stays the color of a football. The men have long scraggly gray hair, and the ladies wear bikinis despite their breasts hanging down to their belly button. They think they're a lot younger than they are, always drinking some shitty punch like it's still a frat party. And are absolutely swingers.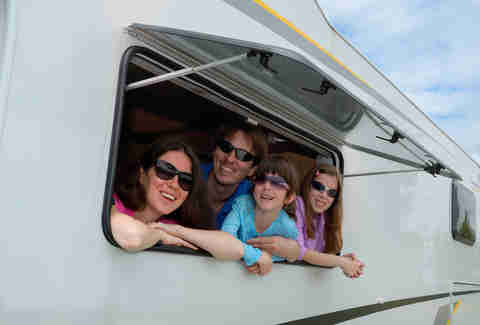 Weirdly too-close families
They're like National Lampoon's Vacation, if you replaced the Griswolds with the McCoyles. They've packed six people into a 400sqft RV, and are perfectly happy spending three weeks within arm's reach of each other at all times. The middle kid sleeps on the dining room table and nobody's upset about it, the showering arrangements are never really explained, and you don't know a soul in the camp who's ever been inside.
Hipsters
Easily spotted by the dudes with meticulous beards and warm-weather skull caps, and girls with famers market headbands. They wanted some kind of "ironic" Americana experience, because fuck gentrification or whatever. And will undoubtedly Instagram a picture of the bonfire with some obscure quote from Woodie Guthrie.
Bikers, but not the scary kind
These are the OLD bikers. They drive the motorcycles that aren't too fast and have side pockets so big you seriously wonder if they brought a colostomy bag on a motorcycle trip. They wear all black Harley stuff, even though they wouldn't know Crystal meth form Crystal Pepsi. And are about as threatening as bikers as RuPaul was as a boxer.
Super "frugal," early retirement couples
They're probably not even 50, but think they've somehow beaten the system because they were able to retire young... to an RV. They're typically dressed in head to toe LL Bean, purchased at Goodwill because only suckers pay full price at Outdoor World. They'll regale you with stories about how they worked jobs, but did shit like steal ketchup packets so they could "live the lifestyle." Never really explaining what that "lifestyle" is, but it somehow involves condiment theft. They drive a motor home that gets six miles to the gallon, are ALWAYS childless, and listen to weird Caribbean/World music. And will not hesitate to tell you they're cultured because they saw Moab in an RV and made it all the way to Scottsdale.
A few murderers on the run
Because one of these people is DEFINITELY that. And it's probably Steve.
Sign up here for our daily Thrillist email, and get your fix of the best in food/drink/fun.
Matt Meltzer is a staff writer with Thrillist. Follow his summer kamping adventures on Instagram @meltrez1.