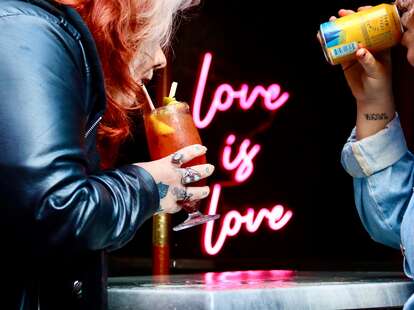 Gossip Grill in San Diego.

| Gossip Grill
Gossip Grill in San Diego.

| Gossip Grill
Welcome to
We're Out Here
, your year-round hub for LGBTQ+ travel and experiences! Here, you'll find everything you need to plan your next great gaycation, including queer-centric travel stories, nightlife guides, profiles, pride event roundups, and ways to give back to local queer communities.
This may seem like a silly question—especially for those of us who clutched our IDs, breathlessly counting down the hours until we turned 21—but what is the function of a bar? Sure, it's a purveyor of booze, for some at least. And for others, it's a place to mingle and perhaps find a comely companion for the night. But there's also a third function: Bars, especially the ones we return to again and again, foster community, a la Cheers.
These familiar spots are what sociologists call a "third place," those spaces aside from work and home where people tend to gather. You can sit in silence, if that's your thing, or debate topics from politics to your favorite Sex and the City gal. The point is, you're comfortable. And in the queer community, this comfort is everything. Bars—especially lesbian bars—are not just for socializing without judgment, but for exploring identity, and sure, planning a revolution. They've sponsored sports teams, coordinated volunteer efforts and, most of all, provided a home outside of home for generations of queer folks.
Which is why when Krista Burton, creator of the blog Effing Dykes, saw the news that US lesbian bars were on the decline via fundraising campaign and documentary the Lesbian Bar Project, she began to get riled up. "I would see another announcement and I would just get pissed," she says. "Like, what are the queer babies going to do? I spent my entire queer youth in queer and lesbian spaces, and to not have access to that would have changed my life entirely. It's wild to me that somebody wouldn't have access to that."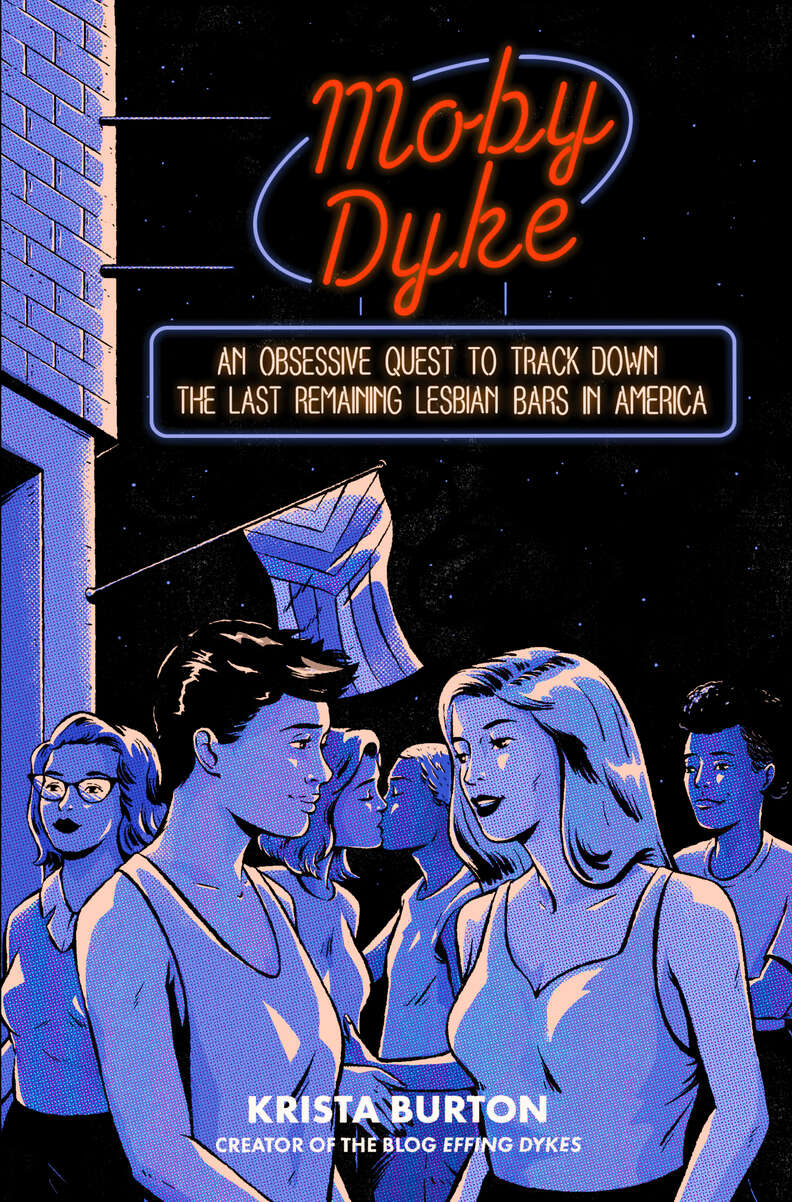 That feeling only got more urgent during the pandemic. Turns out, you never really know how much community means to you until something threatens to take it away. The Minnesota-based Burton realized just how much she missed the sweaty, chaotic nights out with friends at lesbian bars, which she describes in our conversation as the welcoming "catchalls" of the queer community. So she decided to overdose on them, pledging to visit every last remaining one—21 to be exact—sometimes alone, sometimes with friends, and often with her partner, Davin.
The resulting book, Moby Dyke: An Obsessive Quest to Track Down the Last Remaining Lesbian Bars in America (out June 6), is part entertaining travelogue, part musing on aging, and all anthropological tome. It's also informative in ways you probably didn't think it would be. Like, do you know what a dildo race is? Thanks to Burton's visit to Pearl Bar in Houston, I now do, and this information will one day come in handy… probably.
We spoke to Burton about her whirlwind trip, what tips she would have for anyone attempting to replicate it, and in an unforeseen but welcome twist—i.e. new bars starting to open up again—her book is essentially a historical document. Hooray.
There's so much about your personal history in this book, which is necessary for us to understand just how important these bars are. Can you remember the first time you stepped into a lesbian bar?
The first lesbian bar I ever walked into was the Lexington Club in San Francisco. I was probably like 22, visiting the woman I was dating at the time. And we went because, you know, lesbians. She had already been there and I've never had, I only ever been to gay bars in Minneapolis. We walked in and my jaw just hit the floor. I couldn't believe it—it was so packed, so busy, so many different kinds of people. I had never ever seen a large group of lesbians all together in a huge group like that. Everywhere I looked, there was another person who probably was also attracted to women.
You write about the argument that lesbian bars are closing because more places are inclusive now. Could those mixed spots still work as gathering places?
They would. But while it's great that everything is becoming much more inclusive, I also think it's really nice to have a space that feels like it's opening its doors specifically to you. Queer bars and lesbian bars are maybe the only public safe space that's extremely welcoming of you, like you'd never have to wonder if anybody's going to be weird if you're going into the bathroom, no matter how you are presenting.
Choosing to do this during the pandemic is interesting timing. It's made this book a document of history in more ways than one.
I think the book was probably gonna be out of date the second it was printed, just because of how quickly things change. And sure enough, the second I turned in the final, final, final draft, more lesbian bars opened. And a couple of weeks ago, one of the bars in the book closed—Herz in Mobile, Alabama. I was so sad when I found out.
Oh no! That one sounded so great. Can you talk about what made it so special?
It was so wonderful. I walked in and every single person in the entire bar turned their heads and said, "Hi!" I talk about that a lot in the book, but you don't really experience that in queer culture. A lot of times when you walk into a lesbian bar or a queer bar, everybody knows you're in there and everyone can see you and are subtly checking you out, but nobody says anything. To be acknowledged like that and greeted was just staggering. I just happened to get there when both owners were there—two Black lesbians in Mobile, Alabama. To hear that they closed was crushing.
Were there bars in other places that really exemplified the cities and they were in?
Lipstick Lounge in Nashville was so Nashville that it was funny. It was like a microcosm of Nashville. There were several bachelorette parties happening at the bar when I was there, and there was so much karaoke, and a lot of it was country. It was very much a laid-back, "everybody's singing the entire time" kind of bar, and I was like, Okay, this really feels like Nashville.
Thanks to you, I also now know what a dildo race is. Can you describe them?
I definitely think that events surrounding dildos are quite common at lesbian bars because they're funny. All you need to do is go to your local feminist sex toy store and be like, "We're holding this event at the dyke bar, do you want to sponsor it?" They always do. And then you have prizes and people love that stuff. I won a big glitter dick once at dildo bingo.
But dildo races—I went to a dildo race at Pearl Bar in Houston, my first one. They got a sheet of corrugated steel, leaned it up against the stage at a gentle angle, and then handed out five matching vibrators to contestants. They would turn them on, and they would vibrate their way down the corrugated sheet. Because all the batteries aren't replaced at the same time, they go at different speeds, and you have a winner or loser. I had a loser immediately.
Did any of the bars surprise you?
Sue Ellen's in Dallas really surprised me. It's the oldest lesbian bar in Texas, and I was not expecting it to be this giant nightclub that was actually very slick. I was expecting it to be much smaller, much cozier. But Sue Ellen's was absolutely enormous, and clearly they were running a tight ship. They had everything you could ever wanted, like these tiny little corners hidden away that had room for two people and that's it. I was walking [around] this bar for hours and they'd thought of everything.
Do you have any tips for someone looking to replicate your trip?
Tip number one: Find out when the bar is actually open. Tip number two? I would go later rather than earlier. Things don't tend to really start happening until like after 10:30 or 11—that's the sweet spot for going out. People are a little bit looser.
Speaking of tips, you had a mishap renting a scooter to get around in San Francisco. Would you do it again?
Oh, I absolutely would, but his time, I'd stay completely away from hills. I would also wear closed-toed shoes.
Part of the issue with this book was that sometimes there's a dedicated lesbian bar in the city you're going to, like Wild Side West in San Francisco, but then one of your friends would be like, "Yeah, that bar is there, but everyone actually goes to another bar." I couldn't include those in the book. So I went to this other place that a lot of lesbians go called El Rio. And I was looking around and I was like, What is different about this crowd? And then I realized there was not a single person in the room wearing heels. Every single person was wearing flat shoes. All of them. They were all very dressed up, it was a dressy night. That got me thinking about what it's like to walk around in San Francisco and why scooters are perfect there. Everyone's just exhausted—even the gentle hills are really intense.
It's really cool you're having your New York book event at Ginger's, since you didn't actually get to visit it.
Yeah, it was closed, and I was so bummed and so worried that it was going to close forever. And so when it was time to do a book event, we talked about where it could be, and we were like, What if we did it at Ginger's?
We're all so lucky it opened again. But also, new queer bars are opening, too! So many of them. Why do you think that is?
I think it's because of all of the media attention surrounding the fact that all the bars were closing. For a while, you couldn't go a week without some publication being like, "ALL THE LESBIAN BARS IN THE UNITED STATES ARE CLOSING!" in huge capital letters. People were sending me all these articles, like oh my God, another one. I think finally enough queer people saw it and realized that it wasn't just in another city, it was everywhere. Lesbian bars were becoming endangered, and the only thing to do would be to open one.
That makes sense. Why do you think they were closing in the first place?
I thought I would walk away with two or three solid reasons why the bars are closing, and I ended up with more than 10. The answers are very varied and they all connect. There's gentrification, like when a landlord owns the building, but you own the bar, and the landlord decides to turn it into condos. There are things you might not think of, like succession. Let's say you are a 42-year-old person who owns a lesbian bar, in perfect health, and then one day, you get hit by a bus. Then there are dating apps—you don't need to meet someone at the gay bar anymore to verify that they are, in fact, gay. You already know that going out, so you can go anywhere.
Are there any new bars you want to visit that you haven't been to yet?
There is one near Virginia Beach that I'm desperate to get to, and there's also a place called Whiskey Girl Tavern in Chicago. Chicago now has three, which is wild, because when I lived there, they had zero.
Would you do this trip again?
I wish a version of this trip was done every ten years for the last however many years, so we could go back in time and find out what lesbian bars were like in the '40s, '50s, '60s, or '70s. Just a quick snapshot. I would love to know that stuff.
But would I do this trip again? Oh my God, I'd be so tired. But I totally would.
Vanita Salisbury is Thrillist's Senior Travel Writer. Ask her about her foolproof plan to win all the dildo races.