Turns out "bierwelt" isn't what you get after one-too-many Natty Ices and a tumble down the stairs; it's German for "beer world". And, you'll be good-goddamn glad to hear that such a thing actually exists in Bavaria! Welcome to adult Disneyland: Kuchlbauer's Bierwelt.
Recommended Video
Debatable: It's Fine To Recline Your Seat On a Plane
The "world of beer", on the grounds of the Kuchlbauer Brewery in Abensberg, Germany, has the requesite beer garden, sure. But it's also got other super-neat stuff, like a craggy 115ft tower topped with a 32ft-wide gold-plated observation ball that weighs 26,455lbs. Go on -- have a beer inside.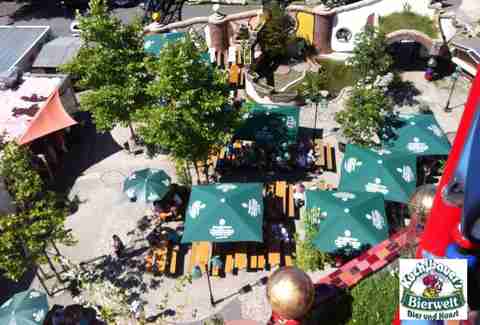 The view from the golden orb is so great, you can see the entire (beer) world from its gilded confines.
Beer garden and golden-tipped phallus aside, a visit to Bierwelt includes a tour of the Kuchlbauer Brewery itself. Explore assorted totally-strange stuff, like this wall constructed from actual beer bottles.
The architectural vision of Bierwelt is based on some of the architect's drawings after a few beer flights too many.
Those pranksters -- they even went so far as to spell "beer garden" wrong! Silly.
Which one is the tour guide and which is the tourist? At Bierwelt, it doesn't matter!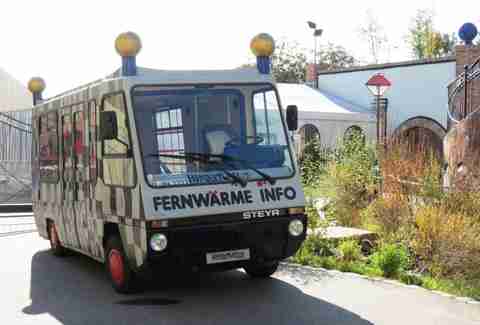 As you may have discerned from the pics, Beer World's not actually all that big, so we're not entirely sure why you'd need the property's shuttle bus. Yet here it is, existing just as surely as the hangover after your visit.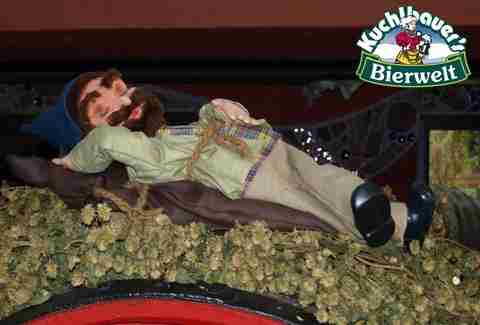 And what would a beer theme park be without a gift shop stocked with snoozing beer gnomes atop beds of hops?