Lake Tahoe is an idyllic wilderness stretching across the borders of California and Nevada. It's home to excellent casinos, a mirror-like body of water, and some of the best skiing on the West Coast, making it a magnet not just for Bay Area weekenders, but for tourists from around the globe looking to experience the Sierra Nevadas while rocketing down the slopes. 
There are 14 ski areas surrounding the lake, each one possessing its own distinctive personality and set of winning character traits. And each area brings a completely different experience. There's a customized corner for every type of skier or snowboarder, whether you're an expert who wants to huck cliffs, a beginner craving plenty of space, or one of those people who's more in it for the après experience. Choosing the right one for you and your group is key, and resorts all tend to market themselves in the same 'all things to all people' kind of way so it can be hard to choose correctly from the outside. So here's all the intel on how to pick the right mountain for the right skier and experience you're looking for.
Recommended Video
Please Don't Hang Up: The Best Things to See, Eat, and Do in Seattle, WA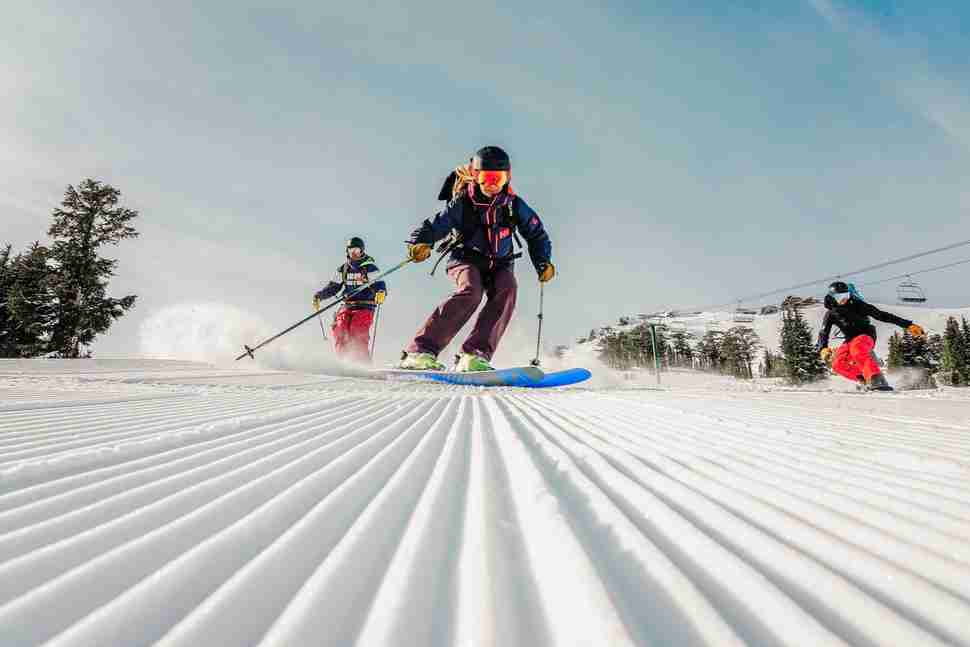 Best for: Folks hitting the slopes with the family in tow
Ranked among the most family-friendly resorts in the entire country, Northstar offers a bounty of mostly intermediate terrain (100 total runs, 20 lifts, and nine terrain parks) but also some unreal gladed steeps (looking at you, Martis Camp). Another huge selling point is Northstar's immaculate, self-contained, upscale village rife with offerings that will lure puffy outerwear-clad toddlers at a high-speed waddle. These include an ice-skating rink, snow tubing hill, fire pits for roasting s'mores, a bungee trampoline, and even a movie theater. The village is also home to decent dining options: Petra Wine Bar houses a surprising variety of French and Italian reds (and a kid's pasta option) and there is a delightful casual pizza joint called Rubicon. The resort also offers seamless childcare for children as young as 2 years old for parents who want to skip the bunny hill, and ski lessons for children 3 and up.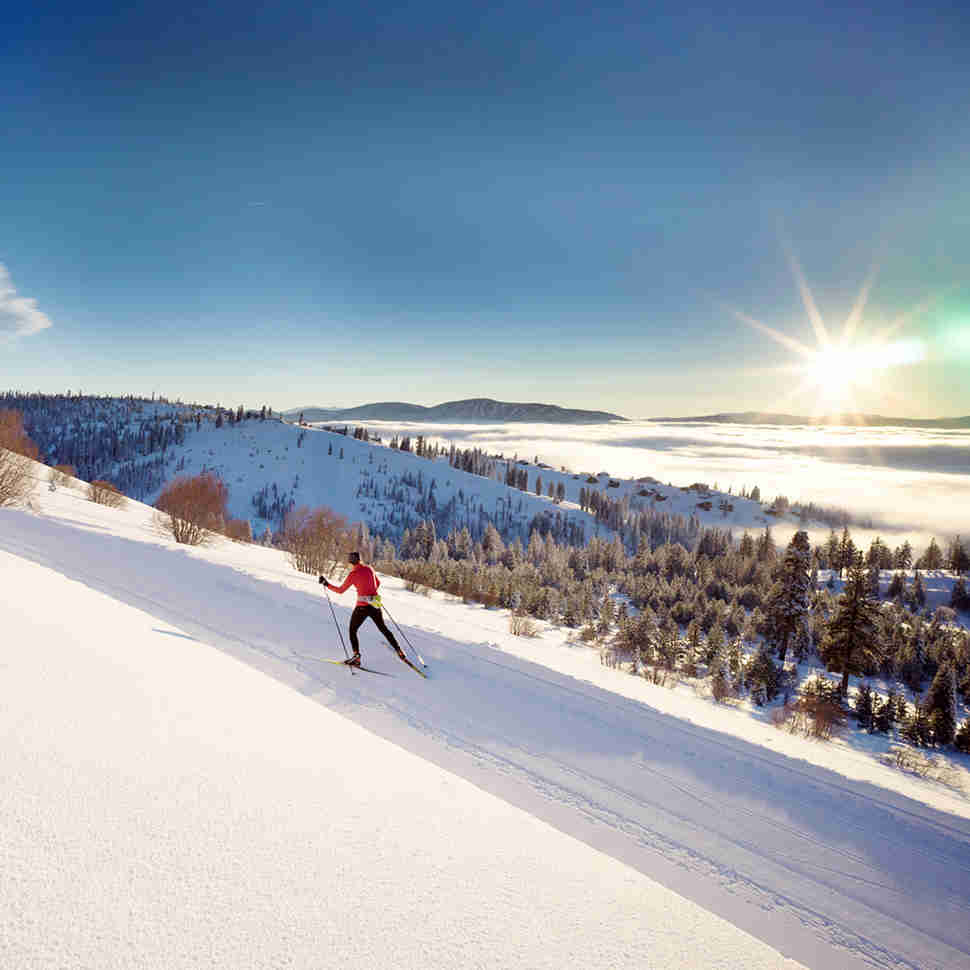 Best for: Families and beginners on a budget who want to escape the crowds
Families looking for a more rustic first-time skiing experience should consider the oft-overlooked Tahoe Donner. Located on its very own lake (Donner Lake) with only 600 feet vertical (17 runs and two chairlifts), this beautiful, old-school ski area delivers one of the gentlest, least intimidating, most affordable downhill ski experiences in the West. It is also home to more than 60 miles of cross-country trails, as well as numerous learn-to-ski package deals (both downhill and XC) for kids and adults. The place also has a fantastic lunch and dinner venue -- Alder Creek Café -- with upscale pub fare and live music on the weekends.
Best for: Folks who are all about the après
Sure you love to ski, but you also hold a special place for Jager shots with 12 of your new best friends along a bar-length shot ski and cutting a rug in your ski boots. Famous for its raucous après scene, Heavenly is not only one of Tahoe's largest resorts (28 lifts and 97 runs) and highest (10,067 feet) with by far the most vert (3,500 feet from top to bottom), but it stretches between both Nevada and California and opens up to what might be the best views in America. 
Located mid-mountain and nearly straddling the state borders, Tamarack Lodge no longer features fuzzy boot-clad women for its now-defunct unbuckle party, but it's abuzz with cheap drinks from 3-5pm. The new LAT38 atop the base area's California Lodge has become the No. 1 afternoon party spot. With fire pits, upscale bar snacks (poke tostadas, BLT sliders, etc.), and live music Friday-Sunday, this people-watching rooftop is the place to warm up after a day on the slopes. Within walking distance from Heavenly, The Montbleu takes the revelry into the wee hours with nationally renowned live music and comedy acts, a craft beer bar, and plenty of gambling.
Best for: Powder hounds; old-schoolers
It's really no surprise that the aptly named Sugar Bowl ranks among the best resorts for skiers and riders who love to swim in the white stuff. Tahoe's oldest resort (circa 1939) not only averages nearly 500 inches of snow every winter, but more than half of its terrain -- 100-plus runs spread across four mountains -- is north-facing, meaning that the snow maintains its powdery, sugar-like surface and potential for fresh tracks for days after a storm. Although it is smaller and markedly vintage compared to other Tahoe areas and offers a shorter vertical rise (1,500 feet), it's rarely crowded and you get steeps aplenty, with expert powder seekers typically flocking to Crow's Peak for the most satisfying face shots. You'll want to hit the Belt Room for lunch: the food -- think barroom staples with Asian and Mexican influences -- is a step above for on-mountain eats.
Best for: Those who love riding walls of snow 
A bit further to drive, but well worth it to find fresh tracks, Kirkwood also ranks among Tahoe's snowiest resorts (500 inches a winter and numerous days with six or more inches) and its summit elevation peters just below 10,000 vertical feet. Kirkwood's curved, knife-like ridgeline opens to cornice and cliff-endowed, wall-like chutes -- the most notorious of which is indeed dubbed, "The Wall" -- that will have your knees knocking if you don't commit and drop before your psyche talks you out of it. Afterward, you can go to Wall Bar and brag about it, or, to fuel up for more with a steak and dirty martini at the Kirkwood Inn and Saloon, built by THE Zachary Kirkwood in 1864.
Best for: Those who live for spring
Let's be honest, Squaw Valley-Alpine Meadows could qualify as No. 1 on every type of Tahoe skier's hit list. The combined resorts' sprawling terrain amounts to a mind-boggling 245 ski runs, with beginner slopes stretching broadly across the mid-mountain region, chutes, and steeps (regularly hosting annual extreme competitions) both jutting into the village and accessible from the summit and wide open cruisers everywhere. Squaw Valley and Alpine Valley are technically one resort, and you can ski both with the same lift ticket, but they're about a 20 minute drive from one another one two sides of the same mountain ridge.
Alpine Meadows is the more family friendly of the two, whereas Squaw Village emanates a distinctive Swiss Alps vibe, with a massive village that sizzles from afternoon into late night. You gotta check out the retro ski-lined bar at Le Chamois, try to grab fresh seafood and wine at Plumpjack Café, or hit up Fireside for everyone's favorite pizza. 
Spring is truly when Squaw shines, however, as it is known to stay open into June and, as the days get longer, offers the rare, unforgettable opportunity to soak in a giant, mid-mountain hot tub to a soundtrack of live DJ tunes with dozens of like-minded spring fever seekers.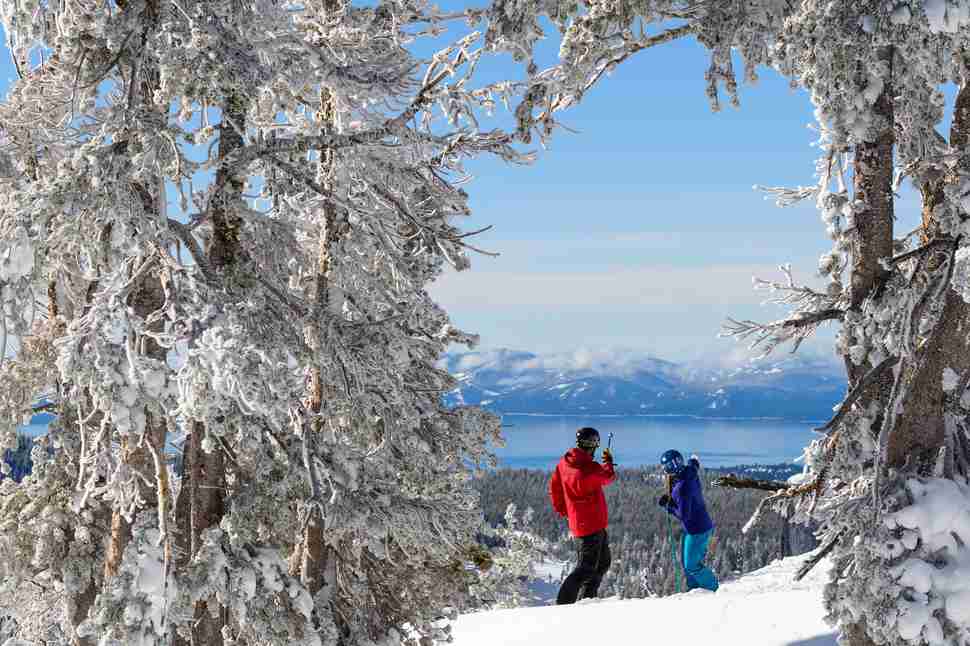 Best for: Following locals; folks looking for a quick fix right after or before a flight
Situated a mere 30 minutes from the Reno, Nevada airport, Mt. Rose is no joke when it comes to quality terrain. With the highest base elevation in Tahoe (8,260 feet), this eight-lift, 65-run area is frequented by locals knocking out two-hour morning or afternoon workouts and practically every Reno-based skier has had a season pass here since they were a toddler. Naturally divided with beginner terrain on skiers' left, intermediate in the middle and the right half of the area occupied by an entire bowl of powder-filled chutes, Mt. Rose is begging for a few laps just after the landing wheels touch down or before jetting out of Reno.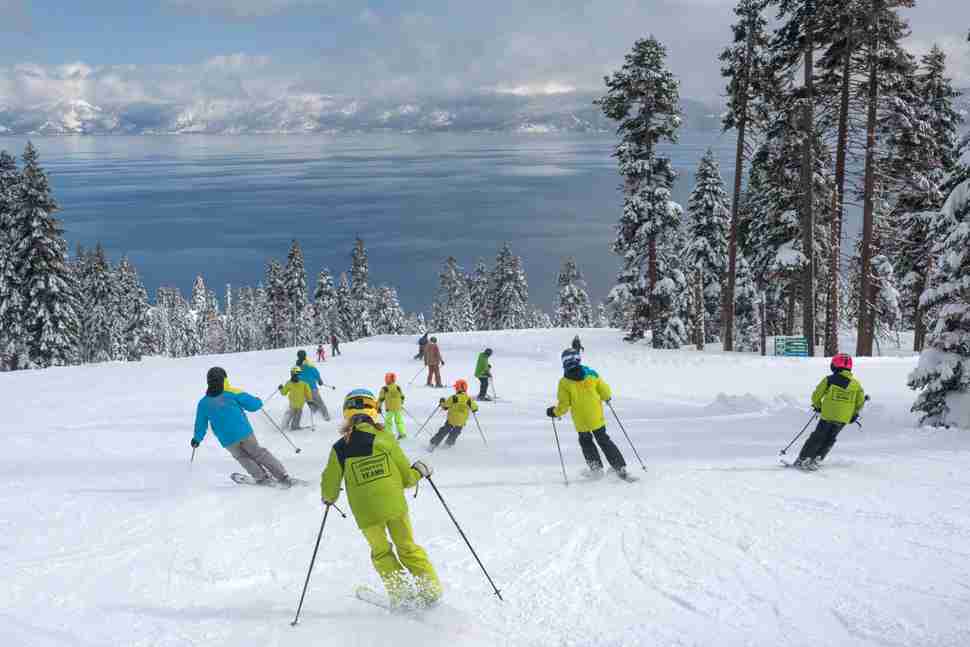 Best for: Tree skiing; lake views
The glistening waters of Lake Tahoe can be seen from just about every local ski area, but if you want the sensation that you may actually make a big splash while bombing toward the base area, Homewood delivers Tahoe's token "slopes to shores" experience. What many don't realize is that this small (67-run, eight-lift), old school resort is also one of Tahoe's best kept secrets for amazing glades and is almost entirely protected from the wind that can hammer the region's higher elevation slopes. Yes, the lifts are slower and more rickety, but lift tickets are (relatively) cheap, the vibe chill, and the views stunning. Some of the 'Wood's best powder stashes are in the trees off of Ellis Chair and if you have a big group, the resort's guided snowcat experience to the top of Ellis Peak is almost guaranteed to yield some untouched powder.
Best for: Smaller-scale skiing for a smaller price... but with big views 
People often overlook Diamond Peak because, well, it is rather small compared to surrounding resorts. It's way less than half the size of Squaw or Heavenly, but its lift tickets are about half the price, too. There are some true gems among its 30 trails, including the trio of runs that take you down the spine of the ski area: Crystal Ridge, Ridge Run, and the aptly named Lake View, from which you'll have to watch your speed so you don't smash into something while you're gaping at the lake. Its numerous intermediate trails take you through confidence-building wide glades, and the black runs are legit, short and steep. You can grab some tasty beers at the nearby Alibi Brewery afterward or hang with the lifties and ski school instructors into the wee hours at north shore sports bar Rookie's.