Drive Lamborghinis. In Italy. On ice.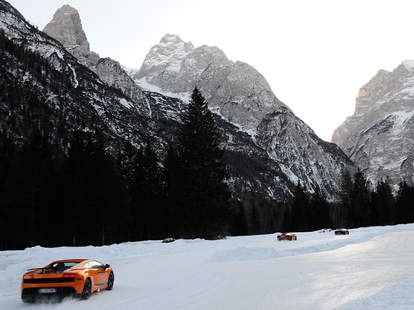 Driving is a lot like sex: it's more fun when it's wet & slippery and Bon Jovi is involved. Sub out JBJ for another famous Italian, and you've got the annual Lamborghini Winter Academy, an exotically ballsy, three-to-four-day performance course held on a specially made ice track near Cortina in the Italian Alps
You'll stay at the Cristallo Palace Hotel & Spa, which proudly boasts a mountainous golf course, a Finnish sauna, something called a thermarium, and...winter polo. It's like regular polo, except it's on a frozen lake, so your Nachos get cold quickly

Your Lambo training happens at the Auronzo Ice Track (think Mario Kart ice track, sans shells), where you'll warm up in a Gallardo LP 550-2 and discuss theory, focusing on The Theory of "Hey, you don't have as much grip as you normally do and you're in a Lamborghini, so be careful". Then you'll hop into an Aventador and forget everything you learned because it's all just so awesome

For more experienced drivers, their avanzato program includes over-/understeering with a Gallardo LP 560-4, Gallardo LP 570-4 Superleggera, and Aventador LP 700-4. Then you'll learn how to drift, and hit a gymkhana course -- if you don't know what that is but you find yourself on it anyway, you'll definitely be living on a prayer.