America's 7 deadliest landmarks
The United States is the most visited country in the Western hemisphere, due in no small part our historic landmarks, abundant attractions, and the unparalleled popularity of Eddie Murphy's 1988 blockbuster, Coming to America. But mostly, the landmarks.
Many of which -- beauty, wonder, and Arsenio Hall aside -- actually maintain a long history of grisly death. No joke. And to find out how deadly each landmark is, we went all small data, crunching the numbers with a calculator to determine the total (and average) number of deaths at each site. Here are our top seven (excluding historic battlefields):
7. Gateway Arch ~ 1 death
Built in: 1965
Average deaths per year: 0.02
In 1980, sky diver/base jumper Kenneth Swyers attempted (and well, failed) to parachute onto the Gateway Arch. While he successfully landed on top of the arch, he was knocked off by a strong wind and plummeted to his death when his secondary chute didn't open. The incident was viewed by a number of tourists and onlookers, including his wife.
6. Space Needle ~ 3 deaths
Built in:1962
Average deaths per Year: 0.06
All three Space Needle suicides occurred during the 1970s. Since then, six parachutists have successfully descended from the tower; two were arrested.
4. Grand Canyon ~ 662 deaths
Became a national park in: 1919
Average deaths per year: 7.28
From 1919 to 2011, there were 653 recorded deaths at the Grand Canyon -- although God only knows how many Spanish explorers with poor depth-perception perished there before they started keeping track. Add in eight more deaths in 2012 and this Texas dude earlier in the year, and we're up to 662 (although statistics are incomplete between 2012 and 2014, so that number is assuredly higher).
While 128 of the victims died in a 1956 plane crash, other top causes of death include heat exhaustion, drowning, murder, suicide, and accidental falls into the canyon. Mischievous roadrunners have been responsible for a total of zero deaths.
3. Golden Gate Bridge ~ 1,700 deaths
Built in: 1937
Average deaths per year: 22.08
Three months after the bridge's completion, H.B. Wobber became the ultimate San Francisco trendsetter by being the first of an estimated 1643 people to commit suicide by leaping off the Golden Gate. Eleven people were killed during the bridge's construction, and an additional 36 have died in traffic accidents.
2. Ellis/Liberty Islands ~ 3,503 deaths
Opened:1892
Average deaths per year: 28.71
Ellis Island processed over 17 million immigrants between 1892 and 1954, and boasted an acceptance rate of 98% -- even higher than Arizona State! The two percent that didn't make the cut were either sent home or quarantined in the Ellis Island Immigrant Hospital. Though the hospital was only open for 28 years (1902-1930), an estimated 3,500 immigrants died there. An additional three people died on Liberty Island by jumping off the Statue of Liberty, one as recently as 1997.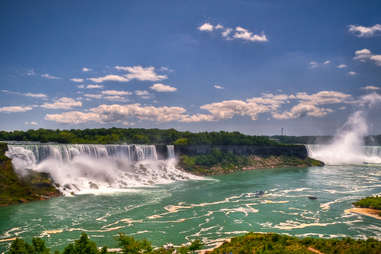 1. Niagara Falls ~ 5,120 deaths
Death count began:1850
Average deaths per year: 31.22
An estimated 5,000 bodies have been discovered at the bottom of the Falls between 1850 and 2011. Using the reported rate of 40 suicides per year, you can tack on an estimated 120 additional deaths to get us up to date. Since 1903, only seven deaths were determined to be accidents; and six of those were daredevils attempting to go over the falls for kicks.