These Finnish Artists Thrive in Total Isolation. Here's How You Can Too.
Adjusting to life at home, Americans are taking a cue from snowy, secluded Finland.
Artist Irene Kangasniemi at her work bench

| Visit Rovaniemi/Toni Eskelinen
Artist Irene Kangasniemi at her work bench

| Visit Rovaniemi/Toni Eskelinen
Irene and Ari Kangasniemi don't get out much. The artist couple lives in a wooden hut in Finland's remote north, at the doorstep of the Arctic Circle. Hidden by hundreds of hectares of forest, their closest neighbor lives about 90 miles away... or, as a local might put it, a few poronkusemas (the distance a reindeer travels without stopping to pee).

"One of the first questions people ask is if I am ever scared to live here," Irene tells me. "The answer is no. If you want to live in Lapland, you must accept the silence."

Lapland is the largest, northernmost region of Finland. It comprises a full third of the country, yet only three percent of the population lives here -- less than 200,000 people. Enduring harsh winters and long bouts of darkness, Lappish people are pros at the isolation game. While the rest of us are scrolling through a deluge of self-quarantine memes and angstily counting our cans of tomatoes, Lapland locals are taking the coronavirus pandemic in stride.

"Tourism and the economy are deeply affected, but things haven't changed that much for us," Irene admits. "What I hear from Lappish people in the media is, 'We have to do social distancing? Stay home? Oh, okay.'"
Americans are already taking a cue from the Finns as they adjust to being stuck at home; some have taken up the Finnish tradition of kalsarikännit or "pantsdrunk," which isn't any more complicated than drinking in your underwear. But there's more to learn from these resilient northerners.
In spite of their snowy, secluded circumstances, Finland is one of the world's happiest countries. Free university and healthcare might have something to do with it, but as I learned from Irene over a cup of her homemade blueberry juice last summer, it's also a mindset.
Keep it simple, keep it cozy
Visitors to Lapland's capital, Rovaniemi, can meet Santa and his reindeer year round at Santa Claus Village, go dog-sledding, or check out the Northern Lights. You can also visit Irene and Ari at their home and adjacent workshop, HornWork.

Irene and Ari are low-key famous in Lapland for their antler chandeliers, found in restaurants and hotels throughout the region. Their home, covered in self-made creations like reindeer throws and antler rocking chairs, is certainly one of the coziest places I've ever been. Irene welcomes visitors daily with coffee and sweet breads, teaches crafts, and opens herself up to questions about the Lappish way of life.
"Simple life is simple," she says. "Simple life is a very rich life."
Irene theorizes that Finns, and especially the Lappish, have been through so much hardship, they simply don't need much social contact or material wealth to be happy. For Irene, happiness in isolation seems to boil down to three things: creative rituals, harmony with nature, and the Finnish secret sauce: sisu.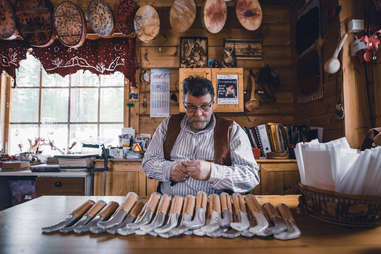 Tap into sisu: Finland's national secret
Finns have a long history of bucking up and hunkering down. They even have a word for it: sisu. There's no English translation for sisu, but in Finnish it means "intestines," so the closest word might be "gutsy." Essentially, it evokes resilience, hardiness, and grit.
Finns credit the power of sisu for their endurance through historical hardships -- a long fight for national independence from Sweden and Russia, and devastating losses during World War II, after which most of Lapland was burned to the ground. During those impoverished post-war years, the Lappish strived to restore their livelihoods with scarce resources. "Storing food, building houses in -35 degrees Celsius… it was vital to be courageous," explains Marja Jalkanen, a Rovaniemi tour guide.
Today, sisu remains a fundamental part of Finland's national identity. "It's all about being creative and using your imagination," says Irene. "If you need to go somewhere but the road is difficult, you find another way to get there."
Embrace this time for cooking and creative rituals
Finland's a country of deeply resourceful creatives and artisans; during periods of scarcity, Finns often made household items from scratch. Today, making handicrafts is still a beloved national hobby. Instead of panic-buying at supermarkets during the pandemic, Irene says it's the knitting and crafting shops that are being wiped clean.
In their workshop, Irene and Ari make small useful items like knives with wooden handles and kuksa, wooden cups used on hikes (every Finn has one). The forest provides the natural materials for their work: birch from local loggers; dyed fish leather; and reindeer antlers purchased from local herders.
During the pandemic, the couple is focusing on large-scale interior design projects. "Silence is important for drawing and sketching," Irene says. "It took a few days, but suddenly I'm getting a lot of inspiration."
MORE: Our 10 favorite board games to play right now
For many of us, daily creative rituals take place in the kitchen. When Irene wakes up, the first thing she does is turn on her wood-fired oven; once the cabin is toasty, she bakes barley flatbread and pastries from scratch. Meal prep can be a slow operation, seeing as Irene forages ingredients like wild berries and mushrooms herself. "The forest is my supermarket," she says. "I never think about how long cooking takes. It takes the time that it takes."
If crafting or cooking isn't your thing, try keeping a daily journal, learning a new language, or redecorating your space -- whatever allows you to slow down and re-invest this time in yourself.
Get out into nature -- or bring nature to you
The country of Finland is a whopping 75 percent forest. Thanks to "everyman's rights" or the "right to roam," people here are allowed to fish, forage, walk, or set up camp wherever they please, even on private property. Lappish children grow up hiking and foraging with their families; learning to build a campfire is a rite of passage.
"Trees are my friends without mouths, so I'm never lonely," says Irene. "When I'm happy I go to the forest, when I'm sad I go to the forest. The forest is very important for Finnish people. We can't live without it."
Taking a long walk can boost your well-being during this period of self-isolation -- as long as you're feeling healthy and keeping a safe distance from others. In Europe's most forested country, getting a daily dose of nature is easy; in other places, not so much.
Irene suggests bringing nature into your home, like she has with hers. You could order a reindeer throw online, but perhaps a few houseplants, or finally starting that balcony garden, makes more sense. Try bird-watching or star-gazing in your backyard. Cook with seasonal ingredients. Go for a scenic drive.
Irene's ultimate piece of advice from the Arctic Circle is to savor the silence. "Isolating is difficult, but if people can keep calm and hear themselves more, they will learn they can adapt to anything," she says. "Maybe they'll realize that silence was missing from their lives all along."
Barbara Woolsey is a Canadian writer who's traveled across over 50 countries by plane, train and motorbike. Last year, she took part in the Rovaniemi Summer Ambassador program and wrote about her adventures around the Nordics for Lonely Planet and Fodor's. See more of her storytelling on Facebook and Instagram.