If we did a 100% stats-driven list of the 10 largest hotels in the world, seven would be in Vegas. In fact, out of the biggest 25, a whopping 15 are in that patch of Nevada desert. As such, we've put together a far-more-interesting roundup of the most massive accommodation options in 10 different countries. Kinda -- Macau's a bit of an exception as it's part of China, but as it's mad Portuguese, and a "Special Administrative Region", we're allowing it. Peep these picks!
10. Hotel Moon Palace, Mexico
Rooms: 2,133
Could easily accommodate: The entire population of South Padre Island, and everyone gets a "plus one"
Say hello to Moon Palace in Cancun, Mexico. It's a veritable vacationland where you can golf, swim, golf some more, and wear plush white robes wherever the hell you want because there is literally nothing around for miles except more Moon Palace. Oh yeah, there's a goddamn dolphinarium. If you're curious as to what that is, it's a gigantic pool where dolphins give guests high fives and kisses, just like Eastern Europeans do. Vacation rules!
9. Dacheng Shanshui International, China
Rooms: 2,353
Could easily accommodate: The entire population of the Hawaiian island of Lanai
Despite claiming to be "International", this behemoth's website appears to have been written by Google Translate, leaving one to scour TripAdvisor to unearth some previously undisclosed knowledge. The verdict? Apparently none of the staff speaks English either, and the breakfast is spartan. Place sounds more like a Beverly Hills housewife's McMansion than a hotel, amirite?!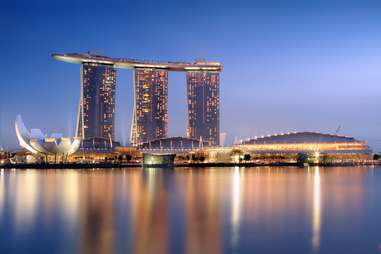 8. Marina Bay Sands, Singapore
Rooms: 2,561
Could easily accommodate: The entire population of Montserrat
Think your buddy Rodney has a pretty solid above-ground pool? You're wrong. Marina Bay has a pretty solid above-ground pool; at 490ft-long and a part of the longest cantilevered platform in the world, it's 3x as long as a regulation Olympic-sized swimming pool, and 300x more awesome. If that's not enough to blow your mind, notable figure skater and unheralded author Michelle Kwan once figure skated here just because.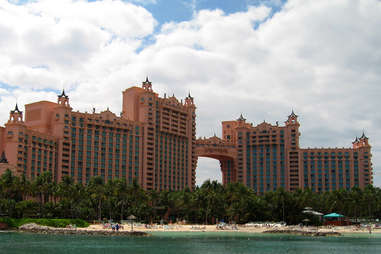 7. Atlantis Paradise Island, Bahamas
Rooms: 3,200
Could easily accommodate: The entire population of Taos, New Mexico
You might remember this property from the Damon Wayans vehicle, My Wife and Kids, but Atlantis has seen more than its fair share of the limelight (*NSYNC performed here with Tim McGraw in 2001 -- don't you EVER forget it). Perhaps the best part of this resplendent resort is its enormous aquarium and the water slide that pierces directly though it. There's also a Predator Lagoon chock full of sharks, sawfish, stingrays, and Chris Hanson unsuccessfully requesting them to "take a seat right over there".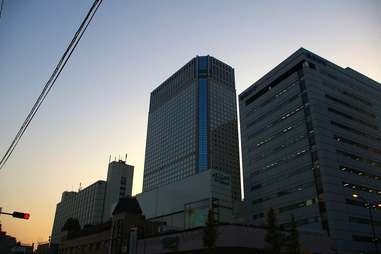 6. Shinagawa Prince Hotel, Japan
Rooms: 3,680
Could easily accommodate: The entire population of the country of Nauru
Situated in the company-heavy city of Minato (Honda, Mitsubishi, Toshiba, and Pokemon all have their HQs there), the Shinagawa is primarily used for quick business stays and an affordable alternative for backpackers to nearby Tokyo. If you're bored with eating "authentic" food and basking in a foreign "culture", hit up the Outback Steakhouse next door and fill up on Bloomin' Onion before going across the street to the 7-11 and pounding a Slurpee, because America!
5. Sheraton Macau Hotel, Macau
Rooms: 3,896
Could easily accommodate: Every self-identified "artist" residing in Williamsburg, Brooklyn
Fact bomb: Macau was rented to Portugal by the Chinese as a trading port in 1557. Renting cities was super fashionable back then... and after a lengthy bill battle where the Portuguese wanted autonomy and the Chinese wanted to raise the rent each year due to increasing gentrification, it was eventually given to the Portuguese to govern, as long as the Chinese could keep it as a "territory". As of now, this Sheraton is the largest hotel in Macau, and according to some recent reviews they dole out free snacks all day and free drinks at happy hour. BOOM!
4. Ambassador City, Thailand
Rooms: 4,219
Could easily accommodate: The entire population of Greenville, Kentucky
Plopped on 40 acres of Thai beaches and mountain land near Pattaya, Ambassador City unquestionably lives up to its name. It consists of five buildings, eight restaurants, myriad bars and nightclubs, a convention center, and a fitness area that boasts Asia's largest indoor swimming pool. So if you've been looking for a place to pound Singha, host talks, and become an excellent swimmer, you, my friend, have come to the right place. Kaap!
3. First World Hotel, Malaysia
Rooms: 6,118
Could easily accommodate: The entire population of the Hamptons, New York (including Amagansett, Bridgehampton, East Hampton, Sag Harbor, Sagaponack, Southampton, Wainscott, and Water Mill)
This Seuss-approved hospitality complex is the third-largest hotel on our list; Vegas included, it's still the fourth largest in the entire world. Here's the breakdown: two towers, 3,307 deluxe rooms, 1,669 standard rooms, 493 superior deluxe rooms, 136 world club rooms, and 69 deluxe triple rooms. And get this -- each one comes STANDARD with a TV and a phone. The future really is now. When you're not busy watching the television and phoning your folks, check out the rest of the establishment's offerings, including a theme park, haunted house, movie theater, and bowling alley.
2. MGM Grand, America
Rooms: 6,852
Could easily accommodate: Half the population of Monaco
Rightfully earning its name, and our number two spot, the MGM Grand in Las Vegas was once the largest hotel in the world (go, class of '93!), but now is completely content being the biggest in the U.S. Notable points of interest include the 6.6 acres of waterfalls, pools, and rivers that flow throughout the hotel and casino. It also hosts the Cirque du Soleil production of Kà. You'll also remember this place from that one time Clark Griswold and his fam gambled away their last $2 next to a lonely old man named Mr. Ellis, who, upon winning 5Gs, died. And isn't that ironic? Don't ya think?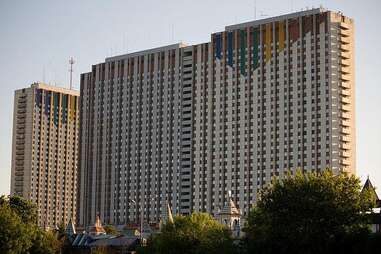 1. Izmailovo Hotel, Russia
Rooms: 7,500
Could easily accommodate: Every single taxi driver in the greater metropolitan area of New York
Despite the fact that no one has ever heard of the Izmailovo, it's our size-queen vote for #1. Why the Izmaylovo district of Russia would ever need to accommodate 7,500 guests is beyond us (the Olympics, 33 years ago?!), but hey, they're number one, and that's gotta mean something.