Man stuck at Vegas airport shoots absurd music video... all by himself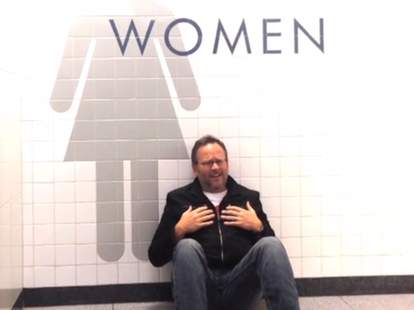 What do you do when you're delayed at the airport? Most people grab a beer or coffee, admire the airport artwork, or sleep it off.
But not Richard Dunn.
Stuck overnight at Las Vegas's McCarran Airport, Dunn decided to go full-on Bridget Jones, lip syncing to Celine Dion's version of "All By Myself" in a music video filmed with his iPhone and set around the overnight ghost town of an airport. 
The video includes the vacant departures lounge, the humbly empty women's bathroom, and a particularly moving Flashdance homage involving a water bottle and a chair.
Dunn explained his MacGyver-esque selfie skills on his Vimeo page.
"I had a person behind a ticket counter give me a roll of luggage tape before she left", he wrote. "I then used a wheel chair that had a tall pole on the back of it and taped my iPhone to that. Then I would put it on the moving walkway for a dolly shot. I also used the extended handle on my computer bag and taped the iPhone to my handle. I would tuck different stuff under the bag to get the right angle. For the escalator shot I had to sprint up the steps after I got my shot so the computer bag didn't hit the top and fall back down. Quite fun!"
After editing the video with Final Cut Pro and uploading it to Vimeo three days ago, Dunn's departure lounge performance has been gaining steam on Reddit. 
"A lot cheaper and a lot more entertaining than any Celine Dion show", one commenter notably wrote.
For once, we're glad somebody broke the rule that what happens in Vegas, stays in Vegas.
Chloe Pantazi is an editorial assistant on Thrillist's travel team, and she plans to make a music video on the subway ride home tonight. Follow her lip-syncing a Beyoncé medley on the 1 train on Twitter at @ChloePantazi.