Everything about Las Vegas screams, "I WANT TO MAKE MISTAKES". Casinos. Strippers. Buffets. Free booze (if you're gambling, of course). Topless pools. Insane clubs. These are the best kinds of mistakes.
Your group doesn't need to be the Rat Pack or the wolf pack from The Hangover to send your friend off into wedded oblivion. You're heading to the mecca of indulgence, a place that's as much a state of mind as it is a city.
This is Sin City. This is what a bachelor party is supposed to be.
It's time to find out how to do a Las Vegas bachelor party right.
Good luck.
Recommended Video
Next Time You Fall in Love in the City of Light, This Guy's Got You Covered
Busy Times
Holiday weekends are obviously the busiest times in Vegas -- people in Middle America sure do love escapism. That goes doubly for New Year's.
The slow season, in contrast to almost everywhere else in the country, is Summer, and that's solely based on the average person's ability to handle soul-melting heat. The dead of summer daylight hours stick between 100 and 110 degrees. We're talking hot enough to melt the plastic Starbucks cup in your cup holder. To walk around the pool barefoot is to know how your steak felt before it got to your plate. So, unless you're coming for Labor Day Weekend or Memorial Day Weekend, the jackpot of pool parties hosted by the biggest DJs of right now, we say skip it.
Instead, hit Vegas in the winter. High temps here are still prime for swimming (70-degree January afternoons are commonplace), and you can actually walk down the Strip without the hot stink of sewage making your eyes water.
...if you're spending money like the groom is on death row: The Cosmopolitan of Las Vegas
This place is so swanky, its lobby won a top-tier design award. Not only does it have one of the biggest and best nightclubs in the country (Marquee), but almost every one of the restaurants has some internationally renowned chef behind it. Pro tip: Rent a Northeast corner suite on a double-digit floor. They face both the Strip and the Bellagio fountain you've seen in almost every movie set in Las Vegas. You've paid for the right to quote Ocean's 11.

...if you want to have some money in your bank account: Downtown
The earliest entrepreneurs of Las Vegas opened their (mostly mob-run) hotels and casinos in the downtown area, on Fremont Street and Las Vegas Boulevard. Since they're older, downtown hotels won't run such a high tab. But in efforts to compete with the new kids on the Strip, they've renovated and added bars and clubs. We recommend Downtown Grand, The D, and Golden Nugget, which, no shit, has a water slide running through a live shark tank.

...if you aren't a bad best man for taking the good deal: Midweek reservations
The advantage to hosting your party in Las Vegas is that most hotel/casinos are so huge they usually don't book solid. If you pay close enough attention to the deals, it isn't unheard of to get a big suite at off-Strip places like Rio or the Hard Rock Hotel, especially midweek.

...if you want to live like a billionaire while you stay: Renting Strip condos
Palms Place is known for absurdly cool rental rooms (the Hardwood Suite has a basketball court inside it). Like the major destination cities, Las Vegas is full of crazy homes of constantly traveling celebrities or quiet billionaires. Case in point: There's a three-bedroom actually called the "Celebrity Billionaires SkyVilla".
That probably tells you enough about it.
...and want to shoot things: Pro Gun Club
Pro Gun Club is out in the middle of the desert -- not quite where card cheats used to disappear -- but you're going to need a ride. The reason it's worth it over the nearby spots: Grenade launchers ($60), vehicles you can buy specifically to blow up, and an M2HB .50-cal heavy machine gun ($200) built to take out, among other things, low-flying aircraft.

...and want to get out on the water: Lake Mead
The 247-square-mile Lake Mead has enough marina and boating shove-off points to make the trip worth it. Plus, it isn't too far from the Pro Gun Club. Eldorado Canyon Mine Tours offers really cheap canoe and kayak rentals ($25-$30 all day in most cases). But you won't be hard-pressed to find motor boats to rent at any of the marinas. Some even offer house boats for $500-$1,000 a day (try Callville Bay Resort). This should be at the top of your to-do list.

...and can't swim: Red Rock Canyon
This is the sole reason why Las Vegas has REI stores. Thirty minutes West of the Strip, everywhere you look is a trail or a well-worn rock face still covered in chalk or mountain peaks the color of your sunburn. And the options run the gamut, from casual-Sunday-afternoon stroll to Bear-Grylls dropped-in-the-wilderness trek. Look up the very specific directions for finding Ice Box Canyon, a hidden local favorite with ice-cold pools fed by thawing snowcaps (springtime is your best bet here, obviously).

...and came to Vegas for one reason: Gambling
Seriously, throw a rock. You're bound to hit something with an ace of spades in or around it.
...and brought your bathing suit: Pool parties
The beauty of any major casino hotel: Its weekend pool turns into a daytime club and looks like something out of an early 2000s Hype Williams video. Waitresses offering anything from beers to bottle service will actually hand you a drink while you're in the pool, and tireless DJs spin pounding house music (usually) until sundown. The best bets are Wet Republic (MGM Grand), Marquee Day Club (Cosmopolitan of Las Vegas) and Rehab (The Hard Rock Hotel).

...and brought a good pair of shoes: Walk the Strip
Anyone who can make it from North to South Las Vegas Boulevard while continuously drinking deserves a medal. You can walk with an open container — Beer! Liquor! A literal meter of booze in slushy form! — anywhere on the Strip.

...and love yard games: Gold Spike
It's on the Northernmost part of Las Vegas Boulevard, just North of the burgeoning Fremont Street. And the hotel's backyard goes beyond the basic games: There's bags (cornhole, for the Midwesterners), giant beer pong, and a friggin' ice rink made with synthetic ice so you can skate during 110-degree days.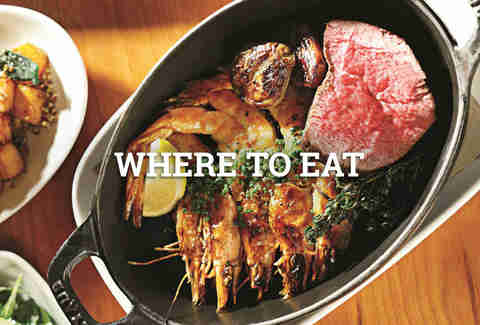 If you're on the Strip and want nothing but red meat: Craftsteak
If one of your buddies won't shut up about how he cooks the best steaks you've ever had, take him here to teach him humility. The restaurant prepares simple dishes cooked perfectly to showcase the cow's primo cuts. We say reserve one of the private dining rooms and take on the Wagyu New York strip or the 96oz porterhouse. It says it's for two, but damn it, this is a bachelor party. Muscle it down.

If you want knock-you-out sushi: Kabuto
You'll find great sushi on the Strip, it's true. Nobu and Sushi Roku are the spots to see. But for really great, authentic, punch-you-across-the-mouth sushi, go to Kabuto in Chinatown. You're sitting at the bar, and you're ordering the $120 omakase option. Everything is flown in daily, and this, the top-tier prix fixe menu, includes all the best cuts. This is the premium fatty tuna all other fatty tunas keep pictures of in their lockers.

If you're on the Strip and want to eat probably too much: Wicked Spoon
If you try one Vegas buffet, make it this one. Everything, from the salads (we know, but seriously), to the sushi, to the fillet, to the dessert stand will show you how eating should be done. Especially if you're in a large group, this is the best way to get an incredible meal and keep costs down.
...if you want your party to feel like a Calvin Harris song: Marquee
The big clubs (Marquee, Hakkasan, XS, and Tao Nightclub) have spent unspeakable amounts of money on a sound system and top-tier DJs, solely so you spend the best night of your life at their clubs. If you want the kind of night where you wake up with a tiger roaming around the suite, these are the places you'll find it.

...if you want your party to feel like a Rat Pack song: Herbs & Rye
There's nothing around it except car dealerships, so this bar usually hosts a local crowd. Not only can you get a solid steak in an old-school Vegas environment, but the cocktails are some of the top in town. Order classics and unknot that bow tie.

...if you want your party to take in the local scene: Arts District and Fremont Street
In the past two years, the downtown and Arts District neighborhoods (that is, neighborhoods branching off the northern part of Las Vegas Boulevard) have grown to host long blocks of clubs, restaurants, and bars. These are the neighborhoods you'll find plenty of action and good stiff drinks, but without the Strip price tag and mostly occupied by Vegas locals. We recommend beers at The Griffin, dancing at Commonwealth and cocktails at Velveteen Rabbit.
If you're in the middle of the Strip: Grand Lux Cafe in The Venetian
Sure there's a drunchies-serving Denny's facing the Strip, but step it up, man. Grand Lux is open 24 hours and has, among other things, a killer egg white omelet and buffalo chicken rolls.

If you snag a cab to Chinatown: Raku
This is the spot Strip chefs go after work to eat. Absurdly tasty Japanese fare, and it's open until 3am. Pricey, without question, but you're bound to have one of the best meals you've had in your life here.

If you've already decided against going to sleep before the sun comes up: After-hours parties
There are a couple parties known for going from 3 am to 10 am (or until the DJ passes out). Drai's on the Strip and Artisan Hotel off-Strip are all you need to know here.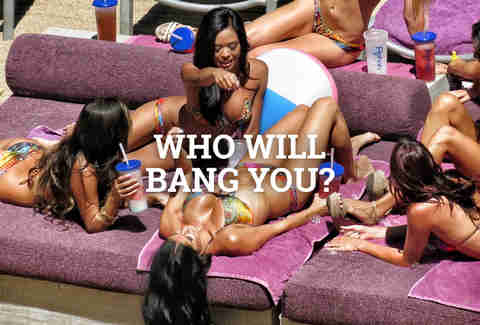 Yes, ladies of the night are plentiful in Vegas (if a pretty girl alone at the bar eyes you and calls herself a "private dancer," you've found one). But you've got a private driver, right? There are famous — I mean, TV shows and Gene Simmons from KISS endorsements — legal brothels an hour (or more) outside of town. Try Sheri's Ranch in Pahrump, or Mustang Ranch in Sparks.
Outside of that? Well, it's Las Vegas. There are also bachelorette parties. You do the math.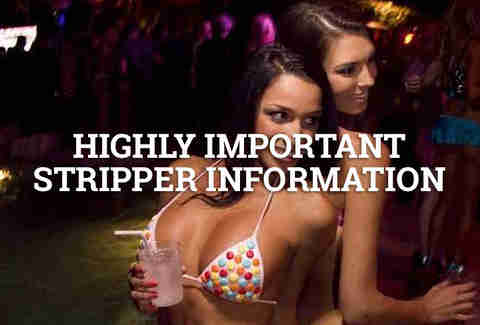 The defending champ: Spearmint Rhino
The Rhino's been known to fly girls in to work, which we've decided makes this the kind of strip club Drake would rap about. Use their free limo service to get here and order a few bottles if you want to do this right.
The strip club in pool form: Sapphire
It's like the dayclub version of a strip club. Let us help you out with something: If you're wondering if the girl in the star pasties is a stripper, she is. They all are.
The classy version: Pin Up at The Stratosphere
In 2011, Claire Sinclair was Playboy's Playmate of the Year. Now she's putting on the kind of cabaret show you'd expect a playmate to perform. Think old-school cabaret, but nakeder.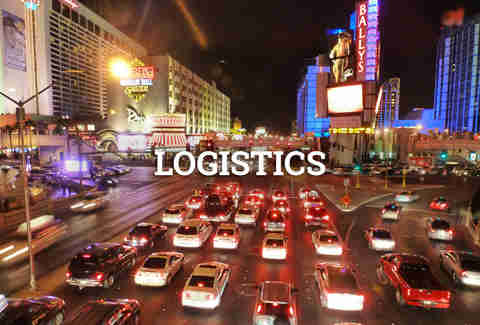 Get a driver
If you're following our high-roller package, just get a car and a driver. Vegas hasn't warmed up to Uber yet, and cabs on the Strip can only stop at cab stands and hotels. That dude in the black Lincoln Town Car (let's call him Morty, because why the hell not?) will keep you out of the parking garages and the valet queues. Try LasVegasPersonalDriver.com, or any of the limo services can set you up.

Ride the Deuce
The Strip is dominated by a double-decker bus called The Deuce that, for $8 a head, will take you up and down the Strip for 24 hours. Ideal if you're staying downtown and want to go to the Strip, or vice versa.
A few words on clubs
If you're dropping real money, you can walk into any club you damn well please. What the VIP hosts at the high-profile Vegas clubs know is that bachelor parties are there to buy drinks. Girls will join them. Everyone wins. 10 dudes deep or not, if you've got the green, they've got the space.

Walking
On the Strip, you can walk the streets with booze in hand. We have no idea what happens to the glasses. But don't take that to the neighborhood bars, and don't be surprised if they take it out of your hands on Fremont Street (the laws down there are still grey). Keep in mind, this isn't Bourbon street. Las Vegas has more pedestrian fatalities than New York and Los Angeles. Use the crosswalks. Or better yet, stay on four wheels with a ton of steel around you -- you know, provided you're not behind the wheel.

Tipping
Tipping is a good rule of thumb everywhere, but Vegas' service industry is the kind where important doors open with a strategically placed $50. Clubs, casinos, restaurants, bars. It's a totally different city if you spend wisely. Do that.
It's Las Vegas. Do you really need us to explain about vices?
OK, fine.
Prostitution
Just be aware that prostitution is illegal inside city limits. We've already covered that. That doesn't mean there's any lack of prostitutes inside and outside casinos -- that provocatively dressed lady at the slot machine at 5 am is looking to make money, but not how you'd probably imagined.
Drugs
Think of any drug-finding mission you've been on in any other city, now multiply that by 10. Any club is a great source. Best bet: Tip your VIP host very well (see "Tipping" above). He'll probably be happy to do the legwork for you.
Whatever you do, don't take photos.
Las Vegas has that slogan for a reason.