Plan and organize awesome group trips without hassle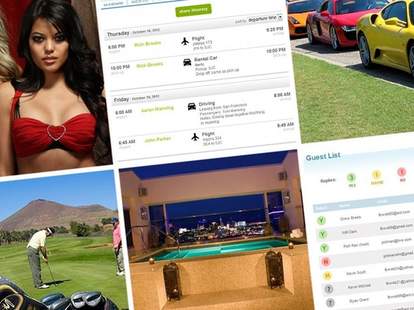 Coming up with a destination for a bachelor party is often the easiest part, considering how annoying it is to deal with the subsequent litany of work-inappropriate emails, coordinating schedules, and tactfully letting Sharon know that there aren't going to be any hookers, but if she's going to keep asking you about it you just might go out and get one anyways, OK!?!? Ameliorating all frustrations not related to Sharon is LastBash, which'll help you..
Plan: Designate an organizer to create the event w/ location & date info, and grant access via an email to other attendees, who can then discuss the itinerary and other fine points directly via the Bash Wall, which Jose Canseco has been running into every day since 1993
Coordinate Schedules: Every guest can easily upload their individual travel itinerary to a neatly organized database of arrival/departure deets, and each planned activity requires an individual RSVP, meaning you don't have to worry about headcounts, unless this bachelor party is seriously competitive
Get Paid: Submit, calculate, and split tabs evenly or otherwise, then get paid immediately with an embedded PayPal link, so you can collect from your friends without resorting to harassment, as that's something this bachelor party has already seen enough of, alright Sharon!?