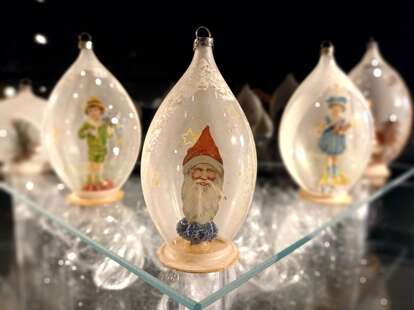 Photo courtesy of Museum für Glaskunst Lauscha
Photo courtesy of Museum für Glaskunst Lauscha
It's Bauble Season in the Birthplace of the Christmas Ornament
The storybook village of Lauscha, Germany holds the glitzy ghost of Christmas past.
The East German town of Lauscha, set in a deep valley tucked away in the Thuringian Forest, looks like one of those imaginary villages people like to scatter across their homes during the holiday season. And in true fairy tale fashion, it's difficult to access. The closest major airports are Leipzig and Nuremberg, and upon landing, you have to follow a single, winding road—oft-covered in snow—to reach your destination. But once you see those great big pines, black slate cottages, and mountain peaks, you'll come to a realization: In Lauscha, every day is Christmas.
The area, which is sometimes referred to as the Black Valley, is known for its tradition of glassblowing, which dates back to as early as 1597. The abundance of materials in the Thuringian Forest—wood to create fire, sand to melt into glass, and limestone for hardening—has made Lauscha and its surrounding communities one of the most important glass-making regions in Central Europe.
And where there's glass, there's ornaments. According to legend, the glossy bauble that we've come to associate with Christmas was invented in Lauscha in the 1830s. Supposedly a glassblower, unable to afford fresh fruits and nuts to adorn his Christmas tree—these were the mountains, after all—decided to make glass versions of these edibles instead, turning them into everlasting keepsakes.
This may sound like the stuff of myth, but the timing at least is entirely accurate. "According to the latest findings, Christmas tree decorations developed from glass beads over a longer period from around 1820 to 1830," explains Anja Fölsche, director at the Museum of Glass Art Lauscha. "Glass beads have been produced in Lauscha since the middle of the 18th century using an oil lamp. With the introduction of the bellows around 1820, the beads could be blown somewhat larger."
At the time, the town had a near exclusive position supplying glass ornaments worldwide, with over 3,000 artisans blowing the globular baubles, silvering the insides, and hand-painting them to perfection. These festive glass trinkets eventually became recognized by UNESCO as an Intangible Cultural Heritage in 2021. And while there are only nine or so workshops that remain in business today, visitors from around the world make the trip to Lauscha to see how the Christmas magic is made.
While ornaments can be purchased year-round in Lauscha, the town hosts an annual Kugelmarket, or ball market, during the first two weeks of December (this year, that's December 2–3 and 9–10). "At this Christmas market, visitors can find beautiful objects for the Christmas tree," says Fölsche. "A glass princess, who is crowned every year at the first Advent, is present at the Kugelmarkt and represents the town of Lauscha and glass art all year round."
One recent visitor is Julia Jeuvell, owner of London's Choosing Keeping, a stationery shop that's steadfast in its mission to source the most original, kitschy objects from around the world. For six years, Jeuvell has ordered flamboyant ornaments from Germany and Poland for the store—everything from oddities like hand-blown glass weasels and anatomical hearts to slightly creepy spun-cotton dolls with porcelain heads, all of which are then unveiled in her meticulously designed shop window.
This year, Jeuvell made the pilgrimage to Lauscha to see for herself how the proverbial sausage is made. She says, "We went in January, which seems kind of unseasonable, but that's really when the Christmas season starts for a lot of retailers, because nothing is mass-produced… The glassblowers take your order, and then work for 10 months to make it. Some of these people live in glitter and Christmas all year round."
During her visit, she met Steffen Flessa, a third-generation glassblower and owner of Nostalgie-Christbaumschmuck UG, a company that specializes in ornaments made from restored 19th-century molds. His perpetually decorated storefront, Weihnachtsbahnhof Sitzendorf, welcomes buses of tourists from as far as Australia.
"Glass is a magical material for me," Flessa says. "When you make it hot, it's soft. When it's cold, it's strong. It can be broken, and it can be refreshed." He learned the art of glassblowing from his grandfather, who made ornaments up until the start of World War II. With a true reverence for antiques, Flessa sniffs out all kinds of deadstock and dated mold designs, adorning his ornaments with old rusty caps to honor their vintage aesthetic.
In the 1900s, ornament-making here was very much a cottage industry. A father might blow glass with his son around the table, after which his wife and children might decorate and paint the finished product. The families would bundle their ornaments up and carry them via wheelbarrow through the forest to nearby Sonneburg, a major center for toy production.
When sourcing toys for American markets in Sonneburg, companies—notably the F.W. Woolworth Company—would also take interest in the ornaments that were carried in from Lauscha. "The American Woolworths became aware of the Lauscha products, and a short time later the Christmas tree decorations were already an export hit," Fölsche says. "Between 1870 and 1939, around 5,000 different shapes were produced. The Christmas tree decorations were made in home workshops and sold all over the world via the Sonneberg publishing houses."
After the second World War, Lauscha was relegated to producing cheaper goods for West Germany. This, coupled with American automation in the 1940s, and later globalization, contributed to the fall of Lauscha's glass-making glory. There was a turnaround in the '90s, as manufacturers began to reclaim the traditional craftsmanship of their grandfathers, but the market today remains farly niche.
"Today, only a few makers are actually producing commercially," Jeuvell says. "Those who do innovate—those who scratch their heads to come up with interesting designs, maybe in Poland and Germany—often get ripped off." For Jeuvell, selling these ornaments in her store is more than a quest for originality. It's knowing that when customers make a purchase, they're directly supporting somebody's livelihood.
But in Lauscha, it's the town's unwavering dedication to a long-forgotten artistry, and the undercurrent of a bygone Christmas, that draws people in. "Because the town has lost its kind of veneer of commercial success and the industry has mainly shut down, there are elements of it that feel a bit like a ghost town, which adds to the charm because it has that sort of abandoned, stuck-in-time feeling," Jeuvell says. And while glass is a major draw here, nothing embodies that eerie feeling—an unsettling collision of past and present—quite like Lauscha's porcelain dolls.
The Thuringian region, specifically the town of Rudolstadt, produced such dolls between 1880 to 1915. Sometimes, the doll heads had imperfections—maybe they were scuffed or poorly painted—and because there were no proper systems of disposal at the time, they would simply get chucked into the forest.
To this day, people in Lauscha continue to uncover doll heads in the forest. Flessa makes the most of the situation, even sending men on specific missions to hunt for them. Using a device akin to a metal detector, they forage these Victorian vestiges from the ground and bring them back to Flessa's workshop, where his wife sews on new cotton bodies and affixes a loop for hanging.
The salvaged dolls are then sold to people like Jeuvell, who was so taken with these treasures that she made a special order for Choosing Keeping. "These dolls have been in the dirt for 100 years, and now they're going to be on a tree with a whole new life and face," Jeuvell says. "Christmas is about that fantasy—I don't know that there's anything that captures people's imagination in such a strong way."
For Jeuvell these unique ornaments represent the surprising and often fragile passing of time—much like the heritage of glassblowing in Lauscha. "The tradition is putting them back in the attic, and then reopening them and being like, 'Huh. I forgot about this one. Huh. I forgot about that one,'" she says. "And they're very precious, so I think there's also that titillating feeling that one might break at any moment."