The 10 Most Beautiful US State Parks, Voted by USA Today Readers
When you think of New York, you likely picture skyscrapers and Central Park. But definitely not sprawling outdoor spaces with rivers and waterfalls coursing through them. But as the friendly folks of Upstate New York would tell you, there's an entire world outside the Big Apple bursting with gorgeous foliage, impressive bodies of water, and scenic mountains. In fact, New York State is home to the no. 1 rated park in the entire country.
USA Today readers voted New York's Letchworth State Park the nation's most stunning state park, and it makes sense. Visited by 650,000 outdoorsy types each year, the Castile-based beauty beat out 5,999 other state parks nationwide thanks to its idyllic nature trails along the Genessee River, 600ft-tall gorge walls, and cascading waterfalls. Often dubbed the Grand Canyon of the East, Letchworth makes you forget you're anywhere near New York City.
In second place, Michigan's Porcupine Mountains Wilderness State Park, spread across the Upper Peninsula's northwest, boasts magnificent Lake Superior views. Next came Watkins Glen State Park, a popular fishing spot amid lush woodland, in third place -- giving NY State two of the top three spots, and making it the only state with more than one park in the top 10. BOOM, other states.
Now take a look at the full top 10 below, which'll take you all over the country from the Midwest to the South, for your state park porn fix.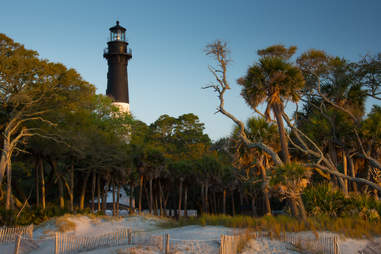 Shutterstock
10. Hunting Island State Park, SC
9. Custer State Park, SD  
8. Assateague State Park, MD  
7. Indiana Dunes State Park, IN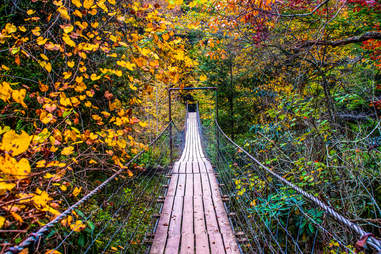 Shutterstock
6. Fall Creek Falls State Park, TN
iStock
5. Devil's Lake State Park, WI 
4. Ha Ha Tonka State Park, MO
3. Watkins Glen State Park, NY
2. Porcupine Mountains Wilderness State Park, MI  
1. Letchworth State Park, NY
Chloe Pantazi is an editorial assistant on Thrillist's travel team. She's dreaming of upstate New York right now. Follow her on Twitter at @ChloePantazi.