Presented By

5 LGBTQ-Friendly Trips You Can Take with Your Parents (and Still Have Fun on)
Multigenerational travel is so much cooler now than the awkward trips of your childhood.
Presented By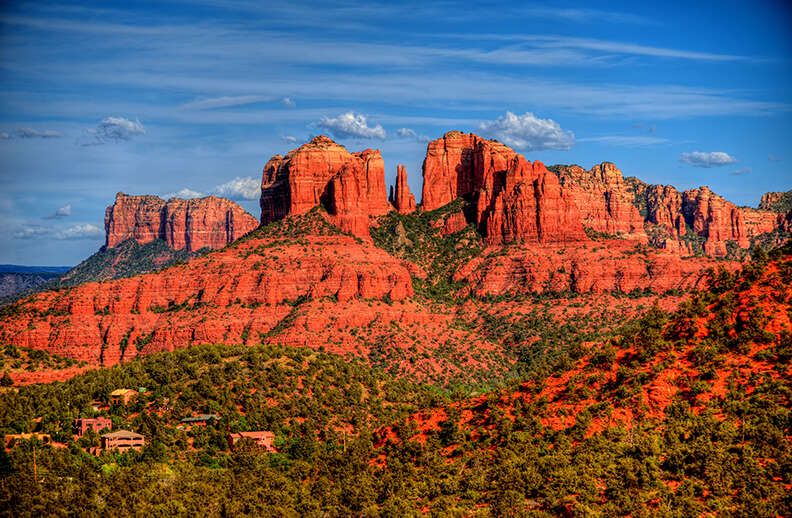 Shutterstock
Shutterstock
Maybe it's time for your parents to get to know your partner, or you're all just eager to finally get out of the house and go somewhere fun—together. Luckily, multigenerational travel is so much cooler now than the awkward trips of your childhood. From red rocks to drag shows, here are some LGBTQ-friendly destinations where you can pack your parents and all have a good time.
See the red rocks and soak in the vibey energy in Sedona, Arizona
If you're the kind of family who likes spa days, hiking, and feeling all the feels, head to one of the hottest destinations in Arizona. Ranked #2 on USA Today's list of the most welcoming cities in the US in 2019, it's a hit for everyone. Strap on your hiking boots and trek along Sedona's stunning red rocks (like Courthouse Butte and Airport Mesa) where you'll find plenty of spots to meditate, do outdoor yoga, and get in touch with the area's famed mystic energy—believed to promote healing. Even better, go with Vortex Yoga and Hiking, which promises a transformational experience. No worries if you're not feeling like a hike; you can easily reach stunning viewpoints by car. Or spend the day pampering yourselves at world-class spas such as Sedona's New Day Spa with purifying facials, relaxing massages, meditation, and mindfulness experiences (think gemstone readings and sweat lodges). You can end your day with drinks at the LGBTQ-friendly wine and craft beer bar, Vino de Sedona. For your stay, try the luxurious LGBTQ-welcoming Amara Resort and Spa, with amazing Red Rock views and one of the best pools in Sedona. Another major perk of the area: you're just two hours from the Grand Canyon, where you can do your family bonding while riding a mule through one of the world's greatest natural wonders.
Enjoy epic food and southern decadence in Charleston, South Carolina
With cobblestone streets, colorful buildings that are all Instagram-worthy, and some of the country's best restaurants, craft breweries, and wineries, Charleston is a real southern charmer. Hope on a carriage ride to hear stories behind Charleston's best sites. If you prefer to set out on foot, DIY walking tours are the best here, and though the pastels of Rainbow Row and the iconic Pineapple Fountain are must-sees, there are historic LGBTQ sites to check out, too: the former homes of Armistead Maupin (the gay author of Tales of the City) and Dawn Pepita, who was one of the country's first individuals to receive sex reassignment surgery. If you want someone else leading the way, Bulldog Tours can arrange a private LGBTQ history tour. After a day of sightseeing, embrace Lowcountry life by chilling under an oak tree in White Point Garden or Waterfront Park, also in the historic district. Once you've seen the city, dip your toes in the water or go on a kayak tour at famed Folly Beach. Be sure to save plenty of time for southern cooking at its best (like she-crab soup, hot buttery biscuits, and vegan cornbread) at some of the country's best restaurants like 82 Queen, Husk, Halls Chophouse, and Poogan's Porch; then talk about your great day over a drink at the family-friendly LGBTQ bar, Dudley's.
Snap a family selfie and museum hop in NYC
From the Coney Island boardwalk to parent-friendly (but still plenty boozy) drag brunches like those at Lucky Cheng's, New York does it right for all ages. Get your family culture fix with museum hopping at The Met and MoMA, but don't forget The Leslie-Lohman Museum of Art, which features works created by LGBTQ artists and art about LGBTQ themes. While you're in the city, take the obligatory IG-worthy family pic on top of the Empire State Building and view the fantastic interactive museum on your way up. With Broadway back in business, there are lots of shows and re-opening dates to choose from. For fun in the great outdoors, chill in Central Park, strut down the High Line, people-watch in Washington Square Park or Union Square, walk across The Brooklyn Bridge (with the best NYC skyline selfies), or take a more formal walking tour with Christopher Street Tours, offering year-round LGBTQ walking tours (and free tours for LGBTQ youth). Wrap up your days dining alfresco in the West Village or hit up a rooftop bar in Chelsea or Hell's Kitchen, where your feet can have a rest and you can scope out the scene.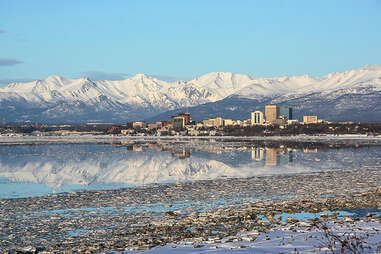 See 'the best drag show in the US' and go wild in Anchorage, Alaska
Since getting to "The Last Frontier" is a pretty big journey for most of us, the more time you can spend here, the better. Start in Anchorage with a stay at A Wildflower Inn, which is LGBTQ-owned and will be a hit with both you and your parents. This charming house is located off-the-tourist path but just a short walk from all the attractions, including the famous Tony Knowles Coastal Trail, where you can bike, run, or stroll along an 11-mile path and take in panoramic views of Anchorage, the Chugach Mountains, and Mt. McKinley. Plus, it's only a 20-minute drive to the must-see Alaska Native Heritage Center. After a day of outdoor adventures, chill inside with your favorite drink at LGBTQ nightclub and cabaret Mad Myrna's, a super-inclusive space that's home to a drag show that Condé Nast Traveler calls the best in the US. Then, it's time to get out of the city. Go big and get wild with Out in Alaska, an LGBTQ-owned tour company that can get you close to whales splashing in the water at Kenai Fjords National Park (about two hours from Anchorage) and mama bears feeding their cubs at Denali National Park (an epic five-hour road trip from the city). If you prefer to see things by sea, hop on a luxurious cruise and sail past humongous glaciers with drinks in hand. Though summer, with almost 24 hours of sunlight, is a prime time to visit, if you're feeling brave, go in the late fall or winter. The weather may be really freakin' cold, but you can go dog sledding and have a better chance of seeing the Northern Lights.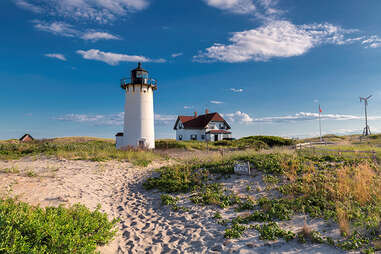 Bake in the sun at the beach and bars in Provincetown, Massachusetts
Though it's been an LGBTQ hotspot for a century, P-town is always fresh and never faded. The far end of Cape Cod welcomes all travelers and has a super relaxed vibe, so you won't feel any pressure to always be on the go. Instead, spend your fam time on a scenic bike ride or relax on vibrant beaches with lush sand, swaying dunes, and rocky coastlines (and plenty of eye candy). Or, go whale watching with the fleet that Rolling Stone calls "the best whale watch: flukes down," and check out cool art galleries like AMP: Art Market, now celebrating its 10th season in Provincetown. LGBTQ-owned, directed, and curated, this live contemporary gallery space is dedicated to exhibiting multi-disciplined works by LGBTQ visual, conceptual, and performance artists, as well as filmmakers and writers. For more deets on the art and culture scene, check out Ptown Insider Tours. Whatever you do, don't miss Commercial Street, where you'll find the freshest seafood, quirky stores, and drag queens riding their blinged-out bikes while blasting Cher and Lady Gaga. Try Provincetown Art House, Theatre, Café, and Bar which hosts big names and LGBTQ icons. Ask nicely and maybe you'll get a cool pic to use on your next family holiday cards.
Orbitz believes everyone should be able to travel freely, no matter who you are, who you love, or where you're going. Discover LGBTQIA-welcoming hotels, plan queer-friendly trips, and get inspired to vacation. You'll feel welcomed whenever you book with Orbitz. Travel As You Are™.
Mark Jason Williams
writes essays and travel articles and is working on a travel guidebook for LGBTQ couples. He can be found at
www.markjasonwilliams.com
.