An LGBTQIA+ Guide to Where to Stay, Party, and Chill in Asbury Park, New Jersey
Explore the best spots to eat, drink, dance, and more throughout summer.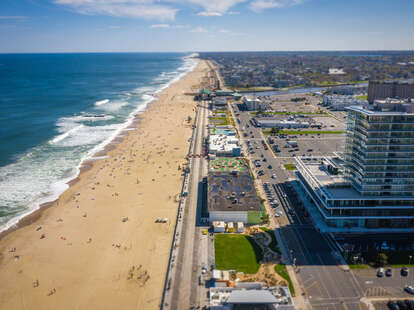 FotosForTheFuture/Shutterstock
FotosForTheFuture/Shutterstock
Asbury Park, New Jersey, is only 55 miles from New York City, and with its charming boardwalk and LGBTQIA-friendly shops and bars, it feels like queer heaven on the Jersey Shore. It was, in fact, the queer community that kickstarted the revitalization of the deteriorating beach town in the early 2000s. During the '80s and '90s, Asbury Park had declined from a popular seaside destination to a rundown, gritty beach town—a shadow of its former glorious self.
But things are looking up. Over the past decade, the boardwalk has been extensively restored, historic landmarks, like the Paramount Theatre and Convention Hall, have gotten facelifts, and new queer-friendly restaurants and cafes have opened in the seaside town, contributing to Asbury Park's rise in popularity over the last few years. The mile-long boardwalk makes a great spot for people watching and leisurely strolls during the day, and, come evening, gay nightlife ranges from karaoke to drag shows—there's something here for everyone!
What makes it so special
The gayest beach on the Jersey Shore: Asbury Park has become a popular LGBTQIA+ beach destination in the last 20 years thanks to the growing number of queer-friendly shops and bars in town, and the growing LGBTQIA+ nightlife scene. Even though there is no official queer beach in Asbury Park, the stretch of beach between 4th and 5th Avenues is the place to be for queer beach goers.
Jersey Pride: New Jersey's annual Pride celebration at the Jersey Shore marked its 30th edition this year and usually takes place the first weekend of June. The parade ends right on the ocean, at the Rally/Festival Grounds, which means you can go for a quick dip during the festivities to cool off. While this year's celebrations have already wrapped up, mark your calendar for 2023!
When to go
The best time to visit Asbury Park is during summer when the beaches are open. The beach season officially opens on Memorial Day weekend, and remains busy until Labor Day weekend, marking the end of the season. If you want to hit Asbury Park for Pride, plan your visit for the first weekend in June.
The best gay events in Asbury Park:
June: Pride Weekend happens the first weekend in June.
July: Independence Day weekend is a busy weekend on the Jersey Shore for queer and straight people alike.
August: Asbury Park Beach Bear Invasion is a three-day celebration for bears and their admirers, which usually takes place the third weekend of August.
How to get there
Asbury Park is about 55 miles from New York City and about 77 miles from Philadelphia. You can reach the seaside resort by car, train, or ferry.
By car: Getting to Asbury Park by car from New York or Philadelphia is easy, but be aware that going to the Jersey Shore on summer weekends and holidays usually means lots of traffic. Without traffic, the ride takes about 75 minutes from New York City and 90 minutes from Philadelphia.
By train: You can take the NJ Transit North Jersey Coast Line from Manhattan's Penn Station to Bay Head and get off at Asbury Park. The ride takes 1 hour and 45 minutes. Tickets are $16.25 one-way and $32.50 round trip, but NJ Transit often has special discounts on weekdays—check its website for 2-for-1 ticket deals.
By bus: Academy Bus has a direct connection between Manhattan's Port Authority Bus Terminal and Asbury Park. Tickets are $9.50 one-way, and the ride is roughly 1 hour and 45 minutes. You can find the timetable here.
By ferry: If you want a more scenic route, take the Seastreak Ferry from East 35th Street or Wall Street in Manhattan to Sandy Hook ($30 one-way or $47 round trip) and continue down the Jersey Shore via taxi.
What to see and do
Asbury Park is a laid-back vacation destination, so don't feel bad if you don't do much beyond enjoying the beach. But if you are feeling a little more adventurous, here are the best things to do in Asbury Park:
Relax on the beach: The stretch between 4th and 5th Avenue Beach (south of Convention Hall) is known as the queer section of Asbury Park. Be aware that there is a charge to enter the beach: Day passes cost $6 from Monday to Friday and $9 on weekends and holidays. If you're staying for a longer period or plan to visit several times, a season pass ($70) may be more economical.
Take a stroll on the boardwalk: No trip to Asbury Park is complete without a stroll down the boardwalk! The mile-long promenade is the perfect place to soak up the Jersey Shore vibe and for people watching.
Take a day trip to Gunnison Beach: If you want to get to know a different beach on the Jersey Shore, head to Gunnison Beach in Sandy Hook, which is about 35 minutes north of Asbury Park. The southernmost section of Area G is known as the gay nude area of the beach.
Enjoy the art: Thanks to the Wooden Walls Art Project, over 30 murals have been painted on the Sunset Pavilion Building. There are also murals on the walls of the casino, under the beachfront Casino walkway, and in downtown Asbury Park on Bond Street.
Not sure where to start? Visit the smaller galleries first: Parlor Gallery (contemporary art), art629 (which often features exhibits by LGBTQIA+ artists), Whitepoint Gallery (showcasing emerging artists and contemporary art), and Hot Sand (a glassblowing studio).
Silverball Pinball Museum: Part museum, part arcade, the Silverball Museum Arcade has over 600 games in its rotation and over 200 vintage pinball machines ranging from the 1930s to the 1980s. Admission rates depend on how long you want to stay: If you're into pinball, go for the full-day ticket at $20; if you only want to have a quick look around, the half-hour pass at $10 is sufficient. No-play passes are $2.50. The museum is open from 11 am to 9 pm Monday through Thursday, till midnight on Fridays and Saturdays, and till 9 pm on Sundays.
Explore the Jersey Shore by bike: Cycling is a great way to see more of the Jersey Shore—you can go south to Manasquan Beach or Point Pleasant Beach (less than an hour away) or north to Long Branch Beach (about 30 minutes by bike). You can rent bikes at the Asbury Park Cyclery.
Wherever you are on your journey, Target wants you to celebrate pride in your own way. From limited-edition collections by queer- and female-founded brands—like swimwear from Humankind and underwear and activewear by TomyboyX—to partnerships with six designers from the LGBTQIA+ community, Target takes pride in celebrating all that you are.
Where to eat
Asbury Park's restaurant scene is surprisingly varied; from upscale French to Cuban cuisine, there's something for everyone here.
Talula's (550 Cookman Avenue): If you love Neapolitan-style pizza, you'll have to try Talula's delicious wood-fired artisanal pies with creative toppings!
MOGO (632 Cookman Avenue): These Korean-fusion tacos will make your mouth water and its Bibimbap burger is delectable. Vegans will enjoy the tofu bowl/tofu tacos.
Langosta Lounge (1000 Ocean Avenue North): A cross between a lounge and restaurant, Langosta Lounge has live music, sushi by the sea, and a menu that ranges from classic burgers and mac 'n cheese to Hawaiian-inspired poke nachos and lobster enchiladas.
The Bonney Read (525 Cookman Avenue): From New England clam chowder and oysters to fish and chips and lobster bisque, The Bonney Read is a great spot to satisfy any seafood craving.
Pascal & Sabine (601 Bangs Avenue): While the Jersey Shore definitely has typical boardwalk staples, like funnel cake and hot dogs, you can also find upscale dining establishments—and Pascal & Sabine is one of them. If you want to treat yourself to an exquisite French meal, look no further: From the escargot and foie gras to steak tartare, oysters, and French onion soup, the menu leaves nothing to be desired.
Moonstruck (517 Lake Avenue): Another upscale dining option in Asbury Park is Moonstruck, which focuses on seafood (think cod, salmon, tuna, and shrimp) as well as innovative dishes with a Mediterranean influence, like Greek-style meatballs and eggplant fries.
Toast City Diner (516 Cookman Avenue): Toast City Diner adds its own twist to classic brunch options, like carrot cake pancakes, bananas foster french toast, and crab hash. Toast is also a great place for a quick lunch.
Porta Asbury Park (911 Kingsley Street): Porta is an Asbury Park favorite for good reason: It has scrumptious Neapolitan-style pizzas, live music, bocce, and a vibrant atmosphere.
Cubacan (800 Ocean Avenue North): Situated on the boardwalk, this Cuban fusion restaurant offers Cuban classics, like arroz con pollo, ropa vieja, and lechon asado (Cuban roast pork), alongside a large selection of seafood dishes.
Food Trucks: North Eats, located between 7th and 8th Avenue on the northern end of the boardwalk, is a small food truck park with various vendors for a quick bite.
For a more detailed breakdown of our favorite eateries, check out the best restaurants in Asbury Park.
Where to drink
While there aren't many exclusively queer bars in Asbury Park, all of them are queer-friendly, so check some out:
Georgie's Bar (810 Fifth Avenue): Open since 1999, Georgie's is one of the longest-standing bars and self-described "The Gay Cheers of Asbury Park." Georgie's is where you'll have the most fun night out in Asbury Park—from karaoke, live music, and drag brunches to happy hours, drink specials, and a great patio.
Paradise (101 Asbury Avenue): Paradise, located inside the Empress Hotel, is the largest queer nightclub in Asbury Park and it even has a pool! The pool can be enjoyed from noon to 8 pm and, once the sun sets, put your dancing shoes on for Jazz Night or Latin Night. The most popular events of the week are Saturday night's dance parties and Sunday's Tea Dance (5 pm to 9 pm).
Watermark (800 Ocean Avenue): This relaxed bar overlooking the boardwalk and ocean offers a great selection of cocktails and bar food. It's the perfect place to kick off your night.
Stone Pony (913 Ocean Avenue): This is probably the most legendary live music venue on the Jersey Shore—it's the club where Bruce Springsteen, Bon Jovi, and other famous musicians got their start! If you enjoy live music, a visit to the Stone Pony is a must.
Wonder Bar (1213 Ocean Avenue North): This historic Asbury Park institution is located right on the boardwalk and is famous for its "Yappy Hour" when canine visitors are allowed to make new friends off-leash in a fenced-off outdoor space. Human visitors will also love the sand-covered outdoor patio, making you feel as if you're right on the beach. Wonder Bar also offers live music, a large dance floor, and traditional pub grub. It's open Friday through Sunday.
Asbury Festhalle & Biergarten (527 Lake Avenue): This European-style beer hall features a giant rooftop beer garden and an indoor beer hall with big, communal tables, making it easy to meet new friends. In addition to fine draft beer, you can enjoy massive pretzels, schnitzel, brats, and other German specialties here.
Where to stay
Even though Asbury Park is a popular vacation destination during the summer months, the number of decent hotels is surprisingly low. We recommend booking your accommodations far in advance because the popular hotels in the area do sell out, especially during holiday weekends and Jersey Pride.
Empress Hotel (101 Asbury Avenue): Staying at the Empress Hotel means you're right in the center of the queer action because Paradise Club is part of the hotel. Adults-only hotel, from around $250 per night.
The Asbury Hotel (210 Fifth Avenue): A stylish, art deco-inspired hotel with a swimming pool and a rooftop lounge, just a short walk from the beach and boardwalk. Rates start at $300 per night.
The Berkeley Hotel (1401 Ocean Avenue): Historic Beaux-Arts Hotel right on the promenade that's one of the landmarks of Asbury Park and has been around for over 100 years. Rates start at $159 if you book directly through the hotel website.
Asbury Ocean Club (1101 Ocean Avenue): The swankiest resort in Asbury Park, this luxury boutique hotel features a large pool overlooking the ocean, a gym, and a spa. Suites include a full kitchenette and dining area. Rooms from $520 a night.
Ocean Park Inn (38 Surf Avenue): A quaint bed and breakfast in a beautifully restored Victorian home, two blocks from the beach in Ocean Grove, just south of Asbury Park. Rates start at around $150 per night.