Presented By

9 LGBTQIA+ Tour Companies That Will Help You Travel Well
These are the LBGTQIA+ tour operators, trip designers, and travel agencies to know before you go
Presented By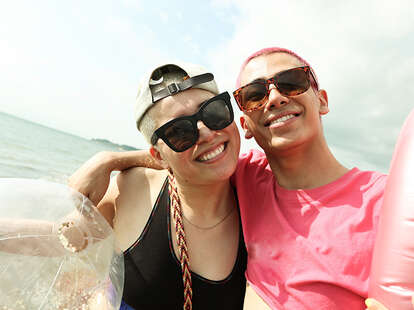 Getty Images
Getty Images
Everyone should be able to pack their authentic selves and feel welcomed when they travel, but for members of the LGBTQIA+ community, this notion is often supplanted by hesitation. Luckily though, with travel specialists who cater to the community, and organizations like the International LGBTQ+ Travel Association (IGLTA), there's no need to go it alone.
While LGBTQIA+ folks may have more to think about when it comes to planning a trip, leaning on a tour operator or trip designer can make all the difference. These savvy industry experts have made it their duty to learn the ins and outs of queer travel, whether it's for a group of gay men, a lesbian couple, a solo transgender tourist, or a family with same-sex parents. Working with a specialist is about more than obtaining reliable inspiration on where to go in the first place (that'll likely be informed by the status of LGBTQIA+ rights in that destination), but also which specific queer-friendly hotels, restaurants, and attractions to add to your itinerary. LGBTQIA+ folks need not consider their identity as a barrier to travel, but something that can only be enriched by each soul-swelling moment away from home.
No matter where you plan to travel, here's a list of people who will help you get away and travel well.
By creating The Venture Out Project, founder Perry Cohen was able to merge a passion for backpacking the great outdoors with his mission to promote social justice and inclusivity — a cause close to his heart as a trans queer person. Cohen and his crew (many are volunteers) lead wilderness day hikes and overnight trips geared toward LGBTQIA+ teens, adults, and families and also conduct transgender inclusion workshops for summer camps, educators, and others in the travel and hospitality space.
Florida agency Rainbow Getaways is a full-service travel concierge that plans tailor-made vacations for the LGBTQIA+ community and allies. President and senior travel advisor Scott Wismont and team custom design all trips and itineraries to guests' needs, ranging from cruises to all-inclusive trips in the US, the Caribbean, and beyond. January 2022 marks the debut of Rainbow Getaways' inaugural Bears Getaway, which calls aboard bears and bear-lovers to cruise through Puerto Rico, Tortola, and St. Maarten. Every booking includes a $50 donation to LGBTQIA+ non-profit The Center Orlando.
Former university professor Andrew Lear garners rave reviews for his info-packed guided day tours and international group trips. Through Oscar Wilde Tours, Lear brings to life lesser-known stories of queer culture and the arts through a historian's lens, revealing unexpected tidbits about queer landmarks in NYC's West Village, as well as secret homoerotic artworks at the Metropolitan Museum of Art and Boston's Museum of Fine Arts. He also leads LGBTQIA+ tours in Greece and Italy, as well as London and Paris, where he traces the life of the company's namesake poet and playwright.
Olivia Travel founder Judy Dlugacz originally launched her company as a record label for feminist artists back in 1973. In 1990, she pivoted her focus to travel, designing entertainment-filled trips exclusively for lesbians and LGBTQIA+ women. Since then, more than 300,000 "Olivians'' have embarked on Dlugacz's extraordinary experiences, from polar bear photography safaris to adventure cruises. Olivia stands out by chartering entire vessels and land tours for their journeys, all but guaranteeing their founder's slogan, that women travelers can feel "beautiful together."
For over 40 years, HE Travel has been a leader in outdoor tours for LGBTQIA+ adventure enthusiasts. The group's trips have spanned the world's seven continents (yes, even Antarctica), with an emphasis on infusing culture into nature-focused itineraries. HE Travel's new "Deposits for Life" program ensures the ultimate flexibility in a post-pandemic world so when plans change, your initial deposit is retained and can be used toward any future trip for an unlimited time.
More than 20,000 guests have traveled with R Family Vacations, a tour operator for LGBTQIA+ families and friends. Created by Kelli Carpenter and Gregg Kaminsky in 2004, the company was featured in HBO's Emmy-nominated and GLAAD award-winning documentary All Aboard! where profiled guests embarked on the first-ever cruise for gay parents and their families. While cruising remains the group's bread and butter, R Family Vacations also organize weekend jaunts to LGBTQIA-friendly destinations like Ogunquit, Maine. They also partner with a number of NGOs, including the Family Equality Council and Parents, Families & Friends of Lesbians & Gays, to advance the rights of LGTBQIA+ families.
Los Angeles-based Chris Puckett of Puckett Excursions specializes in off-the-beaten-path adventures, bringing along no more than a dozen fellow outdoor lovers to hike, camp, and be one with the wilderness in remote destinations. Puckett has led intimate excursions to some of the most exciting outdoor destinations, like Yellowstone National Park, but also takes travelers further with upcoming group trips to Patagonia, South Africa, and Iceland scheduled through 2022.
Cousins Miles Mitchinson and Craig Smith founded Detours back in 2012 to promote a more "laid-back" approach to group travel, whereby trips would feel more like a friends getaway than one led by a clipboard-wielding guide. Fear not, solo traveler: Over 60% of those who join Detours trips are also venturing solo, so meeting folks while on the road is easy. While Detours offers a slew of pre-scheduled trips throughout the year, usually with fewer than 15 participants, their tight-knit team can also craft custom itineraries based on individual interests.
For over 30 years, Chicago company Toto Tours has been helping gay men, lesbians, and others plan safe and exciting vacations in destinations around the world. As one of the oldest operating authorities in the LGBTQIA+ travel landscape, Toto remains an exceptional resource for both novice travelers making their first overseas escape and experienced wanderlusters who want to test their comfort zones in far-flung places.
Orbitz believes everyone should be able to travel freely, no matter who you are, who you love, or where you're going. Discover LGBTQIA-welcoming hotels, plan queer-friendly trips, and get inspired to vacation. You'll feel welcomed whenever you book with Orbitz. Travel As You Are™.
Paul Jebara is a travel and design journalist, content expert, and photographer in NYC. Follow him on Instagram @paulgoesthere.