How America Misunderstands the South, According to the Liberal Redneck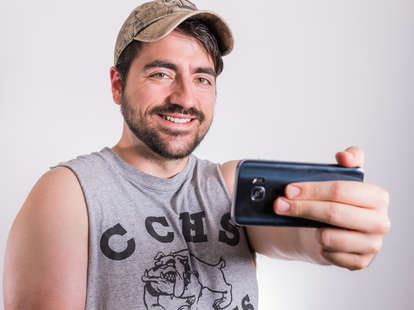 I spent two hours in gridlock traffic to escape Los Angeles for one of its weirder suburban offspring: the city of Brea. There, at the Improv, I connected with three touring comedians who are trying to give the South a better name -- as somewhere intelligent, progressive, and modern.
Then, five minutes in, they gave me a milkshake that contained a Schedule I banned drug.
This was my introduction to the comedic minds behind a new political identity that you've probably seen scrolling down your Facebook timeline: the Liberal Redneck. Trae Crowder is the face of the videos, making small, self-shot declarations that tackle abortion rights and gun laws but mixing down-home Southern drawl with a left-leaning yet folksy perspective. Along with co-writers Corey Ryan Forrester and Drew Morgan, they are currently criss-crossing the country as The WellRED Comedy Tour. It's for telling jokes, and also to support their new book, The Liberal Redneck Manifesto: Draggin' Dixie Outta the Dark.
I caught up with the comedians in the green room before the show. They'd been on the road since the summer, promoting their material, a new book, and an inevitable comedy special. They had tales. But first, I needed to try the opiate-like herb kratom.
They explain the drink (a messy stirred concoction) is actually a Southeastern tea that people have been drinking for centuries to relax. "Poor white people have been using it forever," Corey explains, "but then rich white people found out about it. Now, at the end of the month, it is set to become a Schedule I illegal substance, in the same category as heroin."
"We usually just buy it at the gas station," Trae explains.
I take a big swig. It tastes like bad tea. "Wow, that's very... acceptable," I muster.
"Yeah," he replies. "That's about the best you can say."
They're trying to shake up America's notion of the South
Keeping track of who says what in the group becomes a fool's errand. The three comedians are in such sync that it's clear their decade-long friendship goes deeper than a mere writing partnership. Most sentences (and jokes) are a three-man job, and after a day when they've been recounting their lives for multiple podcasts, they even start filling in my questions. I ask, "Is this all a bit?"
"This is exactly who we are," Drew answers. "We've been talking about... dreaming about doing this together for 10 years now on back porches. Now we're doing it."
"And we're just now getting tired of drinking with each other," Corey says. "That's where the business of being professional comedians begins."
The three men of the WellRED Comedy Tour may write and perform a Liberal Redneck character, but it also comes from their perspective and performances developed over years of touring, clubs, open mics, and speaking out. In Southern comedy, you can either drop the accent and pretend you're from anywhere, or you can lean into the Jeff Foxworthy model HARD. People are stunned when these comedians do neither, which results in piquant debate coming through a twang that audiences judge as trustworthy and down-to-earth yet less, perhaps, informed.
"Does it often feel like you're at odds with things like Larry the Cable Guy and the Blue Collar Comedy Tour?" I ask. "Does it feel like what you're trying to do here is, in a bigger sense, to redeem America's impression of the South?"
All three men answer at once, and order is not restored to the room until we all have a whiskey in hand.
Their answers build around a theme. These guys don't feel diametrically opposed to Blue Collar Comedy's massively successful (if stereotype-reinforcing) venture. Jeff Foxworthy, they think, is a great writer and performer who gets blamed for more than his share -- akin to Nirvana being blamed for the death of grunge. Larry the Cable Guy, on the other hand, is a millionaire from Oklahoma who sounds like people they know and is cultivating a character, which is difficult to respect in the same way. They also acknowledge the Blue Collar Comedy cut off opportunities for other Southern performers, some of whom were already scheduled to film comedy specials. Because Hollywood already had "enough of those types."
Now I think I understand exactly what this tour is in reaction to.
How to survive an endless road trip with two other dudes
I wondered how three friends, even close ones, managed to stay on tour without ever up and killing one another.
"We're in a red mini-van right now," Corey informs me, "because Drew reserved an SUV for the wrong weeks."
In response, Drew leans directly into my recorder and shares some feedback on Corey's intelligence and personality that are unsuitable for print. This is going exactly as well as you might expect. The whiskey has counteracted any possible calming effects from the contraband Asian tea.
Turns out the team has been in the air for the last few months, renting cars for any longer layovers. Along the way, they've blighted a long trail of hotel rooms and comedy condos -- rooms owned by larger clubs for the talent to stay in.
"You ever see the comedy condo in Denver?" I'm asked. I have. It is surprisingly nice, but also filled with children's toys, which can get creepy in the right hands.
"We left some art on the walls there," Drew informs me, "but it was made from cheese. We wrote on it that the art was indeed made from cheese instead of paint, so if they have a smell, they'll know where that comes from."
Tonight, the boys are finally staying at their first Airbnb. Throughout the interview, the host keeps texting to make sure her cat is OK. I repeatedly inform them that this is unusual activity for an Airbnb and that cat-sitting probably falls beneath their duties as jet-setting comedy superstars on the rise.
I ask how they stay alive on the road. "We've had to stop drinking," comes the reply, while we all ignore the drink order we placed. "We'd drink and eat in the morning and pass out for a nap and it was unsustainable," Trae says. "There's an unending series of excuses. 'Oh, we're in this new city' or 'Oh, this guy is around' or 'Oh, we don't have anything else to do.' And some of us were gaining weight."
Drew chimes in: "This is the first day on tour we went for a run. We've been saying we were going to do it... since May."
There's a round of eastern Tennessee laughs.
That face when you think a guy just rolled a bomb onstage
The big question for the night is what America looks like when you take your overtly political show on the road, in the year of our election 2016, and hold group Q&As in a comedy club every night. It sounds potentially explosive.
"People know what they're getting with us," Trae explains. "When this Liberal Redneck character took off online, we weren't sure what this would be. I didn't know if anyone who liked a YouTube video would then show up to see us perform live. Turns out they will. You know who isn't coming to our shows? The local district attorney who voted Republican his entire life. But young, energetic, people looking to be challenged -- they get it."
They detail the weirdest moment in the tour. In Johnson City, Tennessee, a dude in the audience was playing a kazoo after jokes, which was already screwy, but during the Q&A he rolled a can of pork and beans out onto the stage, and Corey literally thought it was a bomb. "It was my fear," he said, "that we finally had one of Those People show up, and we'd made them that upset. I wound up eating the beans on stage, so it all turned out funny. But still. Yikes."
"During these Q&As, do people believe that you're actually liberal or do they think you're playing a part?" I ask.
"They believe we're liberal," Drew says. "They don't believe we're actually Southern."
You know you're a liberal redneck when
Trae recounts some of the worst comments he gets from the videos online. "'He is obviously a Jew, hired by Obama, to push the liberal Jew Obama plan.' That's a pretty standard thing I see every day of my life now."
This isn't to say that these three comics aren't unaware of the good they're doing since finally starting to produce content after years of joking about it. Trae closes the conversation about what America looks like at this point by letting me know what he's learned.
"When you get started in comedy," Trae says, "your only concern is being funny. People let you know if you were funny or not. That's the end. With this tour, we have a lot of people coming up to us with tears in their eyes because we've made them feel good, comfortable, loved, or challenged. Especially parents of gay and trans kids, who are hearing this group of guys in the public eye offering love and support for their kids in parts of the country where people aren't open to hearing it yet. So, yeah, we're having a fun rockstar time on the road, but we're also making a difference and it is... heavier than what you'd expect comedy to be. It's important to recognize when you're making a change for the better, and to chase that."
After that, Blur's "Song 2" starts playing and Corey needs to go open the night. The room explodes in applause, and a packed house just outside of Los Angeles settles in to be pushed to be better by a group of good ol' boys from outside Knoxville. That's your 2016 'Mericuh.
Sign up here for our daily Thrillist email, and get your fix of the best in food/drink/fun.