Cookening: Like Airbnb, but for eating
Functionally the same as Airbnb, Cookening is a place where amateur chefs can sell home-cooked meals to travelers who're cool with eating in some random dude's dining room.
Cookening.com
Like all great menus, it has pictures of the food. Here's what a few global peeps are currently Cookening-up: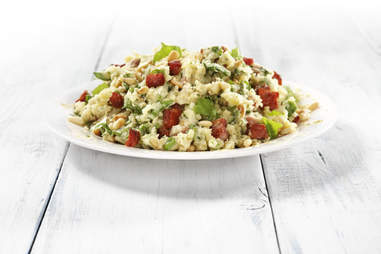 Cookening.com
Dutch Dinner a la Marius - Amsterdam - $20
35yr-old native Dutchman Marius T. enjoys "watching movies, going out, and visiting museums" when he's not cooking food for total strangers in his home.

Among his entree specialties is this "stamppot andive" with bacon, cheese, pinenuts, gravy, and fresh smoked sausage. Beer and dessert are included.
Cookening.com
Enjoy Italian Tastes And Styles In A Family - Rome - $33
Andrea P.'s cooking up a variety of dishes ranging from roasted lamb w/ potatoes to stuffed calamari to that keen-looking "countryside-style rabbit" in a mushroom and herb gravy. When he's not cooking, he's a "food writer" of fiction, nonfiction, and "gastroroscops". We predict deliciousness.
Cookening.com
Au 190 - Paris - $26
Hit 29yr-old Anne J.'s Rue de Vaugirard flat, and you'll score some super-fancy French fare like "chaud-froid de saumon et pommes de terre"; basically smoked salmon, salmon eggs, and potatoes covered in cream sauce.
Cookening.com
Belgian Style Cuisine - Schaerbeek, Belgium - $39
Hopefully "e-marketer" Cedric P. isn't just using Cookening.com as an elaborate way to direct-market the hell out of the latest in Belgian topical hair-loss creams, because his meal includes four courses, beer, and this "chicons au gratin marinés à la bière" (chicory & ham with béchamel sauce cooked in ale).
Cookening.com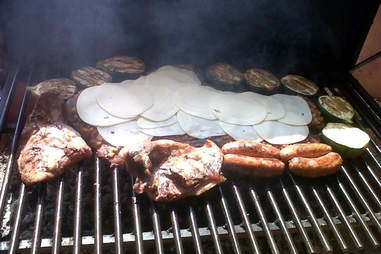 Cookening.com
El Gaucho Alegre - Casares, Spain - $39
When accountant/ tax specialist Hernan D.'s not cooking people's books, he's cooking people like you super-authentic, meaty fare, like barbacoa or this awesome-looking "Matambre a la Pizza". Wait, this is how the Spanish do pizza?! Why were we not told??
Cookening.com
Eclectic Mediterranean Cooing - London - $23.52
And finally there's 35yr-old Jeffrey A., who is totally cool with you sitting around smoking while he prepares the "gigantes sto fourno" (baked giant beans form northern Greece) that he's "famous for"… or actually isn't since he's actually just a dude informally selling you grub he's cooked at his house.