Little-Known Appalachian Towns You Should Absolutely Visit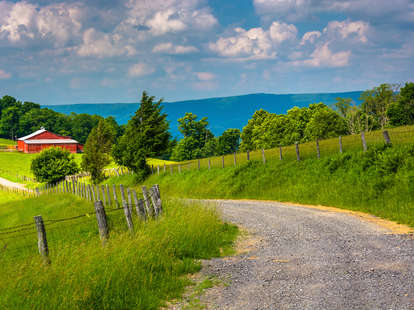 Jon Bilous/Shutterstock
Jon Bilous/Shutterstock
When most people think of the Appalachian mountain range -- spanning from Georgia to Maine -- they envision dueling banjos, moonshine, and the Smoky Mountains, and they'd be right. But there's more. Way more. Including these 10 must-hit towns.
Note: Because debate always stirs about what is technically considered Appalachia, we combined the route of the iconic hiking trail with the area defined by the Appalachian Regional Commission.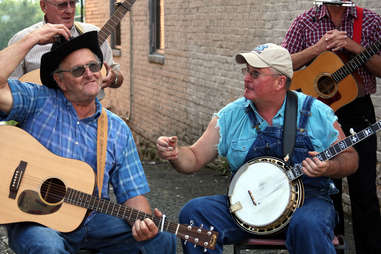 Mount Airy, NC
Why you need to go: This Blue Ridge foothills hideaway is the birthplace of America's old-time acoustic music, which ultimately spawned bluegrass. And it has plenty of relics to prove it, including the visitor-friendly radio station WPAQ. The station has been faithfully spinning records since 1948, and its Voice of the Blue Ridge show helped resurrect folk music in the '60s and '70s. Mount Airy (population 10,000) is also the hometown of Andy Griffith, whose California-filmed show set in fabled Mayberry was shaped by his day-to-day life here; hence, the town's nickname, Mayberry.
The one must-do thing: Visit the Siamese Twins Exhibit. Not even joking. The world famous conjoined twins discovered in Thailand and brought to the US in the early 1800s to entertain, Eng and Chang lived in Mount Airy for the last 12 years of their lives. They even married local women, adding unlawful interracial marriage to their list of American firsts (which also included becoming the first Buddhists and Asians to become American citizens). What makes this simple museum (mostly pictures and news clips) even more fascinating is that the executive director and host Tanya is a relative of the twins. Meanwhile, the Andy Griffith Museum next door lures you back to all things Mayberry.
Pikeville, KY
Why you need to go: Self-guide along the infamous Hatfields & McCoys feud trail or the nationally designated Country Music Highway, as many country stars are from this area. Then, succumb to your inner grit and fish, boat, hike, or horseback ride. Or just go shoot a quick selfie at Breaks Interstate Park, known as the "Grand Canyon of the South".
The one must-do thing: Experience the Blue Raven restaurant's "Appalachian Pub Food." It was recently awarded Trip Advisor's Certificate of Excellence Award and was featured in Bon Appétit Appalachia (oh those calorie counters). Reuben Egg Roll? Check.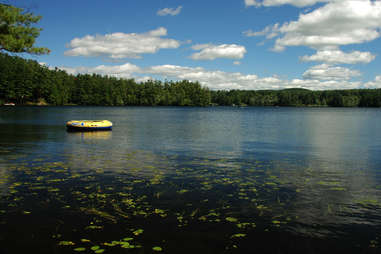 Chestertown, NY
Why you need to go: Geology nerds are split on whether New York's Adirondack Mountains are part of the Appalachian chain, but I like this town and you will too -- assuming you respect authentic mountain folk who know how to fix shit and hunt their own meat. Originally a vital crossroads where classic Routes 8 and 9 intersect, it lost its relevance when the Adirondack Northway began blowing past the outskirts of town in 1967. Unlike other Adirondack towns like Lake George and Lake Placid, which rely mainly on tourism, its independent locals have pleasing old-English meets hillbilly accents and will gladly share their firewood.
The one must-do thing: Hang out at the Bullhouse Restaurant, a renovated soda-fountain general store and ice cream parlor once called TJ Fish & Son. The inspiring space now has a fireplace, a long oak and rusted-patina bar, floor-to-ceiling windows, an upscale menu crafted by the owner and chef, and crisp hand-crafted brews and whiskeys. Add: Plants and plush pillows. Not what you'd expect in the middle of nowhere.

Walhalla, SC
Why you need to go: The far northwest corner of the state is surrounded by 80,000 acres of the Sumter National Forest, the National Wild & Scenic Chattooga River, three freshwater lakes, dozens of waterfalls, and four state parks. And when you're done exploring, satisfy your appetite for something other than outdoor adventure at The "Steak House" Cafeteria (est. 1941); whatever you do, though, DO NOT order steak. At least if you want to stay in favor with the locals. Thirty years ago, their sensational fried chicken bumped it off the menu.
The one must-do thing: Hit The Esso Club in nearby Clemson. Frequented by students, professors, and locals alike, it's continually heralded as America's best sports bar by none other than CBS's Brent Musberger (also ESPN Magazine).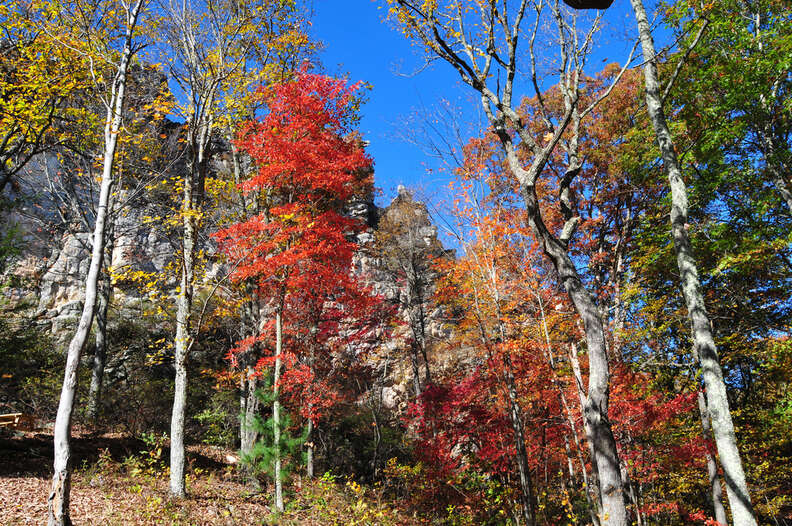 Bramwell, WV
Why you need to go: This tiny, historic town is tucked beneath Pinnacle Rock State Forest in a horseshoe bend of the Bluestone River. The former coal-mining hotspot -- population now 400 on a .6 square mile patch -- is on the National Register of Historic Places. Stop into the Corner Shop, a date-friendly old-fashioned soda fountain, for a sundae or banana split. On Fridays, enjoy dinner while catching a live band.
The one must-do thing: Bramwell Oktoberfest has become a trusted ritual for mountain music and craft beer aficionados. Listen to traditional folk, blues, bluegrass, jazz, and alternative artists throughout the day-long festival while sipping or inhaling West Virginia brews. Rookie lumbersexuals beware.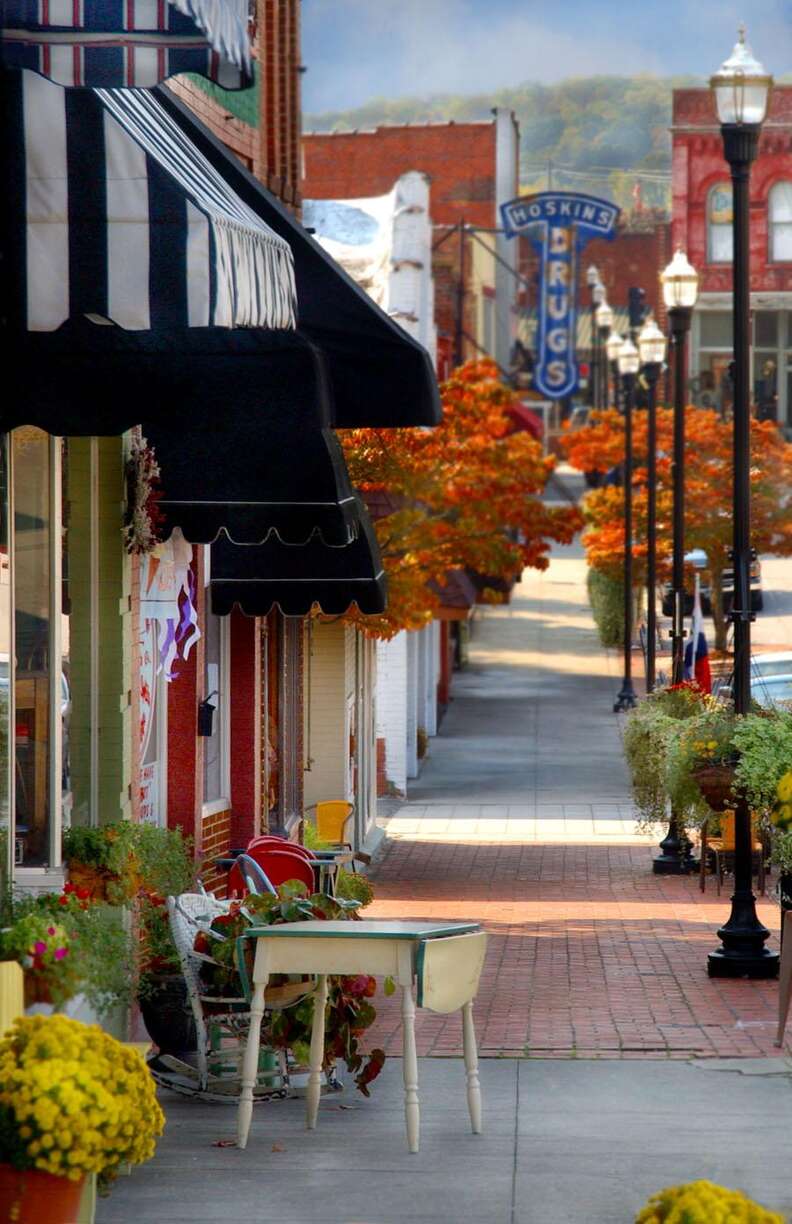 Clinton, TN
Why you need to go: Bounce out of the Great Smoky Mountains to explore the history of moonshine runners evading "revenoors" along the White Lightning Trail. The Museum of Appalachia resurrects archetypal mountain life, while nearby, the old stagecoach town of Dandridge contains four original taverns: Hickman Tavern, Roper Tavern, Thomas Tavern, and Shepard's Inn, which has hosted US presidents including Andrew Jackson, James K. Polk, and Andrew Johnson.
The one must-do thing: Ponder your American dream inside Mark Twain's family cabin on the Museum of Appalachia's campus. Also consider Sheep Shearing Day or the Barn Dance. Man up.

Stratton, VT
Why you need to go: To improve your balance. Or, you know, go skiing. Vermont has 150 miles of the Appalachian Trail, and it summits Stratton Mountain, where there's also a ski resort. Not only is Stratton the birthplace of snowboarding, but it continues to be relevant as the epicenter of advances in snow-riding and human-balance technology (!!!). Seriously, snowboarding pioneer Brew "Vew" Moscarello created Vew-Do Balance Boards there and even offers balance lessons.
The one must-do thing: Take the gondola to the summit and hike the 1.6-mile trail to the historic firetower, which sits near the intersection of the Long and Appalachian trails. Climb the open-air steps for a view clear across four states and mountain ranges -- the Greens, Whites, Berkshires, and Adirondacks. And when you're done, why not visit the renowned swimming hole at Pikes Falls or paddle the famous Batten Kill River?
Lynchburg, VA
Why you need to go: A rare American metropolis not fed by an interstate, this true southern city -- as opposed to hour-away and Yank-ified Charlottesville -- is often viewed only as the home of ever-expanding evangelical Liberty University. The other campus there, however, hilltop Lynchburg College (est. 1903) might be the most beautiful private campus in the US, with stunning views of the Blue Ridge Mountains and a dell reminiscent of Harvard University with massive trees towering over a ring of Georgian-style academic buildings.
The one must-do thing: Chow down at the almost always open and lively Texas Inn, a steel-counter diner overlooking the James River. You can't miss with a "Cheesy Western (burger with egg, melted cheese, mustard relish, and fresh cut onion) and a bowl (chili, same recipe since 1932) all the way," which is what they'll yell back into the kitchen. Time can stand still.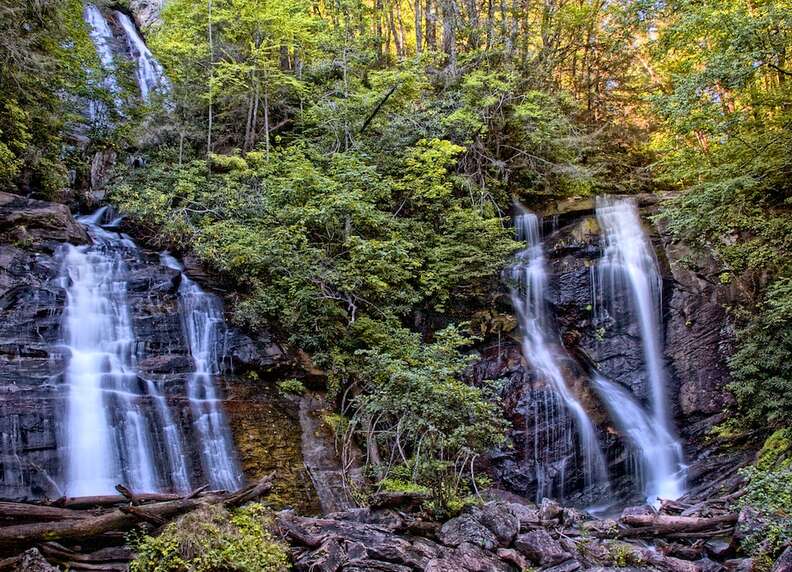 Sautee Nacoochee, GA
Why you need to go: Just over an hour north of, but a world away from the world's busiest airport at Hartsfield, this valley has five waterfalls; a burgeoning, award-winning wine industry; and artsy Appalachia offerings like old-time pottery making. In 1976, local 21-year-old college student and soft sculpture folk artist Xavier Roberts created the first "Little Person" born in a cabbage patch, known today as Babyland General Hospital in nearby Cleveland, GA. Also on the outskirts is the Bavarian-style mountain town of Helen, Georgia, where you'll want to raise a pint (or liter) in one of the biergartens.
The one must-do thing: Reveal your sensitive side and visit The Folk Pottery Museum of Northeast Georgia, which in 2000 earned the Northeast Georgia region a Library of Congress "Local Legacies" designation for its pottery heritage. Or, just go back to the biergarten.

Shelby, NC
Why you need to go: Cleveland County's quaint hub is a recently resurrected 1907-built courthouse that no longer tries criminals. Instead, it's a shrine to local legendary banjo player Early Scruggs. The Earl Scruggs Center celebrates this key player in the birth of bluegrass with music and stories from the American South. Scruggs, a three-finger-banjo style revolutionary, went global via the Beverly Hillbillies, and then took a swing toward hippie music, which upset the Nashville machine. Shelby's village centerpiece also has rotating exhibits on the second floor.
Random aside: I approached a Shelby cop for some local advice and left the conversation with his phone number "in case I needed anything" while in town. I don't think that happens much in other parts of the country.
The one must-do thing: Enjoy an on-tap Carolina Uncommon and live music at Newgrass Brewing Co.
Sign up here for our daily Thrillist email, and get your fix of the best in food/drink/fun.
Bruce Northam is the author of THE DIRECTIONS TO HAPPINESS, a 135-country quest for life lessons, and a Chicken Soup for the traveler -- with balls. Track him on AmericanDetour.com.